Cream of the Crop: Bass Wizard Jack Bruce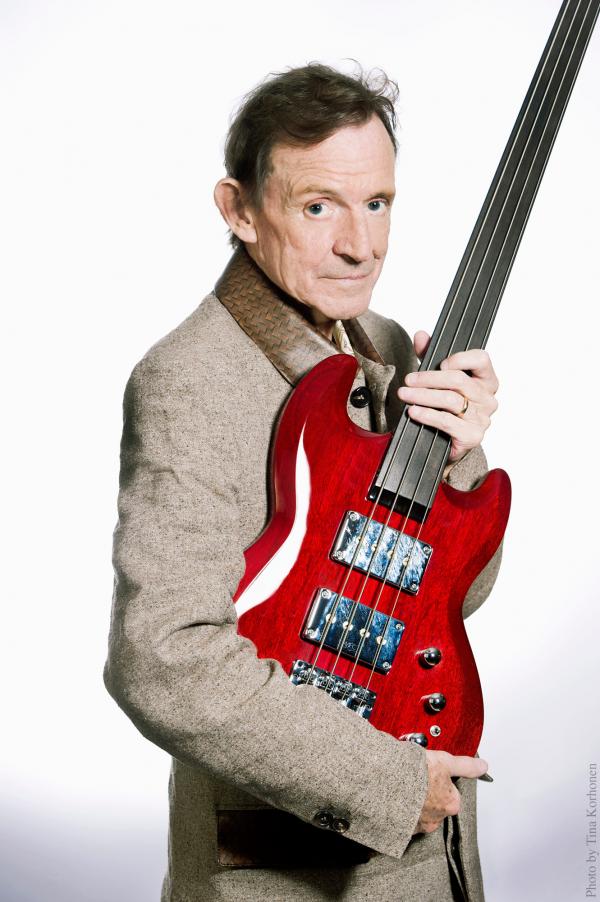 The bottom end has never been quite the same since Jack Bruce picked up his first bass over 6 decades ago. The vaunted Cream bassist wrote the book on the art of the low-end hook, as his syncopated approach to playing bass helped shift pop music's bottom-end emphasis away from just laying down root notes and fifths, in turn opening the door to a more adventurous yet melodically inclined style that laid the foundation for the rock explosion of the '60s. Turns in both Manfred Mann and John Mayall's bands set the table for Bruce to connect with Eric Clapton and Ginger Baker and forge Cream, wherein the super Scotsman set the heavy-blues power-trio standard with epic runs and full-band interplay in songs like "I Feel Free," "Spoonful," "Politician," and "Sunshine of Your Love."
Once Cream curdled, Bruce delved further into flexing his compositional and jazz chops, as evidenced by his 1970 free-form fusion precursor Things We Like and 2012's improv-driven, self-titled group tribute to late jazz drummer Tony Williams, Spectrum Road. Silver Rails, his first solo studio effort in 10 years, brings his career-long broad genre explorations under one roof, and it's packed with primo Jack: the brooding, confessional "Reach for the Night," the heartfelt piano ballad "Industrial Child," and the pummeling, deep fuzz of the aptly named "Drone." Here, Bruce, 70, and I discuss how Rails got on track, cutting sides at Abbey Road Studios, and the eau de Cream. One thing's for absolute sure: Bruce remains the cream of the crop.
Mike Mettler: Tell me what it was like working at Abbey Road Studios when you were making Silver Rails.
Jack Bruce: It was amazing. Studio One there is so huge. They have the greatest microphone collection in the world; so astounding. There's a whole department where they have guys who just look after the old mikes. So who knows — you might be singing into the same mike that John Lennon sang into. [chuckles]
It has quite a vibe when you're in there. It definitely feels different. I think all the musicians I had with me brought their games up a notch because of respect for what's gone on there — not just The Beatles and Pink Floyd, but all the way back to [noted English composer] Sir Edward Elgar.
Mettler: You'd recorded there before, right?
Bruce: Yes, the first time was in 1965 [with Manfred Mann], quite a while ago. [laughs] I've been in and out of there over the years, but not quite as much recently.
Mettler: Would you consider Abbey Road to be one of your favorite studios to record in?
Bruce: I would say, today, it's the greatest studio in the world. Partly because of the rooms, which are iconic, partly because of the ambience, and partly because of the way they look after it all. Most studios nowadays have a lot of downtime because a lot of things are often going wrong. You don't get that at Abbey Road. All of the people who work there are very enthusiastic and very, very good at their jobs.
Mettler: Agreed. I've met a few of them myself, like Guy Massey and Paul Hicks —
Bruce: Paul is great. And I was very lucky to be able to use Rob Cass, who's an in-house producer. In fact, it was his idea that I go to Abbey Road and make the record there.
Mettler: Were there any special production choices you made specifically because you were at Abbey Road?
Bruce: I wouldn't exactly say that, but one of the great things about Abbey Road is, if you use Studio Two and Studio Three as I did, there's such a great selection of grand pianos! [laughs] You don't think of things like that beforehand, but they're always perfectly tuned and immaculate. They had a wonderful Bernstein, a Steinway, and an amazing Yamaha that I didn't even manage to get to put on the album.
Mettler: One of the things I like about the sound of Silver Rails is that I get a sense of the musician interplay in the same room. There's a lot to be said for recording everybody looking at each other instead of just dubbing everything.
Bruce: There is a lot to be said for that, yes. I like a little bit of both. Sometimes I like to start off a song very minimally and record the guitar, the piano, and the drums together, and then overdub. A song like "Industrial Child" is like that. It was done very much live, and I wouldn't do it any other way if I could. I love playing with incredible musicians like that. I wouldn't want them to just send me a wav file. There's none of that going on here.
Mettler: Besides "Industrial Child," do you have any favorite moments for you behind the piano?
Bruce: I think "Hidden Cities," because that was such a challenge. It was challenging music. Here's a very strange story that I'll tell you. When I was very ill about 10 years ago [Bruce had a liver transplant in 2003], I was in an induced coma for a few weeks, and I started writing all of this music while I was comatose — and I remembered a lot of it. The second, sort of quiet part of that song was one of the things I wrote when I was in that condition. It was like experiencing rising light and sound, and I thought, "How am I going to achieve that? How am I going to realize that in actual, practical, physical music?" I didn't know if I'd ever be able to replicate that piece of music, but we actually got it fairly quickly, with Cindy [Blackman] Santana on drums and Uli John Roth on guitar. The harmonies were done by a group my daughter put together, called Aruba Red. She put together this amazing group of young women. And it was not the easiest thing to sing. They really went for it, and I'm really proud of them.
Mettler: Wow, that's amazing you were able to bring that all to life.
Bruce: Quite remarkable, yes.
Mettler: One of my favorite songs has to be "Drone," which is quite heavy, and basically feels like your Black Sabbath track. Did you play that live in the studio and the overdub it later?
Bruce: I was using my old Gibson EB-1 [violin bass], which has got this incredible sound, almost like a barn door. [both laugh] I used a pedal for the effects, but I don't even know what it's called. It was given to me by this guy in Japan — he came up to me at a concert and just handed it to me. It's an incredible pedal, but it doesn't even have a name on it or anything.
Mettler: Just call it the JB-1, since it's now officially your own drone. I also heard some planes ready to crash around me at any moment on there.
Bruce: Yeah, the airplane overdub.
Mettler: In the intro, is that just amp buzz and feedback when you're starting up?
Bruce: It is, yeah; nothing else. And very good miking. And a little bit of pre-amping is always nice. But you do have to go for separation to a certain extent. It's a be-all and end-all for me.
Mettler: Another thing I like is that the tonal character of your voice is still fantastic. What's the secret? How have you been able to maintain it all these years?
Bruce: [laughs] I don't know! I don't have any magic thing I do. Well, I was actually a classically trained singer, and I think that helps, since I know which muscles to use, and not. Every style of singing is valid in my book, but if you want to be singing at a certain level for 40 years or more over your lifetime, well, it's a good idea to know about how to use those muscles.
Mettler: Since you continue to play live, we the audience still want to hear those qualities in your voice, especially when you sing falsetto and the more delicate parts.
Bruce: There is an almost falsetto, "head" voice that I use, and always have, especially with Cream. On "I Feel Free," for instance, I used that head voice.
Mettler: And you still play that song live, right?
Bruce: I have done "I Feel Free," yes. I used to do it when I played with Ringo [Starr, on his recurring All-Starr Band tours]. But normally, I don't do that [with my solo band] because it needs all of those other vocals, you know. There are a lot of vocals on there, so unless I have a big vocal group, I can't do it, really.
Mettler: Speaking of Cream, I've enjoyed the higher-grade LP reissues of the core catalog. And I have to say "Tales of Brave Ulysses" is one of my favorite Cream tracks to spin on vinyl.
Bruce: I agree, "Ulysses" is great on vinyl. I think "I Feel Free" could still be vastly improved — that one was recorded quite badly. It might be nice to tinker with that someday, but I don't think the master tapes exist anymore. I think a lot of them were destroyed in a fire in Holland.
Mettler: That's a shame. Well, I do think "Sunshine of Your Love" sounds as vibrant as ever on LP.
Bruce: I still enjoy all those songs, really. I play very different versions of them now.
Mettler: How do you rearrange a song like "Sunshine"?
Bruce: My touring band at the moment is an 8-piece. I have another bass player so I can play piano some of the time, and I've got three great horn players. So it's great to be able to rearrange "Sunshine" for that group, you know. About a year or so ago [on November 11, 2012], I sat in with Carlos Santana in Las Vegas, and we did his [Guitar Heaven] version of it. [Santana has a recurring residency at the House of Blues at Mandalay Bay in Las Vegas. They played "Spoonful" that night too—MM]
Mettler: Even today, I think people undervalue the way a song like "White Room" was arranged.
Bruce: And also the way it's written was quite a little bit different. That's what I always wanted to do: Write songs that had a little twist in them. And that one wasn't too off the wall for that band.
Mettler: I got to see one of the Cream reunion shows at Madison Square Garden in New York [on October 26, 2005], and I liked the approach you guys took, which was often different from the original recordings. You must have enjoyed that level of freedom.
Bruce: Yes, thanks. As you mature and get older, you're going to play things differently. I like to listen to people who are still making vital music — people like Bob Dylan, even if some people don't seem to like his voice now. I love anything he does. Together Through Life [2009] — that's a good album.
Mettler: It sure is. As far as I'm concerned, Dylan should keep doing whatever he wants to do as long as he wants to do it.
Bruce: I don't blame him. You've got the right to do that as an artist.
Mettler: I think having an appreciation for a wide variety of music — classical, jazz, blues, etc. — gives you a broader palette to draw from as a musician. Artists just starting out should take a cue from what you did and go all the way back to the source.
Bruce: They may think going all the way back means going back to Led Zeppelin, or something. Or Cream. [both laugh] Worth checking things out a bit further back than us, I think.
An extended version of this interview appears on Mike Mettler's own site, soundbard.com.