Control 4 Page 3
LOADING MEDIA While the controller has a CD drive, loading audio this way is s-l-o-w. Ripping is done at only 3.5x speed and only into MP3 format at a fixed rate of 192 kilobits per second (kbps), though the hard drive will play MP3s from 32 to 320 kbps. No other format is supported.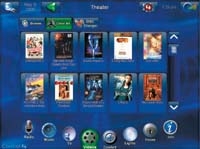 Transferring files from a networked computer - wired or via Wi-Fi - is far more efficient. Connecting a player to one of the USB ports or adding a network drive is another way to acquire music. I connected a thumb drive loaded with tunes as well as an iPod. Music can also be streamed from any drive sitting on the network. Unfortunately, new music doesn't appear on the system until it's been "scanned" manually from a computer running the Composer software. It would be far more convenient if the system automatically scanned for media files when a drive is connected, and Control 4 says this is a priority for an upcoming software update.
Once my music files were scanned, the Media Controller correctly identified most of them and automatically retrieved cover art from the Web. Editing the file information for songs that weren't recognized - including adding cover art - was quick and easy, and nearly 300 songs were correctly identified in about half an hour. I was then able to browse my collection by artist, album, genre, or title.
Control 4 touted the system's ability to look up DVDs and CDs from a connected Sony 400-disc changer. Since this is a feature normally reserved for multithousand-dollar devices from Escient and ReQuest, I was eager to see how a box at a third of the price stacked up. Control 4 uses the AMG (All Movie Guide) online database to ID music and movie info and cover art. It did a great job of identifying nearly all of the discs I threw at it, then sorted them by director, actor, rating, and genre. One minor glitch is that movie synopses frequently weren't included from automatic lookups, though they did appear when I manually identified the discs. Control 4 is aware of this, too, and promises to correct it in a software revision by the time you read this.
OPERATION A control system can be crippled by a poor interface, and fortunately Control 4's is very easy to use. To greatly reduce the learning curve, the interface is identical regardless of the control device being used - the big Wireless Touch Screen, the Mini Touch Screen, or the handheld remote. Also cool - and unique - is that with the touch of a button, any of these devices can be reconfigured to control any other room in the house.
The remote handset communicates using ZigBee, which frees you from having to point at your gear. The range was great, letting me control my system from anywhere in my home. Pressing the prominent 4 button on the handset powered up my A/V receiver and TV and produced the main interface onscreen, with control options arranged by Radio, Music, TV, Videos, Lights, Comfort, and House. The look is slick - icons become animated as you highlight them, and options not used in a particular room are grayed-out and unavailable for selection.
A small LCD screen on the handset lets you browse your entire media library without being chained to one spot. This made finding the right song a breeze. Unfortunately, only the LCD screen is backlit, so nighttime operation was a challenge.
LATEST VIDEO