The Connected House: iPod Comes Home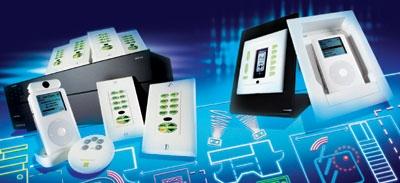 As millions of people have fallen in love with their iPods - yes, the relationship is that intense - they've come to realize this isn't just another portable music player. It's your entire music collection literally at your fingertips. Yet some of the more savvy iPod lovers are finding it frustrating that they can now take thousands of songs with them wherever they go but can't easily use their 'Pods to listen to those same tunes throughout the house.
Sure, you could walk around the house with a pair of buds jammed into your ears, but that kind of antisocial behavior won't go over well with the rest of the family. And sometimes you just want to share your tunes. A variety of iPod minisystems (like the Bose SoundDock) have sprung up to bring your music out into the open. But in the age of multiroom audio, why should your CDs and other music sources be free to roam about the house while your iPod is tied to one room? And why rip all your CDs into a dedicated server when you've already got all that music stored on your 'Pod?
In other words, wouldn't it be great if you could come home at the end of a long day and jack your iPod into a multiroom music system? SpeakerCraft and Sonance feel your pain, and they've devised your magic pill.
Are You Being Served? It was inevitable that somebody would figure out how to turn an iPod into a home music server. It can access tracks about as fast as dedicated servers, and its controls are as easy to use at home as they are while you're out jogging. The most obvious, and simple, way to get your iPod to play nice with your home system is to plug it into a receiver's auxiliary inputs and listen to it over your system's speakers. Just dial up a playlist, and enjoy. Onkyo's Remote Interactive Dock (see "Convergence Is Alive and Kicking") lets you hook up an iPod to one of the company's receivers and then control it using the system remote.
But the best solution is to fully integrate your iPod with an existing whole-house audio system so you can control it seamlessly in any room, like any other component. Of course, if your computer already supplies tunes to your home-entertainment network, patching in your iPod is overkill. But if you still rely on a CD megachanger to access your music library, you're probably itching to make your 'Pod a full-fledged member of your home system. Here's where SpeakerCraft and Sonance come in.
SpeakerCraft Both companies have been part of multiroom audio from the beginning, so it's not surprising that they're also among the first to offer ways to use the iPod as a home music server. To jack your player into a SpeakerCraft multiroom system, you first need the company's MZC-66 amplifier/controller ($2,400), which lets you listen to and control six sources from six rooms using the supplied MKP-6.1 EZ-Pad keypad controllers.
LATEST VIDEO