Can Amazon Music Deliver True Atmos to My 7.1 Theater Setup?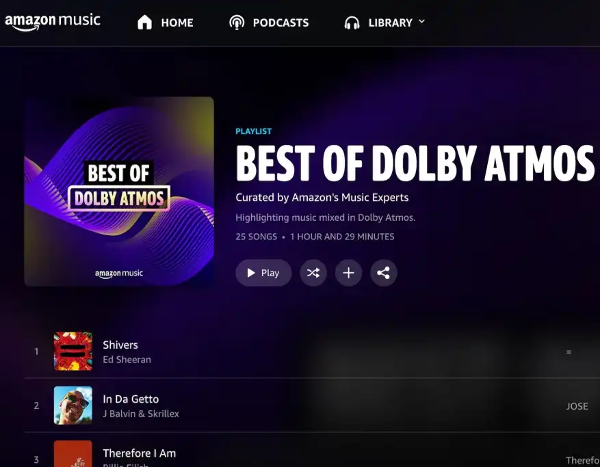 Got a tech question for Sound & Vision? Email us at AskSandV@gmail.com
Q I want to listen to Amazon Music Unlimited's Dolby Atmos music tracks on my home theater system. Here's the problem: Amazon Music support says my subscription will only output Atmos to my Amazon Echo Studio speaker and a few other devices including headphones. But when I play the Amazon Music Best of Dolby Atmos playlist on my Roku Ultra streamer, the display on my Sony STR-ZA1100ES A/V receiver reads "Atmos" and I hear sounds coming from all of the speakers in my 7.1-channel system. This is especially pronounced when listening to the newly released Coldplay albums Music of the Spheres and Higher Power, as well Mussorgsky: Pictures at an Exhibition – Promenade I from the re-released Berliner Philharmoniker Legendary Recordings collection. Is what I am experiencing through my speakers a real Atmos mix, or is this a case of wishful hearing? — Bill Heestand, Round Rock, TX
A It's wishful hearing, I'm afraid. Like you say, Amazon Music Unlimited's Spatial Audio (Dolby Atmos) support is limited to headphone playback using the Amazon Music app (iOS or Android). You can also cast Spatial Audio tracks from Amazon music to smart speakers such as Amazon's own Echo Studio and select Sony models.
To confirm that Roku hasn't stealthily added Spatial Audio support to the Roku Amazon Music app, I fired up Amazon Music on my own Roku Ultra. (Even the Apple Music app on the Roku platform doesn't support Spatial Audio for that service, though you can play Apple Music Spatial Audio tracks in a home theater setting via an Apple 4K TV streamer.) As expected, I couldn't find any content tagged as being in Dolby Atmos — Spatial Audio selections in the Amazon Music mobile app, in contrast, are clearly labeled — and when I played tracks known to be in Atmos such as ones from the Coldplay albums you cite, they were reproduced by my Marantz SR6014 A/V receiver in plain-vanilla stereo.
So, why are you hearing sounds coming from all of the speakers in your 7.1-channel system when playing tracks from the Roku Amazon Music app? The likely answer is that the Dolby Surround Upmixer processing in your Sony A/V receiver is engaged for the HDMI input to which your Roku Ultra is connected. The Upmixer takes incoming stereo (or 5.1 or 7.1) signals and intelligently steers them to the full array of speakers in a Dolby Atmos home theater setup to enhance spaciousness. The processing is part of the Dolby Atmos technology bundle that's integrated in your AVR, which is the likely reason why you're seeing "Atmos" on the receiver's front-panel display.
Click here for more expert advice on all things audio and video.