Cambridge SoundWorks Newton Series T500 surround speaker system
The late electronics wizard Henry Kloss, founder of Advent and co-founder of Acoustic Research and KLH, devised the concept of the high-performance compact radio back in the 1960s, and he invented timeless products to back up that innovative idea: His classic KLH Model 8 tabletop radio is still sought after, still sounds great, and fetches $500 and up on Internet auction sites. Cambridge SoundWorks, established by Kloss in 1988 and later sold to Creative Technology Ltd., began as a direct marketer of innovative, inexpensive, overachieving radios and powered multimedia speaker systems.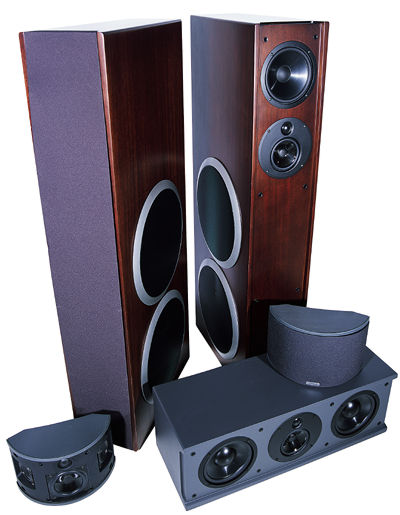 When I ran into Kloss at a taping for The Learning Channel's History of High Fidelity special, in which we both appeared, he told me that he regretted abandoning high-performance radio because it left the market wide open for marketing genius Amar Bose. Kloss later jumped back in with the Model 88, which costs about half of what the Bose Wave costs, and, with its built-in powered subwoofer, sounds superior to many listeners (though the Bose looks better).
Today, Cambridge SoundWorks manufactures more than 60 products, including radios, multimedia speakers, and mini home-theater surround-speaker systems. It sells these and other brands of A/V gear direct from its catalog, via the Internet, and in its own retail stores in New England and Northern California.
Description
CSW's top-of-the line, magnetically shielded, Newton Series T500 Tower ($2199.99/pair), with built-in powered subwoofer, is probably the company's most ambitious product. It's certainly the biggest. This handsome, 85-pound, 4-foot-tall 4-way design, raised on a pair of metallic-finished crosspieces and either spikes or disc feet, features a 300W, class-D, pulse-width-modulation (digital) amplifier driving a 10-inch, side-mounted subwoofer of molded composite. It also includes a 12-inch passive radiator, a midbass module with 61/2-inch and 4-inch molded-composite cones, and a 1-inch, reinforced silk-dome tweeter with neodymium magnet. It's available in real-wood veneers of mahogany or blond maple.
CSW supplies long AC cords fitted with right-angle IEC connectors that plug into a bottom-mounted, fused IEC power jack next to the subwoofer's On/Off switch. Rear-cabinet controls include continuously variable subwoofer-level and bass-contour controls, Sub In and Link In/Out jacks, and biwirable double sets of 5-way binding posts linked with gold-plated jumpers for single-wire use.
The 3-way Newton Series MC500 ($399.99) features the same midrange module and tweeter as the T500, and it can be used vertically as an L/R speaker or horizontally as a center-channel, thanks to an ingenious circular panel containing the midrange and tweeter, which can be rotated 90° and locked in place. For center-channel use, the panel drivers are arranged vertically, with the tweeter atop the midrange driver. Mounted atop my rear projection TV, the MC500 sounded best aimed directly down at the listening position, so I propped it up in the rear with an AudioQuest Sorbothane foot. Like the T500, the MC500 is biwirable, which is how I ran it.
The small, curvaceous, 3-way Newton Series S300 MultiPole surround speaker ($449.99/pair) features two 21/2-inch midrange drivers, one at each end of its curved front baffle, along with a centrally located 1-inch silk-dome tweeter and 4-inch midbass cone. Three dispersion options are provided, selected with a bottom-mounted switch: Dipole, Bipole, and Monopole. Dipole puts the two outer drivers out of phase for a diffuse sound; Bipole puts them in phase, for wide but coherent coverage; and Monopole switches off the outer drivers, allowing the midbass and tweeter to provide direct, forward coverage, which many prefer for surround-sound music. The beauty of the S300 is that it affords listeners all three choices, conveniently and at a reasonable price. I placed them in the usual surround positions for my system: at opposite ends of my couch on ear-height stands, with the central drivers firing toward the listening position.
Setup
Placed on spiked feet on either side of my 55-inch Philips RPTV, the subtly sculpted, richly finished T500 Tower exuded a dark, handsome presence. It's an uncommonly attractive and well-finished speaker, especially given the price and the amount of technology enclosed, but that's the level of quality and value currently coming out of China, where the Newtons are made. I tried the T500s bi- and single-wired, and I preferred the biwired sound, which seemed to provide somewhat better overall clarity and midbass control. But the difference wasn't profound.
The source's Subwoofer Out need be run into only one of the Towers; an interconnect between the T500s links both subwoofer-level controls to let you adjust both subs simultaneously with a single control. The receiver's bass-management settings were Subwoofer On, Front Speakers Large, and center and rears Small. There are Bass Contour adjustments on both Towers that let you reduce or increase the system's deep-bass output to compensate for room resonances. Because my room has a such a bump, I found the balance best with the Contour turned down about a quarter of the way, though of course, while this reduced the overall level, it had no effect on the relative amplitude of the bump.
Back when Dolby Pro Logic was the only surround-sound game in town, dipole surrounds were considered preferable for their ability to impart a diffuse, directionless quality to the monophonic surround signal. With today's Dolby Digital and DTS discrete stereo surround for both film sound effects and music, there's a greater diversity of opinion as to what works best for each medium. I listened to the Newton Series T500 system with the S300 surrounds in all three modes, and preferred Bipole for the area of the coverage it offered while maintaining admirable focus and musical definition.
LATEST VIDEO