Cabasse L'Océan Powered Speaker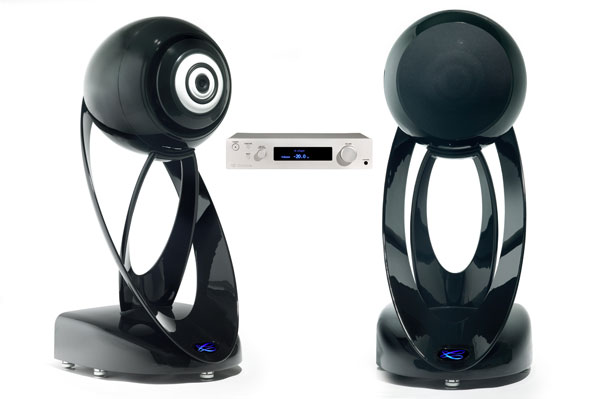 Last year, I profiled the incredible—and incredibly expensive—La Sphère speaker from French maker Cabasse. Utilizing and updating much of the same technology found in that model, the company will soon release L'Océan with a price tag only slightly less than its progenitor.
Like La Sphère, L'Océan is a 4-way design based on coincident drivers in a rigid spherical enclosure, which avoids mechanical vibration, standing waves, and diffraction issues while loading the woofer with a relatively small volume. In fact, all but the lowest frequencies are reproduced by the same 3-way driver unit with a 1-inch dome tweeter surrounded by a 5-inch ring midrange and 8-inch ring low/mid diaphragm, all of which sits within a structure that provides a highly damped acoustic "lens." This structure is mounted in front of a new 15-inch honeycomb inverted-dome woofer, resulting in a true point source with an overall frequency response from 35Hz to 35kHz.

Included with L'Océan is a preamp/controller with five digital and four analog inputs as well as the Cabasse Room Compensation System (CRCS) that optimizes playback for the room's acoustics using the included microphone. The processor connects to the speakers via optical TosLink, which feeds the digital amplifiers in the bases—1000 watts for the woofer, 500W each for the two midrange drivers, and 250W for the tweeter, yielding a claimed maximum sound level of 117dB SPL without distortion.
Whereas La Sphère costs $165,000/pair with eight outboard amps, L'Océan is slightly less—$124,000/pair in the US. It doesn't go quite as low as La Sphère, but with the money you save, you could get one or more kick-ass subwoofers. In fact, this might actually be a better configuration, since the best locations for low-frequency transducers are often different than for those that reproduce higher frequencies. In any event, I have no doubt that L'Océan will make beautiful music when it's released in Spring 2011.