B&W CM Series surround speaker system
A company with B&W's resources, experience, and technical know-how can pretty much build what it wants. What B&W chose to do in the CM Series is blend good looks, high build quality, and typically rich "British sound" into an affordable package—something easier said than done.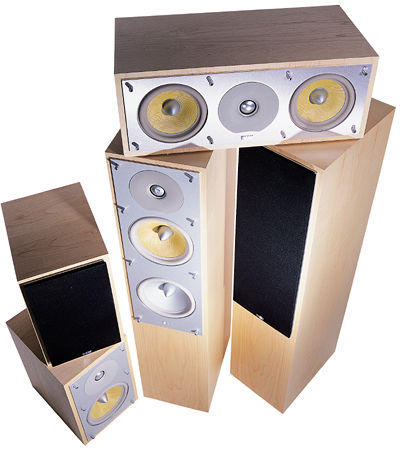 Quality industrial design is usually measured by its subtlety, and this one scores high with its pleasing, graceful, low-key look. The CMs' cabinets are superbly constructed and finished. The brushed-aluminum baffle plate, the tweeter ring's lower curved accent, the look, shape, and color of the other two drivers, and the smooth, almost seamless veneer of light maple (the system is also available in rosenut and black ash) add up to a visual elegance that will go well in many living rooms.
Surprisingly, the floorstanding CM 4s are unshielded, and therefore not intended for placement directly next to a CRT television. The 3-foot-tall CM 4's rear port makes near-wall placement somewhat problematic. B&W deals with this by supplying foam bungs that you can put in the speakers' ports to restrict airflow. The result is reduced midbass output.
The CM 4 is described as a "21/2-way" speaker. It features a 61/2-inch aluminum-cone bass driver that responds up to 150Hz. The 61/2-inch woven-Kevlar bass-midrange driver also handles low bass, but is allowed to extend up to the somewhat high (4kHz) midrange-tweeter crossover. This arrangement is said to provide the advantages of a large bass-radiating area from two drivers, while limiting intermodulation distortion and other problems associated with forcing a single large bass driver to handle the midrange and low bass. The low-frequency response is rated down to 38Hz.
The CM 4s strike me as offering extremely good value for the money—at least from a physical standpoint. When you consider that the average high-quality consumer audio product sells for several times what it costs to build, it's impressive that B&W can offer this level of quality to the consumer for $1500/pair.
The $550 rear-ported CM C center-channel speaker features a traditional woofer-tweeter-woofer configuration with a twist: one 51/2-inch woven-Kevlar woofer handles only frequencies below 400Hz, while the other extends its response to the 4kHz crossover to the 1-inch aluminum-alloy Nautilus tweeter. The CM C is magnetically shielded.
The CM 2, a standard 2-way rear-ported speaker, is deeper, larger, and more expensive at $900/pair than many surround speakers. It features the CM 4's bass-midrange unit and tweeter. Response is rated down to 65Hz (-6dB at 49Hz). You might be thinking that perhaps you could save $600 by building a system around two pairs of CM 2s. You'd be correct, but once you add the cost of high-quality stands, would it still be worth it? Maybe. Depends on the elasticity of your budget.
Additional design features in all the CM models include an internal, tapered tube that loads the 1-inch aluminum-alloy dome tweeter the same way as in B&W's high-end Nautilus loudspeakers, and the company's FlowPort bass enclosure venting. The latter uses golf ball-like dimples in the ports to reduce the port noise common in such designs. There is also a moving, bullet-shaped "phase plug" at the center of the bass-midrange cone designed to reduce the directionality of that driver's top-end response.
Setup
I placed the five CM speakers in the usual positions in my living room: CM 4s flanking my 55-inch Philips HDTV, CM C atop the TV and firing down directly at the listening position, and C 2s on stands at ear height, also aimed at the listener. That's what I love about reviews of home-theater speakers: no obsessive moving and aiming. Most of you will have next to zero flexibility when it comes to placement, and so do I. Ask my wife.
At the time of this review, B&W's ASW-CM powered subwoofer (which costs $1300, is available in the same finishes as the speakers, and has a 10-inch driver and 500-watt amplifier) that goes with this system was not yet available, so I used my Aerial SW12. This was, admittedly, overkill—at roughly $5000 (depending on finish), the SW12 costs more than the five B&Ws combined. But I also tried running the fronts full-range for both movies and surround-sound music, to see how that sounded. I drove the system with my reference Integra DTR 9.1 receiver, the Kenwood VR-5900 Sovereign (reviewed in the June 2002 Guide), and, right at the end, by five Musical Fidelity M-250 monoblock amplifiers driven by a B&K Reference 30 preamp-processor. While each B&W is equipped with two sets of binding posts for biwiring and biamping, I used single sets of speaker cables, as I suspect most buyers will.
SPONSORED VIDEO
LATEST VIDEO