Burning Desire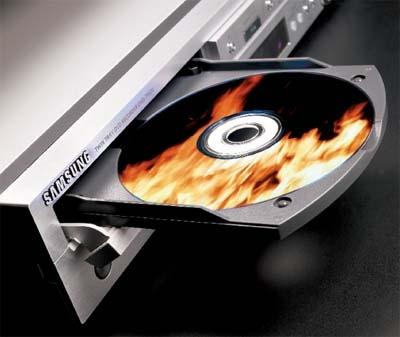 Like swimmers in some Darwinian gene pool, DVD recorders are quickly mutating to fill every possible niche. Yet as they evolve, you can count on finding a core set of features in most decks - a TV tuner, a VCR-style timer, and a handful of recording "modes" that let you trade picture quality for playback time. Of course, progressive component-video outputs and compatibility with MP3 music and JPEG photo files are also standard.
What We Think

Lite-On LVW-1105HC
Samsung DVD-TR520
RCA DRC8060N
It's short on editing chops and lacks a display, but this budget deck still does most everything else as well as any other recorder.
High-speed dubbing aside, its edit functions are less than elegant and its two disc trays less useful than you might think.
Effective commercial zapping and unusually good progressive-scan video quality prove to be a winning combination.
The three recorders tested here are all fairly basic models, with only manual recording (no VCR Plus+ programming, much less an onscreen programming guide) and no infrared "blaster" to control your cable box. But along with the core feature set described above, each offers its own unique twist. Lite-On's LVW-1105HC ($129) boasts a remarkably low price, and though it lacks the traditional front-panel readout, it remains a very capable recorder. RCA has the first DVD recorder we've seen with an upconverting HDMI digital video output, the DRC8060N ($300), which also includes an outstanding commercial-skip feature. And Samsung's take on DVD copying has led to the first dual-tray recorder, the DVD-TR520 ($450).
Regardless of its bells and whistles, we look for any DVD recorder to do two things well. One is to let you easily edit out commercials in your recordings. The other is to commit those recordings to disc with good video quality. Let's see how this trio accomplished those tasks.