Brian Wilson on His Latest Pocket Symphony, No Pier Pressure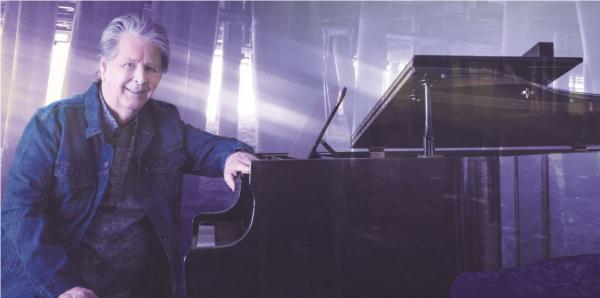 How does he do it? How does the eternal Beach Boy Brian Wilson keep composing all-new harmonically gorgeous and sonically seductive pocket symphonies (as he likes to call them), 50-plus years into his career? The answer, he says, is quite simple: "I know in my head — in my brain — how to do it." Wilson's marvelous brain has dreamt up scores of timeless classics, such as the instantly hummable singalongs "Surfin' U.S.A.," "Fun, Fun, Fun," "Wouldn't It Be Nice," "California Girls," and "Love and Mercy" (to name but a few), and he's just added 16 more gems to his storied canon on the Deluxe Edition of his 11th solo album,
No Pier Pressure
(Capitol). The angelic choral joy of "This Beautiful Day," the pop confection perfection of "Saturday Night" — which features Wilson blissfully trading lead vocals with Nate Ruess of fun. — and the jaunty nautical shanty "Sail Away," the latter a reunion with onetime Beach Boys bandmates Al Jardine and Blondie Chaplin, all reinforce the fact Wilson remains very much in touch with his beautiful muse.
Some of the distinctive sonic character of No Pier Pressure is due to the way Wilson and engineer Wesley Seidman utilized the echo chambers at Ocean Way Studios in Hollywood — which is somewhat reminiscent of the deployment of the customized echo chambers built by David Gold for Gold Star Studios, the infamous recording locale where Phil Spector perfected his Wall of Sound in the '60s. Gold Star, also located in Hollywood, is where Wilson and The Beach Boys created "Good Vibrations," Pet Sounds (1966), and many of the songs that ultimately comprised The SMiLE Sessions box set (2011). "Using the two echo chambers at once gave recordings twice as much echo," Wilson told me in 2011. "One of the advantages of recording there with 4-track and 8-track was that I could put a lot of instruments together and get my theremin and cello parts on separate tracks. I like hearing the feel of people playing together and the vibe that evoked, as well as hearing the instruments together. Before that, we had to make due with what we had."
Wilson, 73, and I recently discussed some of his production benchmarks, the difference between inspiration and influence, and what he thinks sounds the best on radio. God only knows — when it comes to six decades and counting of creating the soundtrack for an endless summer, Wilson continues to put forth nothing but good vibrations.
Mike Mettler: When did you start "knowing" you could compose all of those magical harmonies inside your head?
Brian Wilson: It started when I was 19, and I got better and better as the years went by. (chuckles)
Mettler: What got you going creatively at that early age — other sounds you heard, other people's music?
Wilson: Well, Phil Spector's records helped me learn a lot about producing. Chuck Berry's music taught me a lot about writing rock & roll songs. And I learned from many different sources about how to make harmonies.
Mettler: You've always been good at capturing a particular sense of space in your recordings. From the very beginning of "This Beautiful Day," it feels like I'm right there in the room with you, bobbing my head along as each line and layer unfolds.
Wilson: My goal is try to make the listener know and feel what I sound like, whether he likes it or doesn't like it. Some of these songs have a sentimental meaning to them, but that's how I felt as a songwriter. People are going to love the feeling they'll get with "Sail Away."
Mettler: "Sail Away" has a common thread with the way you make people feel in songs like "Surfin' Safari" (1962), "Surf's Up" (1971), and "Sail On, Sailor" (1973).
Wilson: Exactly! I like to make the album sound like it's current — and, at the same time, reverse back to the '60s.
Mettler: Do you have favorite recordings of yours from the '60s that you still consider personal benchmarks?
Wilson: Yeah! "California Girls" and "Surfer Girl."
Mettler: I'd have to agree with you there. In the early '60s, mono was important to you as a composer and a listener. Any specific mono recordings from other artists that stood out to you the most?
Wilson: Mono was very important. I only have one good ear, so I only hear mono anyway. I like what Phil Spector did in mono, and a lot of different artists, like The Beatles. The Beatles inspired me. They didn't influence me, but Rubber Soul (1965) inspired me to make a great album.
Mettler: Paul McCartney has often said he felt like The Beatles had to compete with what you did on Pet Sounds (1966), which must be a great compliment.
Wilson: It was a very good compliment. But we were so busy making our own records that we didn't really know what other people were doing when they were making theirs.
Mettler: Besides the CD, we also get No Pier Pressure on double 180-gram vinyl. Is vinyl still important to you as a listener?
Wilson: Not really. I prefer the CDs. You can carry it around, and you can take your time, you know?
Mettler: I can understand that. On this album, you use the stereo soundfield quite well. Some things are panned more to the left channel, and some more to the right. Was that your preference and ultimate call as a producer?
Wilson: My engineer Wes [Wesley Seidman] was responsible for most of that stuff. We recorded at Ocean Way Studios in Hollywood. I like the echo chambers, the speakers, and the instruments that we used there.
Mettler: During recording, were most of the musicians in the same room at the same time?
Wilson: Yeah, yeah. We had 10-12 musicians at the same time. That's how we produced the whole backing tracks, with them all playing together.
Mettler: Did you personally give direction to the musicians in the studio?
Wilson: Yes. We write it all. My arranger, Paul Mertens, writes it all out for the musicians to play.
Mettler: One of my favorite tracks is "The Last Song," which has a beautiful string section that features violins. Did you have a specific feel you wanted them to go for on that track? It's a very emotional song.
Wilson: We portrayed a sentimentality for people, and also want for them to enjoy it. It has a lot of sentimental meaning. It's as simple as that.
Mettler: Many of these songs touch the listener personally. I have to imagine that you as the songwriter have to get those feelings across, otherwise, you're not doing your job.
Wilson: Exactly, that's how I felt, yeah!
Mettler: If something isn't hitting right, do you go back and edit or recut it?
Wilson: We rehearse a lot to make sure we get it cool the first time so that we don't have to go back and change it.
Mettler: Growing up, there was always something special about hearing The Beach Boys on the radio — and I'm glad you made note of that on the title track for The Beach Boys' reunion album, That's Why God Made the Radio (2012). You sure knew how to compose songs that sounded good on both AM and FM.
Wilson: Right — but mostly FM. "Good Vibrations," that was like a pocket symphony. [In 2011, Wilson told me he felt "Good Vibrations" also "represented our growth musically. When we did it, we took one big step forward in music."] It was a very artistic record, and it had a great message about good vibrations. It was fantastic.
A longer version of this interview appears on Mike Mettler's own site, soundbard.com.