Bose Lifestyle 38 Home Entertainment System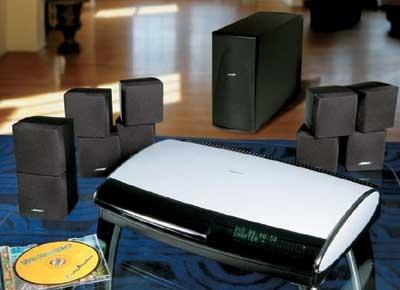 This is not your father's stereo - or your iPod. The Bose Lifestyle 38 combines elements of both and adds its own share of functionality and flexibility. The Lifestyle series has been a Bose mainstay for years, offering DVD playback with 5.1-channel surround sound in an attractive, easy-to-use package. This latest addition to the family goes beyond home theater, introducing both hard-disk storage and the uMusic intelligent music-management system. You rip up to 200 hours worth of CD music to the internal hard disk in MP3 format, and as you make selections, uMusic "learns" your tastes so it can automatically play the music you enjoy the most.
PDF: Playback Compatibility
Fast Facts
DIMENSIONS (WxHxD) and WEIGHTMedia center , 15 3/4 x 3 3/4 x 11 1/2 inches, 9 pounds; satellite speaker , 3 x 6 1/4 x 4 inches, 2 1/2 pounds; Acoustimass module , 16 1/8 x 25 x 8 1/8 inches, 38 pounds SPEAKERS satellite , two 2 1/2 -inch drivers, sealed; Acoustimass module , two 5 1/4 -inch woofers, ported PRICE $2,999 MANUFACTURER Bose, bose.com, 800-444-2673
The heart of the system is the stylish media center, which besides having the uMusic hard-drive system and an AM/FM tuner, plays CDs and DVDs. For home theater action, the package includes five of Bose's famous Direct/Reflecting cube speaker arrays. The Acoustimass bass module will also be familiar to Bose disciples. It houses dual 5 1/4 -inch woofers as well as all of the power amplifiers. In contrast to the tiny satellites, it's somewhat bulky.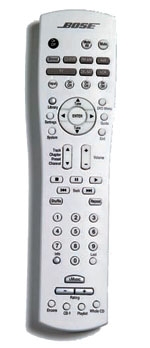 System control is handled by a universal remote with a very friendly button layout, easy-to-read labels, and a rubberized feel. Best of all, the remote issues its commands via RF (radio-frequency) signals instead of the usual IR (infrared) approach, which requires a direct line of sight for operation. With this baby you can operate the system from another room.
SETUP As Bose suggests, I placed the bass module on my front wall, a third of the way out from the corner, which happens to be where I usually put subwoofers. Similarly, I arranged the satellites around the listening position in the well-worn spots where my speakers normally go. The top and bottom sections of the cube arrays can be angled for better sound dispersion.
Since my listening room is fairly compact, I left the dual cubes of each front left and right speaker firing in the same direction but slightly angled the center speaker's cubes. I put a wide angle between the two cubes in each surround speaker to achieve a wider, more open rear sound field. The adjustability of these speakers might seem like a small point, but their flexibility can dramatically improve sound quality.
LATEST VIDEO