Beography
Danish A/V manufacturer
Bang & Olufsen
is undoubtedly one of the most innovative companies in the world when it comes to industrial design. Founded in 1925 by engineers Peter Bang and Svend Olufsen, its products not only offer superb performance, they are works of art in their own right.
The new BeoSound 5 is certainly no exception. B&O's first digital-audio server features an elegant control panel with a 10.4-inch LCD display, aluminum navigation wheel, tactile buttons, laser pointer, and graphical user interface that combine to provide a unique overview of and unparalleled access to your entire music library.
The music, album art, and other information is stored in a separate unit called the BeoMaster 5, a simple black box housing a 500GB hard disk that can hold up to 20,000 songs in lossless WMA format. Unlike most B&O products, the BeoMaster 5 is intended to be placed discreetly out of sight, connecting to your home network via Ethernet so you can load tunes from your computer. And if your network has access to the Internet, you can also listen to the vast array of online radio stations that are now available.
Perhaps the most innovative feature of the BeoSound 5 is its MOTS (More Of The Same) intelligent-playlist technology. This patent-pending algorithm automatically identifies the fundamental musical elements of a track, such as sound, dynamics, and rhythm, and builds a playlist of similar selections. Because MOTS uses mathematical analysis of the actual music rather than genre or artist tags to correlate tracks, it lets you rediscover forgotten favorites hidden among your entire collection.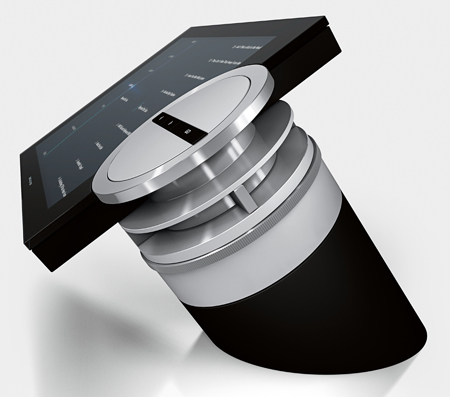 Of course, this level of sophistication and style doesn't come cheap—$5900 gets you the control panel and BeoMaster 5, while the floor stand costs an extra $500, the table stand is another $250, and the wall mount is $100. But is this really so high a price for such elegant and intuitive access to the music you love?