Bang & Olufsen BeoVision Avant 55 Ultra HDTV and BeoLab 18 Wireless Speaker System Review
PRICE
$25,625 as reviewed
AT A GLANCE
Plus
WiSA wireless multichannel audio technology
All processing and switching built into the TV
Motorized TV speakers and TV stand
Minus
No backlighting on remote control
Nothing else but the price
THE VERDICT
Although most of us can't afford this system, those who can will be treated to an amazingly moving experience that no other system can provide—every time they turn it on.
Bang & Olufsen is unusual in the AV world. In fact, I could have stopped at "unusual." I once heard a story about B&O that perfectly sums up what I'm talking about. It's probably apocryphal, because the person I heard it from had heard it from someone else, but I'll tell it anyway. Years ago, when B&O still made phones—corded, landline telephones—a guy from the U.S. asked one of the Danish engineers why the handsets had their unique shape, which made them almost impossible to cradle between your ear and shoulder so you could have a conversation and still use both hands. (Twenty-some years ago, that was the era's version of "hands free.")
The engineer's answer was short and to the point: "Because we don't talk on the phone that way here." That sort of stubborn—some might say arrogant—confidence in the belief that their way is the right way is one of the core characteristics of Bang & Olufsen. When other AV companies are busy jumping on the latest technological bandwagon, B&O is off in the woods searching for truffles.
In this respect, they're a lot like Apple, except for the fact that B&O was founded in 1925—30 years before Steve Jobs was born. So the comparison works better in reverse. There are, by the way, other interesting similarities. The company was started by two young men, Peter Bang and Svend Olufsen. (Yes, there really was a Mr. Bang and a Mr. Olufsen, although neither name sounds as hilarious as Mr. Wozniak.) They designed their first product in the Olufsen family's attic. And just as Apple helped create the personal computer industry, Bang & Olufsen helped lay the foundation for what we now call the consumer electronics industry.
Different Is as Different Does
When I say that B&O is unusual, I don't mean that they make silver AVRs when everybody else is making black ones. I'm saying that B&O doesn't manufacture separate AVRs at all. And while the trend for some companies today is to simplify front panels and eliminate as many buttons as possible, B&O was doing that 20-plus years ago when they promulgated the use of glass panels with backlit capacitance-sensing touch controls.
But it goes deeper than that. Being founded (and still headquartered) in Denmark, Bang & Olufsen is steeped in the Danish postmodern design ethos of minimal form with maximum function. That extends beyond the physical appearance of their products and well into the way they operate—most notably, the way in which they are operated. As a result, a B&O system doesn't just provide a way to watch movies or enjoy music. A B&O system provides an experience that begins well before the music or movie does.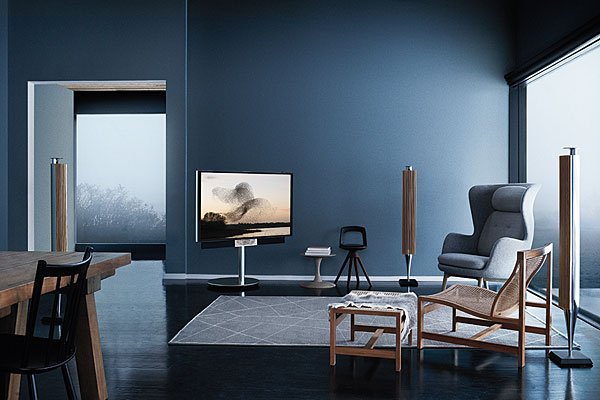 As I've noticed, a person's first reaction to the look of a B&O system is either love or hate. (I've never known anyone to see a B&O system and say, "Meh…") If you're in the second camp, you're lucky. You can walk on past and look for something more traditional. If you're attracted to it, however, things aren't that easy. There's a price to pay for bringing the Bang & Olufsen experience home, and that price is, well, money—lots of it.
Take the 55-inch Ultra HDTV and the 5.1-channel home theater speaker system that Bang & Olufsen sent for review. All together, including the TV stand and the oak lamellas on the front speakers, the ticket price comes to a bit over $25,000. Yes, $25,000. That's disgustingly close to the price I paid recently for a new Toyota Prius to replace an aging, gas-guzzling Chevy Suburban. (I'll let you make your own cost comparisons.)
Want to know something else? Even at $25,000, the system doesn't include a standalone center-channel speaker. Heck, it doesn't even come with a conventional AVR—because, as I've said, B&O doesn't even make AVRs.
At this point, you might be wondering why we're bothering to cover such an expensive system that, on paper anyway, doesn't look like it could stand up to a side-by-side comparison with one of any number of much more reasonably priced HTIBs. Ah, but with Bang & Olufsen, looks—whether you like them or not—can be very deceiving.
When a TV Is More Than a TV
Since the entire system revolves around the TV—and, as a matter of fact, with the optional stand the TV itself also revolves and rotates— it's appropriate to start with the BeoVision Avant 55. The down-and-dirty on this set is that it's a 55-inch Ultra HDTV with loads of processing, including the ability to adapt image parameters on the fly based on room lighting conditions, thanks to a sensor at the top left of the TV's chassis. (You can read a more in-depth discussion of the picture quality in Rob Sabin's hands-on sidebar.)
With all of B&O's technical prowess and shrinky-dinky capabilities, you'd expect the Avant 55 to be the slimmest 55-inch TV you can buy. But you'd be wrong. The Avant 55 is a surprising 3.8 inches deep, yet it's this thickness that makes it possible for much of the B&O magic to happen.
Remember, the system doesn't have a separate AVR. Instead, the TV is the AVR—and it's not just one with a couple of HDMI inputs and some simulated surround processing thrown in. This is the real deal, with six configurable HDMI connections, an AV input, and a coaxial digital audio input. There are five Power Link jacks (a proprietary version of the traditional analog RCA pre-out) that allow for up to 10 BeoLab powered speakers to be wired to the Avant 55, and the TV has both Ethernet and Wi-Fi connectivity built in. Audio processing includes multi-codec 7.1-channel surround sound with 1:1 channel matching as well as up- and downmixing to match the speaker configuration being used.
Being able to hardwire up to 10 BeoLab active speakers to the TV is pretty awesome, but that's only the beginning of the awesomeness. The reason why B&O didn't send a separate center speaker is that the speakers and amplifiers in the TV are used for the center channel. If you know the state of the art when it comes to TV speakers, that may sound like one of the more idiotic things you've heard in a long time. But hear me—or, rather, the TV speakers—out.
One of the main reasons why the TV is so thick is because it must accommodate its built-in speaker array. The Avant 55 doesn't have speakers on each side of the screen or a cheesy soundbar along the bottom of the chassis. Instead, the set's LCR speaker package—consisting of three 0.75-inch tweeters, three 2-inch midranges, and one 4-inch woofer (with each driver powered by its own discrete 60-watt amp)—magically reveals itself by descending slowly from the bottom of the TV and expands in width out toward the edges of the set when you turn it on. (There's also a stationary 6.5-inch rear-firing woofer, with its own 60-watt amp, mounted on the back of the TV.) Likewise, the speaker array pulls back its wings and ascends up into the TV when you turn it off.
Immaculate Reception
Another unusual aspect of the Avant 55's audio prowess is what B&O calls "Immaculate Wireless Sound," with the key word being wireless. At the core of this concept is the WiSA (Wireless Speaker & Audio) open standard for wireless multichannel audio. In fact, B&O is the first company to officially incorporate WiSA-certified technology in high-end speakers.
I've heard numerous demos of products employing the WiSA standard, and I even reviewed Aperion's early multichannel implementation of it a couple of years ago. I'm thoroughly sold on the technology for the same reasons B&O is: It has rock-solid wireless reliability, and it sounds incredible. Briefly, the WiSA protocol's specs include transmission of 24-bit, uncompressed audio at sampling rates of 32, 44.1, 48, and 96 kilohertz (based on the original signal) with 5 milliseconds of fixed latency and under 160 nanoseconds of speaker-to-speaker delay. The technology also allows for both automatic and manual speaker-parameter configurations and multiple groupings. (B&O's Tonmeister, Geoff Martin, calculates that 8,482,782 speaker-parameter configurations, including levels and distances, are conceivable with the BeoVision Avant 55—and that's for only one out of a possible 10 total speaker groupings. Nor does it include the various options for bass management control.)
Although Bang & Olufsen is the first high-end company to officially bring out WiSA-certified gear, there's supposedly more from other manufacturers in the pipeline—some of which may even be available by the time you read this. The important thing to note is this (and it's something that is, quite frankly, out of the ordinary for B&O): WiSA-certified products are interoperable. In other words, if another manufacturer were to come out with WiSA-certified speakers in the future, owners of the BeoVision Avant 55 (and the new 85-inch version) should be able to use those WiSA speakers with the TV instead of B&O's WiSA speakers. Similarly, you could use B&O's WiSA-compliant Transmitter 1 to feed their speakers from a legacy system.
Isn't It Good Nordic Hardwood?
Which brings us to Bang & Olufsen's new Immaculate Wireless Sound speakers. The cylindrical BeoLab 18 is said to be a "reinterpretation" of the company's most successful speaker, the BeoLab 8000, which had a nearly unheard-of 18-year run. (The only speaker that immediately comes to mind with a longer history is the Klipschorn, with its 65-plus years of continuous production.) Rather than simply tweaking the original design in order to accommodate the WiSA technology, B&O's engineers updated darn near everything inside the 2.5-inch aluminum column, including the drivers, amps, and DSP circuitry.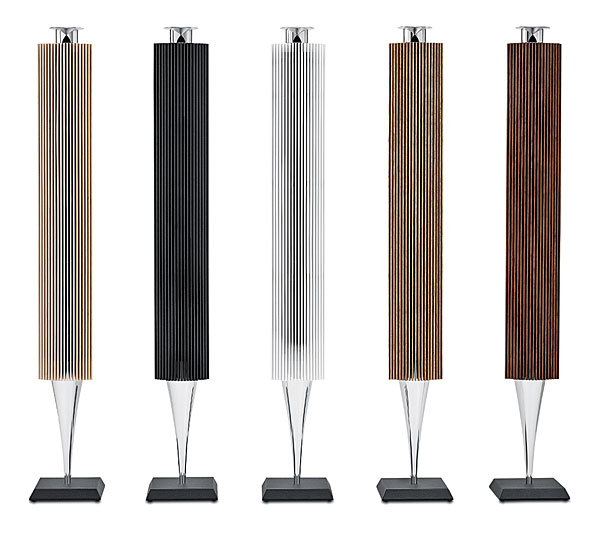 The pencil-like shape (actually, it was inspired by an organ pipe) isn't the only thing about the BeoLab 18 speaker that, if not counterintuitive, is at least eyebrow-raising. One is the price, which is $7,450/pair, including optional oak lamella fronts and either a floor base or a wall bracket. Since it's "wireless"—it still requires an AC power cord—there are two 160-watt Class D amps built in that drive just two 4-inch midrange/woofers. That's right—there is only a single pair of 4-inch woofers in this 52-inch-tall speaker, along with, at the top, a single 0.75-inch dome tweeter that fires upward into a proprietary polished-aluminum acoustic lens designed for wide high-frequency dispersion.
Instead of a cloth grille covering the front of the speaker, there's a lineup of 19 lamellas running up and down the cylinder, starting just below the tweeter/acoustic-lens assembly. Lamella is B&O's fancy term for wood slat, and in our case, it's made from extremely durable solid Nordic oak. (Black lamellas come standard.)
I don't know about you, but I'm not accustomed to seeing venetian blinds on a speaker. Nor do they seem like an acoustically smart thing. But B&O says the lamellas actually aid in mid-frequency dispersion, and since the slats don't block the output of the tweeter, any detrimental sonic effects of the lamellas were able to be mitigated by tweaking the DSP in the speaker.
Give Me a Wedgie
Also part of B&O's Immaculate Wireless Sound lineup, the more-or-less wedge-shaped BeoLab 17 is much smaller than the BeoLab 18 but no less distinctive-looking. Measuring only 9.8 x 12.6 x 5.28 inches, the BeoLab 17 contains a 6-inch woofer and a 0.75-inch dome tweeter, with the drivers offset behind the fabric grille on the front of the speaker so it performs similarly regardless of how it's oriented.