Smart & Wireless: Bang & Olufsen's BeoLab 90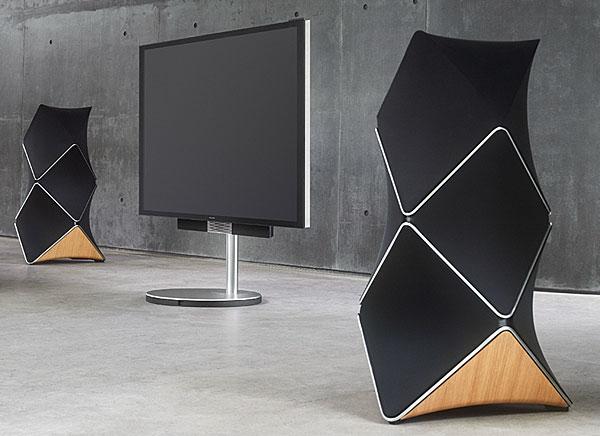 On the Webpage dedicated to its most ambitious speaker system ever, Bang & Olufsen delivers the perfect, if not poetic setup:
It will not be for everybody. But it will be for the right somebody. Three years in the making, BeoLab 90 is the culmination of the wildest dreams of our acoustics department: creating the future of sound.
It doesn't take long to gain an appreciation for just how wild those dreams were, so allow me to summarize. But first, a word on the number 90, which is not arbitrary. Can you guess what it stands for? How about the number of years this legendary Danish company has been in business (the speaker came out in 2015). Indeed, the BeoLab 90 is a fitting tribute to Peter Bang and Svend Olufsen, who opened up shop in 1925.
A technological marvel, the BeoLab 90 supports the latest generation of the WiSA wireless protocol and is designed to deliver "mind-blowing sound" regardless of its position, the position of listeners, or room acoustics. To achieve this lofty goal, it draws on 18 strategically positioned Scan-Speak drivers powered by 18 custom-built ICEpower amplifiers, capable of delivering an astonishing 8,200 watts of total power. But that's only part of the story.
To make good on the promise of spectacular sound, the speaker uses proprietary Active Room Compensation technology to measure the acoustic effects of its surroundings and compensate for sonic irregularities at the listening position. It's also equipped with two unique controls: Beam Width, which enables the listener to switch between narrow and wide (up to 360-degree) dispersion to accommodate different listening situations, and Beam Direction to "steer sound radiation" toward the listening position—both controllable from a dedicated app on your phone.
Speaker is not the first word that comes to mind when you lay eyes on the 4-foot-tall BeoLab 90. Everything is housed in a 143-pound aluminum "cabinet" with a curved wood base and a geometric puzzle of black grilles that "hover like sails in front of the speakers"—a sight sure to confound many an onlooker (at least until music fills the room).
In a characteristic touch of elegance, the BeoLab 90 comes with an intuitive touch controller that could easily be mistaken for a Nest thermostat when mounted on the wall. Not that you have to mount it on the wall, but it sure looks cool there—and you won't have to worry about losing it.
Calling the BeoLab 90 Bang & Olufsen's "most complete loudspeaker to date," CEO Tue Mantoni describes it as "a committed investment in excellent craftsmanship, ideal materials, and superior technology that will benefit future products." And he's not kidding when he says committed investment, which in the case of the buyer adds up to a cool 39 grand. Per speaker.
For more information, visit bang-olufsen.com.