Apple TV
Own an HDTV? Well, get ready for the age of ATV.
Let's recap: Al Gore created the Internet, and, on the seventh day, he rested. Immediately, entrepreneurs began selling pornography, and the World Wide Web had a purpose. Before long, people started posting videos of their dogs belching the national anthem, and, yet, an entertainment-hungry globe craved more. A bunch of other stuff happened, and now Apple has been selling songs, music videos, TV episodes, and feature-length movies via the iTunes Store,embedded in the free iTunes application for Mac and PC. While digital-rights management protects purchased video and audio (although this may be changing), you can enjoy it at the computer and upload it to various iPod portable devices. Still, a growing contingent yearns to relocate its premium content to the comfort of the living room with due ease and elegance.
Beyond the Desktop
Apple's success with hardware that is designed to break free of the computer has become the stuff of Wall Street legend. They now tender the Apple TV, a sort of "iTunes extender" that duplicates your iTunes library onto a freestanding hard-disk-drive-based player. It looks a lot like a flattened version of the Mac mini (July 2006 HT). It runs a modified version of the Mac OS X operating system and packs an Intel processor. The one and only model houses a 40-gigabyte hard disk drive (of which only 32.96 GB are listed as free at initial start-up). This seems somewhat small for a CE device, considering that the top-end iPod offers twice this capacity. Apple doesn't include any cabling whatsoever in the box, although they have seized this opportunity to partner with XtremeMac to introduce a full line of remarkably affordable high-end audio/video cables called XtremeHD. They cost $20 each for HDMI, an HDMI-to-DVI adapter, component video, or digital optical audio, and $15 for analog stereo. As more high-definition gear is released, I'm continually maxing out my HDMI switchers. Thankfully, XtremeMac also makes a four-port XtremeHD HDMI Switcher ($100), which has an identical footprint and all but disappears under the Apple TV.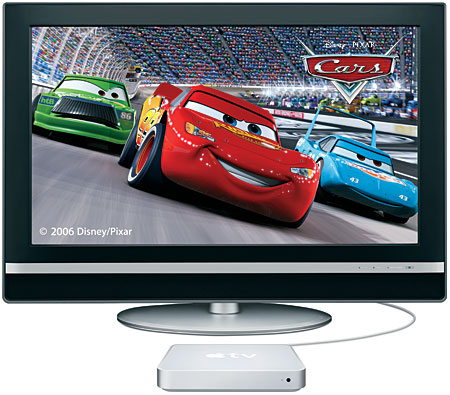 You can connect the Apple TV via the built-in Wi-Fi antenna or via Ethernet.
An 802.11b/g/n Wi-Fi antenna is hidden inside the Apple TV, or you can connect the Apple TV via Ethernet to a wired home network. This method will get you the fastest data transfer, but it's the least convenient, as most people simply do not have a network cable that runs into their living room. Wi-Fi is easy, it's cool, and, with the dawn of 802.11n, it can also be extremely quick, with potentially five times the throughput and double the range of the previous champ, 802.11g. Not coincidentally, Apple has also introduced their newest router, the AirPort Extreme 802.11n Wi-Fi wireless Base Station ($179). It installs fairly easily, thanks to the bundled utility software. It also performs swimmingly, although any B, G, or N router should work. (Wireless video streaming demands a G or N network; B is fine for music streaming.) The host computer requires iTunes 7.1 or later to work with the Apple TV. Once you've connected the Apple TV to the television—and a home theater receiver, if you want—and you've specified a network connection, you need to walk a five-digit code back to the computer and input it into iTunes, which by now recognizes Apple TV as a connected device. Apple TV starts synchronizing, or copying, your iTunes library automatically, but you can easily customize it while it's running, so you can painlessly select which files to duplicate to the hard drive. Such transfers will not eat up one of your five preset FairPlay usages allowed under Apple's DRM; rather, this is the same type of unrestricted sharing to an approved device as with an iPod. A friend can also bring over his iTunes-equipped laptop, connect to the network, and stream his latest movie download to the Apple TV. The USB 2.0 port on the back of the unit is for "maintenance and diagnostic use only," a claim that I immediately challenged by plugging in my iPod. It powered up and eventually charged, but the Apple TV menus in no way acknowledged that it was there.
It only took two minutes and 45 seconds to sync a two-part Grey's Anatomy episode. That's a 1-GB file in a relative wink of an eye compared with the hours it took to download from the iTunes Store. Some songs copy in less than a second, which is pretty amazing over a wireless connection. Even though I could hear my hard disk drive grinding away, my PC did not take a performance hit during the transfer, although your mileage may vary depending on the speed of your computer. Apple TV also streams movie trailers directly via broadband Internet without the need of a computer. When I tried this, it just took a few seconds to buffer, and there was nary a hiccup. It was a smoother experience than on my PC, frankly. You can also stream 30-second clips of iTunes music, although you can't download content from the iTunes Store directly to the Apple TV.
Using Apple's standard tiny white remote control, a novice can easily navigate the familiar iPod-style scrolling menus with their crisp white text against a black background. Further graphic enhancements note as-yet-unwatched programming with a blue dot, for example. An active screen-saver mode prevents burn-in on the plasmas or CRTs to which many users will surely connect this device. Component video is the lowest-quality output here, and the Apple TV is a widescreen-only device; it adds vertical black boxes to the left and right sides of 4:3 content to fit 16:9 displays. To warm the cockles of the missus' heart, you can display your personal photos during periods of nonuse. Images of flowers and such are preloaded, should you not wish to put your kids' mugs on display. Or you can display album-cover art to show the world how cool and eclectic you are. The album art and info flips over when you play a song, which further safeguards sensitive screens. You can also configure slide shows with music.
How Many Movies Can You Squeeze in There?
Remastering for iTunes movies is a closely guarded process that the studios perform in conjunction with Apple. It results in an encrypted MPEG-4 video file reduced to a manageable size in a trade-off with the optimal picture quality. It has a standard resolution of 640 by 480 accompanied by a 2.0 soundtrack—only I'm not watching these files on my computer now, nor on a 2.5-inch video screen, but on my 50-inch Samsung DLP. For the occasion, I purchased Terminator 2: Judgment Day, which has been released in just about every format to come along since the movie's 1991 theatrical release. (All of my recent downloads, including the 1.6-GB T2, seem faster since I installed the AirPort Extreme.) T2 exhibited a not-too-unpleasant softness; it seemed more akin to an analog softness than noticeable digital compression artifacting, although there were modest amounts of that, as well. Apple touts their iTunes movies as being "DVD quality," and I would agree. (For $10-and-up each, they really ought to be.) Colors are strong, although the all-important blues are not quite as deep as they could be, and I appreciated the bonuses, such as well-placed chapters, with titles. I proceeded to demo a slew of other iTunes downloads. They were sometimes a little hazy, sometimes visibly compressed, and other times. . .not that bad, as long as I kept in mind that this is essentially Internet video. Viral videos and other unofficial content in your library will of course vary wildly in quality. The audio standard is 128 kilobits per second for music and videos, at a 44.1-kilohertz sample rate, which can be underwhelming in the home theater setting.
In short, Apple TV is a joy to use, its contents handpicked by yours truly, displayed on a big, sharp screen, and with the option of after-the-fact audio enhancement like Dolby Pro Logic II by my receiver, all from the comfort of my sofa. The whole approach is a bit of a paradox, though, with the incongruity between these state-of-the-art connections and the fundamentally limited technical quality of iTunes downloads. The hardware supports high-definition playback up to a native 720p/24 frames per second. But you'll have to convert your own DV-camera footage in the Expert Settings of QuickTime or download from elsewhere if you crave video that will flaunt the Apple TV's top-end resolution. Unless the fruitmeisters have some worthwhile high-definition programming standing by. . .?
Highlights
• Allows full access to all iTunes content from the living room, wirelessly
• Has a bevy of high-end video and audio output options
• It is compatible with both Mac and PC