Apple iPhone Page 3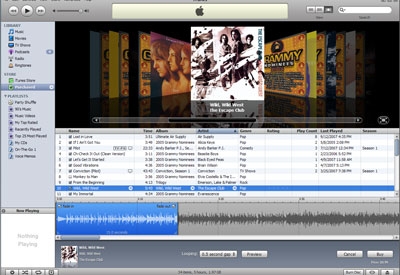 The Short Form
Price $399 plus 2-year AT&T contract starting at $59.99 a month / apple.com / 800-692-7753
Snapshot
The iPhone breaks new ground not as a cell phone but as the best iPod to date and as the prototype for the iPod Touch.
Plus
•Intuitive touchscreen interface •Music player enhanced by Cover Flow carousel •Screen image switches to portrait or landscape mode automatically •YouTube streaming
Minus
•Can't place calls via non-AT&T carriers or as a Skype-type phone over Wi-Fi •Doesn't stream Internet radio •Cramped onscreen keyboard •Nonstandard earphone jack •AT&T's EDGE (cellular data network) slow
Key Features
•8-GB flash drive •3.5-in (480 x 320-pixel) touchscreen •Wi-Fi (802.11b/g), EDGE, Bluetooth •Built-in speaker and 2-megapixel camera •Inputs/Outputs: proprietary multi-pin connector to docking station or cable to AC outlet or USB port, earphone jack •4.5 x 2.4 x .46 in; 4.8 oz
It was hard for me to keep my fingers off the screen. Sitting in a café in Brooklyn Heights, I used the onscreen keyboard to punch in the street (sorry, there's no GPS) and I was able to view both a street map and satellite image of our location. Spreading my fingers on the rooftops of row houses, I kept enlarging the view. I pushed it around until the Promenade came into view. Earlier, I had been standing on the actual Promenade using the iPhone to take pictures of the Lower Manhattan skyline. The 2-megapixel camera cannot zoom or capture video. One thing I didn't like was that unlike a hard button that needs pressure, the onscreen shutter goes off whenever a finger strays over it. Still, pictures I didn't quickly erase looked terrific on the high-res screen. Playback of the camera roll can be done with a variety of wipes and dissolves, or you can simply use your fingers to bring on the next image or enlarge the one onscreen. I easily emailed a picture of Prometheus from a fountain-side table in Rockefeller Center within moments of taking it.
While email may not be central to your needs, in my case the iPhone proved a blessing, enabling me to check private email in an office that blocked access through company-owned PCs. I was able to join a neighboring office's Wi-Fi network that the iPhone found, and whenever new mail arrived, my iPhone vibrated.
The iPhone includes the Safari browser for surfing the Internet, and it worked surprising well. Despite the small screen, I was able to magnify any portion of a page by spreading my fingers, and text and graphics quickly became sharp. My major disappointment was the browser's inability to stream Internet radio stations, which would have gone a long way to making up for the fact that Apple, unlike its competitors, has never built FM reception into its MP3 players. That forced me to carry both the iPhone and my battered but dependable Sony FM/AM Sports Walkman.
As for battery life between charges, Apple claims 8 hours of talk time, 250 hours of standby time, 6 hours of Internet use, 7 hours of video playback, and 24 hours of audio playback. My own torture test showed that the iPhone was good for between five and six hours of YouTube viewing, which drains the battery via the video display and active Wi-Fi connection.