Anthony Gallo Acoustics Reference 3 Speaker System and Arcam AVR300 A/V Receiver and DV79 DVD Player
The sound goes round and round and comes out here.
The 2004 Home Entertainment East Show was chock full of cool, new high-tech goodies, but I found myself returning again and again to the Arcam/Gallo Acoustics room. This was all the more surprising because I'm pretty familiar with Arcam's uncommonly elegant electronics and Gallo's radically round speakers, but they were demoing the Drumline DVD at realistically loud levels, and the choreographed thunder of competing marching bands was huge, dynamically alive, and tons of fun. A week after the show, I was still reminiscing about the sound. I made some phone calls, worked out some scheduling and shipping details, and now I'm sitting here exploring the system's capabilities in my very own home theater. Let me tell ya, the spectacular sound I heard at the show wasn't a hallucination; the Arcam/Gallo combination is good. . .really good.
Round Sound
Before Anthony Gallo Acoustics rolled onto the scene in the mid '90s, the majority of speakers came in just two basic shapes: boxes and flat panels. Gallo's speakers are perfectly round. Not just to be different, they're round for a host of sound reasons: Round enclosures don't suffer from internal standing waves that play havoc with sonic purity, and spherical cabinets promote remarkably precise imaging. Gallo's stainless-steel enclosures are also extremely strong; to achieve the same level of rigidity in an MDF box design, the cabinet walls would have to be at least 3 inches thick.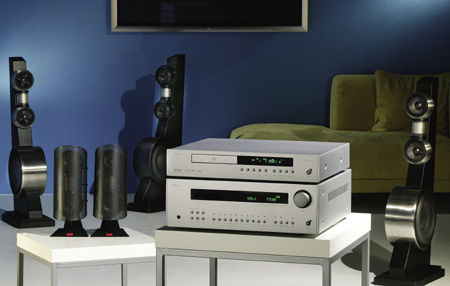 Lurking behind the Reference 3's swept-back grille, you'll find a form-follows-function design loaded with innovative ideas. First up: Gallo's proprietary CDT silver-coated tweeter. It foregoes most of the moving-mass elements common to dome tweeters (the voice coil, coil former, and suspension)—maybe that's why it boasts a claimed high-frequency response extending up to 50 kilohertz (most dome tweeters barely make it past 20 to 30 kHz). This is all the more remarkable when you realize that the CDT's surface area is the equivalent of 20 1-inch dome tweeters, and its cylindrical shape delivers smooth, wide (300-degree) dispersion. The rear-mounted three-position tweeter-level switch (–2 decibels, flat, and +2 dB) lets you tweak the treble balance to your liking.
The design gestation of the 4-inch midrange unit went through nine iterations before Anthony Gallo was satisfied. His nifty driver features a special four-layer voice coil that extends the driver's bass response and increases power-handling capabilities. Gallo's purist design eliminates the need for a crossover network sitting between the midrange and the tweeter. This elegant strategy is said to yield significant gains in transparency and coherence. The burly 10-inch carbon fiber/paper woofer looks like it means business; the ultra-long-throw design boasts subwoofer-like specifications.
The Reference 3's drivers are compliantly mounted to a vertical cast-aluminum frame whose internal volume is tuned to augment the woofer's output. In place of synthetic polyfill, fiberglass, or wool internal stuffing, Gallo employs a material they call S2—which is, in fact, a type of shredded polyethylene—to dramatically lower the system's resonance. The payoff: S2 allows the Reference 3's midrange drivers to go lower in frequency, and its woofer to produce much deeper bass than it would in a conventional design.
The Reference 3s are sold in mirror-imaged pairs, so you can position the speakers with the woofers facing in toward each other or out to the room's sides. Solid-brass cone feet decouple the speakers from the floor. The speakers seem a lot smaller in real life than they do in pictures, but the 35-inch-tall Reference 3's scale and impact are of the sort you'd expect from a much larger speaker.
No doubt, the Reference 3's solid, metal binding posts will be mistaken for biwire connectors, but they aren't. The upper "full range" connectors supply a signal to all of the drivers, while the lower pair is intended for use with Gallo's dedicated Reference 3 SA subwoofer amplifier. This gambit empowers the 10-inch woofer's second voice coil and extends the speaker's claimed bass response down to a subwoofer-deep 22 hertz. Unfortunately, the SA amplifier wasn't available when I wrote this review. Gallo also offers standalone subwoofers, and they recommend the TR-2 sub for use with the Reference 3 speakers. I used my REL Storm III sub.
The Dué monitor resembles the Reference 3's midrange-tweeter-midrange section, but the two designs don't share a single component. The Dué's CDT tweeter's dispersion covers 180 degrees, and the crossover-free twin woofers are 3 inches in diameter. Oh, and you can mount the Dué horizontally for use as a center channel or vertically for use as a main or surround speaker.
For the first couple of days, I dutifully listened to the speakers with their grilles in place; but, once I checked out the sound sans grilles, they stayed safely packed away. I don't consider that to be the Gallos' fault; in my experience, most speakers are at their best stark naked. I owned Gallo's original Reference speakers years ago, and I must say that these new speakers' transient response and bass definition are markedly improved.
The British Are Coming!
I was instantly smitten by the refreshingly modern yet altogether-understated cosmetics of Arcam's matching AVR300 A/V receiver and DV79 DVD-Audio/-Video player. The gently bowed faceplates complement the Gallo system's curves, so they look like they were made for each other. Arcam components are available in a lovely matte-silver or conventional black finish.
Twenty-something years ago, Arcam was a tweaky boutique manufacturer catering to fussy two-channel audiophiles, but they've evolved into one of Britain's most successful full-line domestic brands. And they didn't abandon their roots to get there; Arcam's engineers, software designers, and technicians make up almost half of the company's workforce. Countering the outsourcing trend, Arcam manufactures all of their DVD players in the UK.
The AVR300 is based on a completely new platform developed by Arcam's audiophile-oriented design team. Peek under the hood, and you'll see their handiwork: an oversized power transformer, high-quality capacitors, metal film resistors, and, on the rear panel, something I'd like to see on more A/V receivers: an AC ground-lift switch to help lower residual hum and noise. To ensure long-term reliability, the engineers fitted two super-quiet fans to cool the amplifiers' heatsinks. The receiver is equipped with all of the usual surround suspects, but two-channel purists who wish to keep things simple can engage the Stereo Direct feature; this doesn't merely bypass the receiver's digital bits, it actually shuts down all of the internal DSP functions. The analog signals can transverse the AVR300's innards blissfully untouched by anything digital.
The receiver's 100-watt-per-channel power rating won't raise too many eyebrows, but closer examination of the AVR300's allures reveals a few important details. Arcam claims that the spec holds up when all seven channels are driven, into both 8-ohm and the rarely quoted, current-hungry 4-ohm loads. Since a lot of folks are perfectly content with 5.1-channel surround, the AVR300 lets you reassign channels six and seven to alternative duty. You can run stereo sound to another room or use the extra channels to biamplify the front left and right speakers. That's way cool! Remember, in order to accomplish that feat, your speakers must be equipped with biwire/biamp connections.
The DV79 DVD-Audio player sports an HDMI interface for use with the latest displays and projectors. Arcam claims that the DV79's HDMI interface delivers a better picture than its competitors because it also features a Zoran Vaddis 5 decoding engine and superior power supplies. Custom-install integration should be a snap, thanks to the RS-232 port and IR control jacks on the back panel. Both the receiver and the player have adjustable lip-sync controls to compensate for the video-processing delays inherent in digital displays.
Both the receiver and DVD player also come with their own remotes, but I used the receiver's suede-like, fully backlit model to control both units. My aging baby-boomer eyes struggled to read the suede control's tiny labeling, but I mastered its functions in a few days.
A few caveats: The AVR300 receiver occasionally produced low-level clicking sounds from the speakers when I raised or lowered the volume. During the channel-balancing portion of setup, the receiver sent full-bandwidth test tones to my REL subwoofer, but full-bandwidth tones aren't much help for setting the sub's level, so I tweaked the sub level "by ear" and completed the setup.

Curiously, Arcam specifies the DV79's high-frequency response limit with 24/96 and 24/192 DVD-Audio discs as a maximum of 20 kHz; most high-resolution players extend up to at least 48 kHz. Not that I was aware of any loss of high-frequency detail or "air." To the contrary, DVD-Audio discs sounded especially good. Their sonic superiority over CD was more apparent than usual.
I'm Listening
Naturally enough, the Arcam/ Gallo system's special synergy was more apparent at home than it was at the show. No surprises there; equipment in my room always "sounds" better than in hotel demos. Once I had everything dialed-in, the system's spatial coherence was flat-out remarkable. I put the Reference 3s in the front left, center, and right positions with the Dués filling in the rear, but you could also use a Dué as the center speaker. I connected the equipment using Harmonic Technology cables.
The Reference 3s' soundstage radically changed dimensions every time I changed discs. The speakers didn't lay their own sound over that of the recordings. The "shape" of the instruments was eerily apparent; I could sense the body of an acoustic guitar or the size of a grand piano. Thanks to the Reference 3s' wide dispersion, their surround "bubble" was a sonic wonder, and the better DVD-Audios, like Beck's Sea Change and Bucky Pizzarelli's Swing Live, came closer to the holographic ideal than anything I've heard at home.
I found the system's tonal balance slightly laid-back; it didn't push detail forward. That said, on Neil Young's American Stars 'n Bars DVD-Audio, the system's crisp articulation and blindingly fast transient response was thrilling. I'll credit the AVR300 and DV79 for some of those delicate, airy high frequencies, and the Gallos' cylindrical tweeters are fully equal to the better ribbon tweeters I've heard on far-more-expensive speakers. The combination of the Arcams and Gallos was magical. Brass instruments are nearly impossible to get right, but the Gallos gave new insight into Miles Davis' fiery yet fully formed trumpet and John Coltrane's saxophone's abundant harmonics. Each disc was a revelation, and even the most familiar recordings had something new to tell me.
Rocking out with the Rolling Stones' Four Flicks DVD-Video boxed set, I pushed the system pretty hard and reveled in its power and glory. The speakers responded well to power, and the AVR300 happily obliged when the world's greatest rock-'n'-roll band kicked out the jams, especially on my favorite tune, "Can't You Hear Me Knockin'." The Hellboy DVD's subterranean pulsations tried to belie the system's trim dimensions, but I felt every tremor. Master and Commander's grueling high-seas battle scenes left me trembling.
Time's Up
I have to wrap things up with a few parting remarks. The Arcam/Gallo affair made it way past the love-at-first-listen phase, precisely because the sound was so hard to pin down. The electronics' see-through transparency perfectly complements the speakers' chameleon-like character. That said, although I reviewed the Arcam components and Gallo speakers as a system, you could surely appreciate them á la carte.
Highlights
• Arcam's fully featured multizone 7.1 receiver will wow two-channel music lovers
• The Gallo speakers disappear like few rectangular-boxed speakers can