All Systems Are Go! Page 4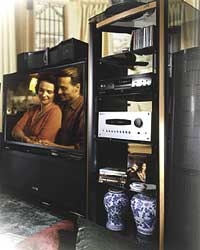 Dear Gear Guy, I sold my dot-com just before the crash and used the proceeds to buy a spacious suite overlooking Central Park. I require an A/V system that's impressive looking and powerful enough to fill my mammoth living area with sound. But you should know that I'm not a babe in the woods when it comes to A/V gear. I have owned many good systems, but now I want a damn good one. However, I simply don't have the time (or temperament) to deal with overly tweaky components or anything that needs endless programming. Thank you in advance for your consideration. High-Powered Business Woman
Dear High-Powered Business Woman, First, let me say that if you're single, I think we should get together to plan this important installation. Let's earmark about 18 grand for a top-of-the-line system that combines performance and beauty.
We'll begin with the Onkyo Integra DPS-9.1 DVD player ($1,800, reviewed in February/March). The first DVD-Audio/ Video player to bear THX Ultra certification, it has a look and feel that will immediately convince you it's light years beyond those dime-store plastic models. The progressive-scan component-video output looks superb. David Ranada pointed out in his review that "the battle-scene preliminaries of Braveheart, with masses of soldiers extending into the distance, benefited from the player's extended resolution" and that "both Toy Story films actually looked better onscreen in our viewing room than they did in the movie theater." He concluded that he had "no hesitation in recommending the Integra DPS-9.1. It's capable of extraordinary picture quality worthy of the finest projection monitors."
There's also full Dolby Digital and DVD-Audio decoding and a multipin DB-25 analog multichannel output, which can greatly simplify hookup with compatible components. Interestingly, the player also has an IEEE 1394 (FireWire) output - which could be used in the future to simplify hookup even further by routing all of the audio and video signals through a single cable (the requisite adapter card isn't yet available). Of course, the DPS-9.1 also plays CDs and both CD-R and CD-RW discs.
A fine player deserves a fine receiver, which is why I recommend the B&K AVR307 ($3,500, January), which Daniel Kumin called "a no-nonsense, high-performance receiver that gives up nothing significant in A/V performance to the more expensive receivers on the market." The front panel is elegantly sparse, but it has more features than a 32-screen cineplex. Also a THX Ultra component, it has both Dolby Digital and DTS decoding, and includes THX Surround EX and DTS-ES decoding for 6.1 channels (which will make you the envy of your geekier male business associates). The seven 150-watt amplifier channels - which should pump out more than enough power to fill your swanky Central Park digs with sound - include separate outputs for two back surround speakers.
---
LATEST VIDEO