80 Years Strong: Legendary Canadian Songwriter Gordon Lightfoot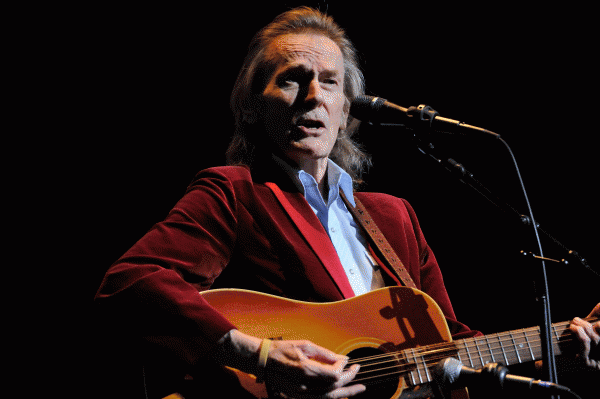 What becomes a legend most? If you're celebrated Canadian songwriter Gordon Lightfoot, you just keep on keeping on with what you do best. In the case of this particular never-slowing-down octogenarian, that means getting out on the road to perform songs that have been embedded in the North American listening fabric for the past half-century and counting — indelible folk-rock classics like "Sundown," "If You Could Read My Mind," "Early Morning Rain," and "The Wreck of the Edmund Fitzgerald," to name but a few. By his own admission, Lightfoot — who's getting ready to embark on the winter/spring leg of his 2019 "80 Years Strong Tour" and is also preparing new material for a projected late-2019 release — has no plan to retire his live engine to the train yard anytime soon.
"People ask me, 'Don't you get tired of doing "If You Could Read My Mind"?' Well, of course not!" Lightfoot observes. "Every night, it's got a different feel to it. It feels like a new experience every time I do the song."
Lightfoot, 80, called me from his homebase in northern Ontario to discuss why he personally tunes his guitars before every show, how and why he made the choices about where his vocals appear in studio mixes, and the continuing importance of historical accuracy in his songwriting. What a tale my thoughts could tell . . .
Mike Mettler: I happen to think you have some of the best ears in the business for acoustics, and how acoustic guitars should sound.
Gordon Lightfoot: Well, it's what we do! (chuckles)
Mettler: You're very meticulous about the time you spend tuning your guitars on show days. How do you know when a guitar sounds right to you?
Lightfoot: We do tune our own instruments, because I like to make sure the right intonation is on them. If I can be sure I have all of my octaves and my fifths perfectly aligned, then all of the instruments should be in tune. I really have four instruments on the go during every show. I have to make sure all of them are in tune during the day, so I arrive at the venue very early.
Mettler: The 1948 six-string Martin acoustic is still one of your main weapons, right? And you have some Gibson 12-strings out with you too, yes?
Lightfoot: That Martin is one I use onstage, yeah. I have two or three other guitars which I have on hand with me when I'm on the road. And yes, I also bring a couple of Gibson B45 12-string guitars.
Mettler: When you first started making studio recordings back in the '60s, did you have a hand in the direction of how you felt your music, playing, and singing came across on record?
Lightfoot: Well, at the beginning, there were a couple of different record producers I worked with [like John Court, John Simon, and Elliot Mazur], and we would make sure everything was in perfect tune — or as perfectly as we could get it. Actually, my tuning has improved greatly over the years. I'm usually at 99 percent — which is as good as it gets. (both chuckle)
Mettler: Are there any examples from other contemporaries of yours from those days that you would consider to be influences on your acoustic sound, either songs or albums you feel were well-recorded?
Lightfoot: The main thing you wanted to hear was the harmonics, and a good example of that would be "Scarborough Fair," by Simon and Garfunkel [the lead track on 1966's Parsley, Sage, Rosemary and Thyme, and one that also appeared on the soundtrack to 1967's The Graduate]. I was a great fan of theirs at the time. That was part of my formative years — as well as theirs. And the tuning they got on their instruments — I could learn things by listening to it.
Mettler: They also had a great recording engineer/producer, Roy Halee, who's an expert at capturing that sound. Do you feel vinyl is the best way to hear music like that?
Lightfoot: You know, I go more by the feel, not the sound. I heard so much on vinyl, and I've seen both sides of the apple as far as that goes. I did vinyl for over half of my career, and in the other half, I've been listening to digital. It's fine by me, because like I said, I go by the feel, rather than the sound, when I'm listening to music.
Mettler: When you're in the studio, do you tend to do guitar and vocal on the same track, or do you do them separately?
Lightfoot: Are you asking me about "If You Could Read My Mind" [a No. 5 hit single from 1970's Sit Down Young Stranger]?
Mettler: Well, you sure did read my mind about the rest of that question, yes! (chuckles)
Lightfoot: Well, usually I would have two or three musicians in there working with me, but I have had good success of just using guitar and vocal tracks. The other guys have their parts, but I prefer to go in there with a band, because it's more fun. I can do a guitar/vocal track in the control room, and they can still be in the studio. And they, of course, have to know everything beforehand. I write out the parts for my band, you know.
Mettler: "If You Could Read My Mind" also has some wonderful strings on it.
Lightfoot: That was an overdub, yeah. Randy Newman, who was one of the best L.A. arrangers in those days, did that arrangement.
Mettler: Did you always want to have orchestral sounds on your recordings like that?
Lightfoot: If the producers wanted to add strings to my songs, that was alright by me. Since I was being produced [by Lenny Waronker and Joseph Wissert, in this case], they would ask if I wanted to do things, and I could say yes, or I could say no — but usually I said, "Yes! Go ahead, do it! You want to get Ry Cooder on this thing? Let's get Ry!" (chuckles) [Cooder plays guitar and mandolin on the Stranger album.]
We had some great guys play on a lot of our albums, all kinds of great people. Dean Parks, he was another great guy. [Parks played electric guitar on 1982's Shadows and 1983's Salute.]
Mettler: Your voice always comes across crystal-clear and is front and center in the mix of your songs. Is that something you'd think about every time you entered a studio?
Lightfoot: Yeah, I'm thinking about the mix while I'm doing the song. You have to think about the mix as you're performing the material. I'm thinking about arrangements, and what the overdubs will be — all the things you'd like to add into it.
Mettler: As a consummate road warrior, you have songs that you've played for 30, 40, or even 50 years. How have your songs evolved live over that time?
Lightfoot: That's really the fun part. I've got the cream of the crop of all my tunes that are in the show. It's the best stuff I've got, and every night, it feels different. I mean, it really does. It feels like a new experience every time I do those songs.
Mettler: A song like "Canadian Railroad Trilogy" [originally on 1967's The Way I Feel] appeals to me on a number of levels, because my father worked for one of the major railroads down in the States. Anytime I hear a train-related sound, it transports me right to that feeling.
Lightfoot: Ah hah — it's in your DNA! I was asked to write something for a New Year's Day variety special the CBC were planning [to celebrate Canada's Centennial year on January 1, 1967], and that's what I came up with, years and years and years ago. (chuckles)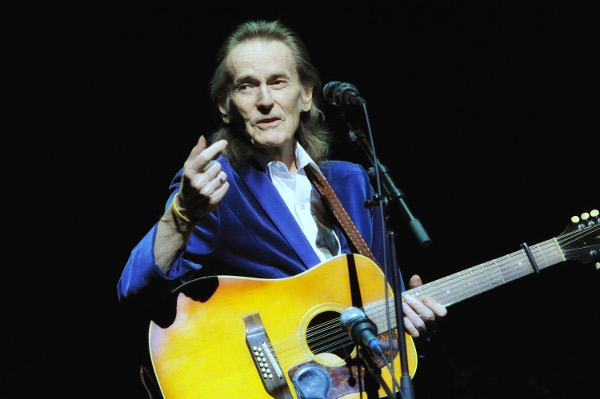 Mettler: You also grew up around hearing the rhythm of trains, right?
Lightfoot: Oh yeah, yeah. I always loved trains. Always did. In those days, we had the big steam engines, and I was really impressed by them. At the station in town [known at the time as Union Station, as used by the Canadian National Railway and Canadian Pacific Railway], there was a way you could see them coming in advantageously. As a little kid, seeing those things lumbering into the station — I remember my mom taking me down there to watch these trains come in and, my God, I'll tell ya, they were really huffin' and a-puffin' in those days.
Mettler: There's a great photo of you standing in the middle of a train track in the book Nicholas Jennings wrote about you called Lightfoot [published in 2017], with that perfect vanishing-point perspective behind you. Where was that picture taken?
Lightfoot: Oh, that would have been somewhere in North Toronto, in the yards where they assemble trains.
Mettler: The way you've arranged the tempo shifts in "Canadian Railroad Trilogy" has the song moves forward like we're approaching and then going through a station.
Lightfoot: There was a very famous folk singer, Bob Gibson, who had that format in a song called "Civil War Trilogy" [on the 1961 Bob Gibson & Bob Camp album, At the Gate of Horn]. I followed that format, and he knew I was doing that. I knew Bob, and he was a great guy.
Mettler: Before I get into the more historical aspects of "The Wreck of the Edmund Fitzgerald" [a No. 2 hit single from 1976's Summertime Dream], I wanted to ask you about the echo on your lead vocal, which is something you don't usually have. Was there a decision made to have that vocal sound differently than how you approached other songs?
Lightfoot: That was probably caused by the lead guitar part! (chuckles) The lead guitar part was reflecting itself on the lead vocal. It actually happened quite naturally.
Mettler: You're known as quite an historically accurate songwriter, which boils down to the amount of research that you have to do to make sure you get all the detail down properly, and what you had to do to get the lyrics of a song like this one up to your standard.
Lightfoot: There was something not right with it the first day, so I actually had to rewrite it. I stayed up all night and rewrote it. We tried it again on the second day and got it right — right away, in the first hour.
But before I did that, I had to examine all the newspaper clippings that I could find to make sure it was accurate. Some of my guesswork wasn't too far off. Some of it was guesswork and I knew that, and I was already thinking about the people who were going to hear the song at that point — the relatives and the families involved.
Mettler: Sure, and a couple of lines have changed over the years after you confirmed more factual information about what had happened.
Lightfoot: The thing about the hatch covers was always in doubt ["At 7 p.m., a main hatchway caved in"], so I changed it to "At 7 p.m., it grew dark, it was then he said, fellas" — and, of course, the next line comes from Woody Guthrie — "it's been good to know ya." [i.e., from the Guthrie song "So Long, It's Been Good to Know Yuh," from 1935's Dust Bowl Ballads]. I always had that one — and I'm sure Woody wouldn't mind.
Mettler: I think I can agree with that. It's something you and your compatriot Bob Dylan also have in common — that throughline of being able to recall folk traditions as a songwriter that you can fit into a line or two in a song, and hope people discover it and feel compelled to go back into the history of it.
Lightfoot: Bob Dylan really got me interested in doing contemporary folk music. Right at the beginning, right when he had his first album [1962's Bob Dylan] — that's how I got interested in it.
Mettler: He's called you "a mentor." You two have had numerous interactions over the years, but how do you feel about someone like Bob Dylan calling you a mentor?
Lightfoot: Well, Bob Dylan was very kind to me. (chuckles) As I've said, he's been very gracious and kind. He knows the magnitude of my fan appeal, and I'd also say he would be my all-time favorite. He and I found all that out when we were being managed by the same company [i.e., Albert Grossman] in New York over a period of years. I got to know Bob really well over that time because of it.
Mettler: Bob invited you to do the Rolling Thunder Revue in Toronto in December 1975.
Lightfoot: There was that, yes. There were other things we did too, but that's the one that got the most notoriety.
Mettler: Right, and Bob also covered a key track of yours, "Early Morning Rain," on Self Portrait [released in June 1970. "Early Morning Rain" was originally on Lightfoot's 1966 debut album, Lightfoot!]
Lightfoot: He had the one, and one was good enough! We were into writing our own stuff, you know? That's what he did, and that's what I wanted too. Although I did record a Phil Ochs tune, "Changes" [on 1966's Lightfoot!], and I also did "Me and Bobby McGee," by Kris Kristofferson [on 1970's Sit Down Young Stranger]. I think I was the first person to do that one, though I know Roger Miller also recorded it around the same time [in 1969, actually, when it hit the country charts].
Mettler: You guys were ahead of Janis Joplin at that point [who recorded the song in mid-1970, but was released posthumously on Pearl in January 1971]. In reverse, there are literally hundreds of artists who have recorded your songs. Why do you think your songs appeal to so many different artists?
Lightfoot: I don't know, but it kept coming on that way! That went all the way up to Elvis. We had a chance to go down to Graceland about 5 years ago, and the people down there were telling me he was getting ready to do a couple more of my tunes when he died [on August 16, 1977]. He had already done two. ["Early Morning Rain" appears on 1972's Elvis Now, and "(That's What You Get) For Lovin' Me" is on 1973's Elvis.]
Mettler: I do have to say, one of my favorite covers was done by a fellow Gordon of yours — Gordon Downie and The Tragically Hip, who did a powerful version of "Black Day in July" on the 2003 album Beautiful: A Tribute to Gordon Lightfoot. [The original "Black Day in July" appears on 1968's Did She Mention My Name?]
Lightfoot: Gordon did a great job singing that tune. He did a really good job on it. When I first heard it, I thought it was great. He really got into the heart of it, you know — as he would. He attacked it like Gord Downie would go after a tune.
Mettler: Do you happen to have a favorite song of his?
Lightfoot: I thought "Bobcaygeon" was rather great. ["Bobcaygeon" is on The Hip's 1998 release Phantom Power, and it was named after a small town 100 miles northeast of Toronto.]
Mettler: Yeah, "Bobcaygeon" is a wonderful piece of work, I agree. And I always thought "Nautical Disaster" [from The Hip's 1994 album Day for Night] had a bit of a tie into "Edmund Fitzgerald," of course.
Lightfoot: Oh yeah, I think so too. I heard the album they did out in Seattle [2004's In Between Evolution], and I thought it was a good album.
Mettler: I agree. Career work from a career artist we miss every day. [Downie passed away from brain cancer in 2017.] The last thing I want to ask you about is I understand your very first recording was a red platter 78 you recorded in 1948, "The Irish Lullaby." You still own it, is that correct?
Lightfoot: Yeah, yeah, I did it in Grade 4. I've still got it.
Mettler: Do you even have anything you could play it on at all, like an old 78 player or something?
Lightfoot: I got it transferred over to cassette! (chuckles) It's on cassette. One of these days, I'll put it over onto a CD.
Mettler: Please do! A second box set might be in order. I'd love to hear stuff like that, literally 80 years later.
Lightfoot: Fortunately, there's not too much of that stuff around, Mike! (both laugh)