7 Must-Have Holiday A/V Gifts Page 3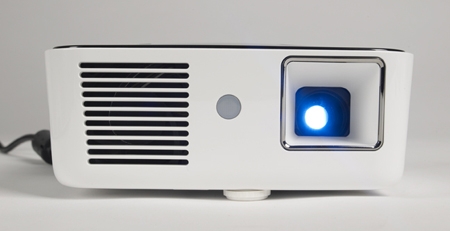 BenQ GP1 LED Mini Projector ($499)
Here's something you don't see every day - a front projector small enough to shove in a backpack or purse. BenQ's GP1 exists somewhere on the front-projector family tree between full-size models and the handheld "pico" projectors that you see grafted on the ends of cellphones. Although it's mini, the GP1 has some power under the hood: Resolution is spec'd at 858 x 600, and contrast at 2,000:1. Those numbers tell you straight up that it's no toy. Even better, its single DLP chip is lit by separate red, green, and blue LEDs. Regular projector lamps typically go dim after 2,000 hours, but according to BenQ, the LEDs in this baby will retain their brightness for up to 20,000 hours.
The black-and-white-clad GP1 comes with a multi-input cable that connects to a proprietary socket on its back panel. You can plug an A/V source into the composite-video/stereo audio connections (it has a built-in speaker, but you should use it only in emergencies), or a computer into the VGA port. You can also make a component-video connection using a special componentvideo-to-VGA adapter cable (not included). Other source options for the GP1 include a USB port to plug in fl ash memory sticks filled with JPEG pics and MPEG-4 or AVI-format videos, and a video-friendly iPod when using BenQ's docking station accessory (also not included).
Setup of the GP1 is a snap. There's a manual focus ring but no lens position adjustment or zoom lens, so image size depends on where you drop the projector. The GP1 has a native 4:3 aspect ratio display, but its 858 x 600 resolution means you can watch widescreen DVDs with no resolution compromise. And its picture settings include a User mode with a full set of adjustments, including several color-temperature presets. Fan noise was low - an important asset for a tabletop projector.
Overall, the GP1's picture quality was quite acceptable. Blacks were solid and colors looked rich (a bit too rich, but knocking back the color control helped some). Movies looked more detailed via the VGA/component-video connection, so I'd make a point of using that one. Another tip: JPEG photos look much crisper on the GP1 when pulled straight off a USB fl ash drive. BenQ's GP1 is cool, cute, and LED-powered, and it can easily fit in a stocking. benq.com -- Al Griffin
Panasonic TC-L32X1 32-inch LCD HDTV ($450)
If you've seen the ads for TVs in the papers lately and noted the attractive prices, you've probably figured out that Holiday Season 2009 is an HD-for-all affair. At this point, there's no reason why everyone in the family shouldn't have a flat-panel of their very own. If you've got kids in high school or college, Panasonic's TC-L32X1 might just constitute the ultimate all-purpose bedroom or dormroom gift. Its crisp 32-inch, 720p-rez screen is just the right size to permit immersive viewing in close quarters, and the four high-def inputs (3 HDMI, 1 component video) leave plenty of room to hook up a Blu-ray Disc player, game console, cable box, or other source components. You get an SD card slot for viewing digital stills from a camera. And there's an RGB input for a laptop so the TV can double as a giant computer monitor for playing videogames, Web surfing, or typing up assignments. But here's the kicker: a built-in backside port that connects Panasonic's universal iPod dock, which comes with the TV. Once an iPod is mounted, you can navigate its menus and play music, video, and podcasts right from the set's onscreen interface.
The Panasonic TC-L32X1 is no slouch when used as a plain ol' HDTV, either. With a little tuning of its Cinema video preset, it produced an excellent picture with decent black levels (advice: set the Black Level control to Dark) and vibrant yet accurate color. Even when viewed at close range, HD content from my cable DVR and Blu-ray Disc player looked great, and standard-def also appeared surprisingly clean and stable. Best of all, its $450 street price is an awfully small amount to pay to wake up as Super- Dad on Christmas morning. panasonic.com -- Rob Sabin
Not done shopping yet? Check out our Online Holiday Gift Guide for more great gifts for the A/V nerd on your list.