7 Must-Have Holiday A/V Gifts Page 4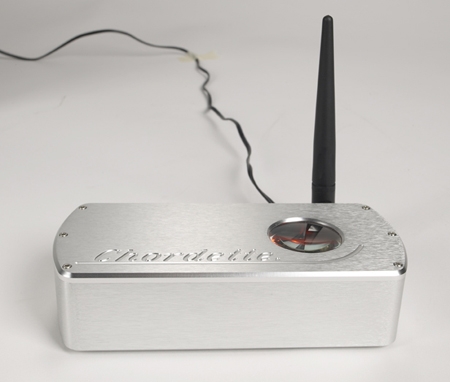 Chordette Gem D/A Converter ($799)
Need a gift for your audiophile friends? Why not give them Gems? The Chordette Gem is a standalone digital-to-analog converter that can stream music wirelessly via Bluetooth's Advanced Audio Distribution Profile (A2DP) from portable devices like Apple's iPhone or iPod touch (OS version 3.0 required). It also has a USB port to connect directly to a computer, with support for everything up to 24-bit/96-kHz high-rez music files. And the Gem's brushed stainless- steel case signals that it's a real hi-fi component - a point driven home by the warm, tube-like glow coming from its front-panel window.
I'd never used a Bluetooth anything before, but setup proved painless. I simply switched Bluetooth On in my iPod's General settings window, and "Chordette Gem" appeared as an available device for connection. And when I later plugged in via USB, the Gem showed up in my Mac Power- Book's System Preferences window as a sound output device option.
Hookup to your A/V system is via a pair of goldplated RCA jacks. With the Gem plugged in, I was soon finding all sorts of ways to keep entertained. I could browse and listen to music stored on my iPod touch; stream from Internet radio services such as Pandora, Last.fm, or NPR's Public Radio Tuner; or just plug in my laptop via USB and set iTunes to DJ mode (adding on-the-fly tweaks to the robo-DJ playlist via the Remote App, of course). Spinning CDs suddenly seemed so last century.
Given that the Gem comes from respected British hi-fi maker Chord Electronics, you'd expect it to sound good, and I'm happy to report that it does. Uncompressed files played on my PowerBook displayed decent spaciousness and heft. Even the Pandora stations that I listened to via Bluetooth seemed to benefit from their trip through the Gem. But, audiophile considerations aside, it's this product's convenience factor that ultimately wins you over. With a Gem, an iPhone or iPod touch, and a Wi-Fi connection for streaming Internet audio, you'll never be at a loss for stuff to listen to. sumikoaudio.net -- Al Griffin
Not done shopping yet? Check out our Online Holiday Gift Guide for more great gifts for the A/V nerd on your list.