7 Must-Have Holiday A/V Gifts Page 2
LG LHB953 Network Blu-ray Home Theater ($500)
That special someone on your holiday list would probably flip if you got her a Blu-ray Disc player. Or a receiver. Or maybe a speaker system. Can't decide? How about all of the above? LG's LHB953 Network Blu-ray Home Theater System bundles all that and more into a slick, budgetconscious package. The components are all nicely dressed in glossy black, so they'll match most TVs. Overall, the system's look is conservative, but that's okay - most folks don't want gear that looks like it was beamed down from Planet Zebulon.
More important than looks, this thoroughly modern system has all the latest perks. For starters, front and center on the receiver is a push-to-open iPod dock. Even better, the receiver is networked: An Ethernet port lets it stream video from Netflix, CinemaNow, and YouTube, as well as audio from Pandora Internet radio.
Not ignoring the basics, this system has two digital audio inputs, a USB port for jacking in still other media, and an HDMI output. And the full-featured remote lets you adjust individual speaker-channel volume levels on the fly. Too much bass? Turn down the sub. Can't hear the dialogue? Turn up the center channel. On the downside, the LG doesn't offer video switching, and it lacks the wireless surround speakers found on some other systems.
You might expect that this budget Blu-ray player would take forever to load a disc. Au contraire - it's relatively speedy, matching or even surpassing the startup times of many other standalone players. Likewise, video playback with both Blu-ray Discs and DVDs looked quite good with the system plugged into my TV via HDMI (cable supplied). As with most box systems, corners had to be cut somewhere, so the LG's sound quality, while quite good for its class, won't blow away pricier speaker packages. For example, while the subwoofer pumps out a decent amount of bass, it audibly distorts on loud bass passages. Still, all in all, this system's sonics are more than adequate.
LG's full-featured home-theater system will let you reach gift-hero status on a shoestring allowance. Why fill that stocking with just a Blu-ray Disc player, when for the same price you can jam in so much more? us.lge.com -- Ken C. Pohlmann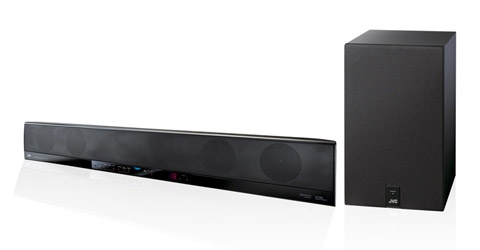 JVC TH-BA1 Soundbar System ($400)
If someone you know owns a flat-panel TV but is still stuck using his old dorm-room speakers, a soundbar will make an ideal holiday gift. There are plenty of soundbar options, but JVC's new TH-BA1 manages to hit the sweet spot with good sound quality and super-easy setup thanks to its wireless subwoofer.
The TH-BA1's glossy black plastic case and punched metal grille let it blend with most TVs. It measures about a yard across; if your set's screen is the same size or larger, you've got a good fit. (Soundbars that are wider than your screen are a no-no.) You can place it above or below, or even in front of, the TV, and there are also keyhole slots on back for wall mounting.
The soundbar offers up four 31?4-inch drivers, each powered by a 30-watt amplifier channel, while the subwoofer houses a 61?4-inch driver and a 100-watt amp. There's one analog stereo and two optical digital inputs to plug in source components. The soundbar also has Dolby Digital/DTS/Dolby Pro Logic II decoders onboard to deliver what JVC calls "front surround." A reasonably nice remote lets you independently adjust center, surround, and subwoofer levels, and there 's also a dynamic range-compression feature that's useful for late-night movie viewing.
In contrast to the stylish soundbar, the subwoofer cabinet (at right) is a plain black box with a nonremovable black-fabric grille. You won't feel bad if it ends up tucked out of sight. Since the subwoofer is wireless, you can put it just about anywhere. (There's a port on the back, so don't shove it too close to the wall.) To avoid hearing sound from two different locations, I'd recommend placing the sub as near to the soundbar as possible.
Like any soundbar, this one can't magically immerse you in a full 3-D sound field. But it can deliver clean, clear movie dialogue and high-fidelity music reproduction. Its modest surround effect diffuses and widens the sound field (but doesn't surround you with it). And the subwoofer delivers enough bass punch to make its point heard. But perhaps the best thing about the TH-BA1 is that you won't spend all day hefting cabinets and laying cables, so there will be plenty of time to watch holiday football. jvc.com -- Ken C. Pohlmann
Not done shopping yet? Check out our Online Holiday Gift Guide for more great gifts for the A/V nerd on your list.