30 Minutes with Lindsey Buckingham Page 3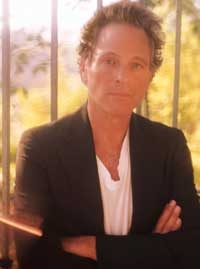 Anyway, listening to 45s was my religion, and it influenced the way I play guitar. I would spend hours in my brother's room listening to the same three songs over and over.
I was the same way. I played my 45s into the ground. Whether or not that's what they're trying to engender with the iPod idea or not, it seems more like background music. It's all subjective how you use it.
I look at singles as a kind of "lead-in" to an album. They open the door for a listener to explore an artist's work further if they want. For example, "Show You How," the lead track for Skin, is like a "taste." People hear that, get excited, and then they look for more. It's an introduction to getting people to seek out the other 10 songs you've got on the record. Yeah, sure, that's it. If someone has a mind to take an album and listen to it that way, they can certainly still do that, until that format dies. I don't see that happening anytime soon, but you never know.
After you're done touring Under the Skin, are you going to finish the "rock" album you've said is just about completed? Yes! In my mind, a lot of it's done. What I want to do is allow Warner Bros. to be a little more involved in the process of finishing it, which might mean recutting some of the tracks. I don't mind that. They were talking about getting me with another producer, which would be an interesting exercise.
LATEST VIDEO