2019 Overall Top Pick of the Year
Top Pick of the Year:
JVC DLA-NX9/DLA-RS3000 D-ILA Projector
(October/November 2019) Read Review
With flat-panel LCD and OLED TVs steadily increasing in size, the performance of home theater projectors has come under greater scrutiny. And the situation has been exacerbated by the arrival of 4K/HDR, which puts even greater pressure on models to deliver satisfying brightness and contrast while applying "tone mapping" to match the extended blacks and white highlight detail contained in HDR sources with the projector's native capabilities. Simply put, we expect projectors—especially premium models—to become more flat-panel-like in their performance, particularly when handling HDR.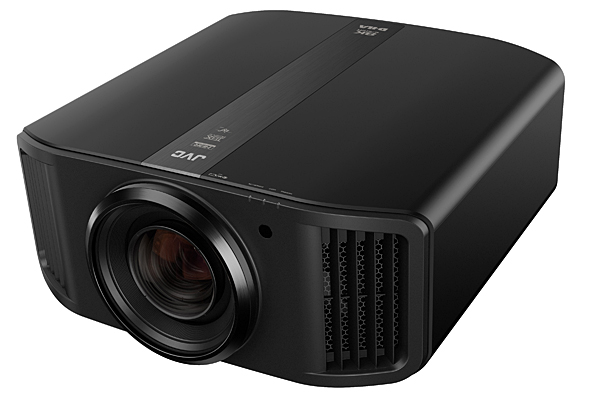 At $18,000, JVC's latest flagship, the DLA-NX9 (also known as the DLA-RS3000 on the company's professional products side), isn't a casual purchase, but it offers a level of performance that discerning videophiles would expect from a high-end projector. With new native 4K D-ILA imaging panels, improved video processing, and the same all-glass lens found in the company's previous $25,000 flagship RS4500 model, the DLA-NX9 arrives ready to impress. It features a BT2020 profile setting that in our testing provided full coverage of the P3 color gamut within the 2020 color space, and a third-generation D-ILA imaging chip that delivered native contrast in the 27,000 to 30,000:1 range—a nearly three times improvement over the RS4500. The 28 footlamberts calibrated light output it delivered for HDR viewing, meanwhile, is in-line with the high-end competition and perfectly acceptable for dark room theater viewing.
Along with its excellent general video performance, the DLA-NX9 features an Auto Tone Mapping mode that our reviewer, Kris Deering, found to provide a "plug and play experience when watching HDR," something it manages by automatically adjusting the tone map based on the MaxCLL (maximum level of a single pixel) and MaxFALL (maximum frame average light level) indicated in the metadata HDR programs contain. A few months after he tested the DLA-NX9, JVC released a major firmware update that added dynamic tone mapping to the projector. That feature, also reviewed by Kris on soundandvision.com, allows the projector to adjust the tone map of HDR programs on a frame-by-frame or scene-by-scene basis, with both modes doing a "much better job in matching the projector's existing dynamic range to the video being displayed."
How did the new feature improve the look of Ultra HD movies displayed by the DLA-NX9, which already looked great to being with? The change, according to Kris, is "not subtle." He continued, "Scenes that previously looked dreary and dynamically truncated come alive with better shadow detail and color vibrancy. Highlights stand out and give the HDR image a greater sense of pop." Of course, an $18,000 projector designed for dark room viewing won't be for everyone. But as Sound &Vision's overall Top Pick for 2019, it successfully proves that consumer-grade projectors can deliver a truly high-performance 4K/HDR experience at home. $18,000, jvc.com