15 Minutes with SAE Founder, Amp Guru Morris Kessler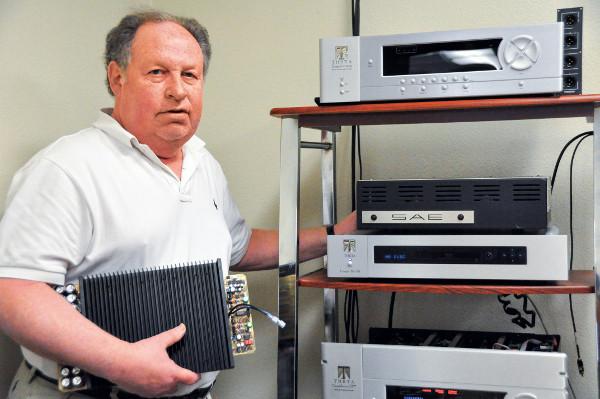 Even if you never heard his name you know his work. For nearly half a century Morris Kessler has been quietly designing and building world-class power amplifiers, not only for SAE—the iconic brand he founded in 1967—but for his other company ATI and a number of respected brands including Dynaco, Aragon, Crestron, Adcom, Integra Research, and B&K, to name a few. But that's not all Kessler is known for. SAE introduced the first graphic equalizer, first digital read-out tuner, and first phonograph pop-and-click filter. Kessler is also credited with designing the first high power five and seven-channel amplifiers. All done without great fanfare. As Brian Barr, current president of SAE put it, "Morris is the antithesis of an ego-maniac." It was love at first sight when we laid eyes (and ears) on SAE's gleaming 2HP-D amplifier at last fall's CEDIA Expo. Mesmerized by its magnificent VU meters and ability to effortlessly electrify the room, we wanted to learn more about the quiet legend behind this and countless other audio workhorses, so we tracked down Morris Kessler. Our conversation went something like this.
S&V: How did you get started in audio? Do you have an engineering background or did you just pick it up?
Morris Kessler: I started working in a hi-fi store [Hi-Fi Corner in Los Angeles] when I was 15. My work began with bagging records and waiting on customers. I had a technical bent and was soon doing in-home installation for the console systems of the day. While I did study circuit design in college, I had already designed tube and solid-state amplifiers before my first class.
S&V: What was it about amplifier design that engaged you?
Kessler: We listened to all of the products of the day. Transistors were new and exciting and caught my attention. The first such amps weren't very good. They didn't sound good compared to tubes and weren't as reliable. Then we took on the Acoustech line. They had the first good sounding solid-state amps. When they failed I took the dead amps apart and soon discovered what was wrong. I contacted the company and gave them my ideas to improve reliability. They were receptive and I was hooked.
S&V: The name SAE is synonymous with outstanding amplifier design. What was it like starting an audio company in the Sixties and how did the name SAE come about?
Kessler: I built my first solid-state amplifier in 1962. It wasn't very good but I kept at it. The local RCA salesman fostered my interest by arranging for me to get free samples of their latest transistors. That was a great help. Soon I had an amplifier I thought was pretty good. I built a handful in my [Los Angeles] apartment and began taking them around to other dealers. They liked them and bought some and it seemed to me there was enough interest to start a business. So [in 1967] I did. I wanted a name that conveyed technology. We came up with Scientific Audio Electronics. I took some of the photo resist tape we used for masking circuit boards and made a logo with straight lines and square corners. It worked. We still use it to this day.
S&V:
Tell us about the rebirth of SAE. Why now?
Kessler:
There has always been enthusiast interest in SAE. There's a user group on Yahoo devoted to the brand and collectors with stacks of the gear who post on-line regularly. Plus we have "friends of the family", in particular our ATI distributor in Germany and Brian Barr [the current president of SAE], who were both insistent and persuasive that the market had a place for an edge-of-the-art amplifier line with the venerated brand. After resisting for many years, I finally heard them.
S&V: I'm told you wanted to move the needle in amplifier technology just as SAE did back in 1967. Can you explain?
Kessler: Basically I want every amplifier I design to be superior to my previous efforts. That's how I stay engaged. SAE was very innovative. We were the first with digital tuners, graphic equalizers, and black components. We were probably the first company to make fully complementary power amplifiers. And we had those big VU meters. So SAE offered top performance and good looks. Sometime around 2007 we learned of a way to make fully balanced differential amplifiers with only a single input stage. While I didn't invent the topology, our team worked very hard to simplify the design to maintain top performance and to add ease of manufacture.