AudioQuest DragonFly Cobalt Portable USB DAC Sweepstakes
Register to win an AudioQuest DragonFly Cobalt Portable USB DAC (Total value $299.95) we are giving away.
According to the company:
In 2012, the original AudioQuest DragonFly thoroughly disrupted the DAC market. For so many casual enthusiasts who had never previously considered the possibility of improving their digital-audio experience, DragonFly was nothing short of a revelation. Meanwhile, even the most experienced audiophiles were compelled to reexamine long-held notions of what a DAC could and should be. Stereophile's Art Dudley enthusiastically summarized, "DragonFly is fun: It's a thumb in the eye of those tea-pinky tyrants who would tell the rest of us what is and is not high end. I can think of no more recommendable product in digital audio."
In the early months of 2015, AudioQuest surpassed its previous achievements with DragonFlys Black and Red—two sensational models that offered improved performance-to-cost ratios with unprecedented sound quality, free firmware updates, and, of course, the biggest news of all, compatibility with Apple® and Android® smartphones.
And now comes DragonFly Cobalt—AudioQuest's new flagship DAC. Cobalt takes what music lovers around the world have come to expect from the multi-award-winning DragonFly family—naturally beautiful, seductive sound—and strips away fuzz and fog that weren't even noticeable until Cobalt removed them.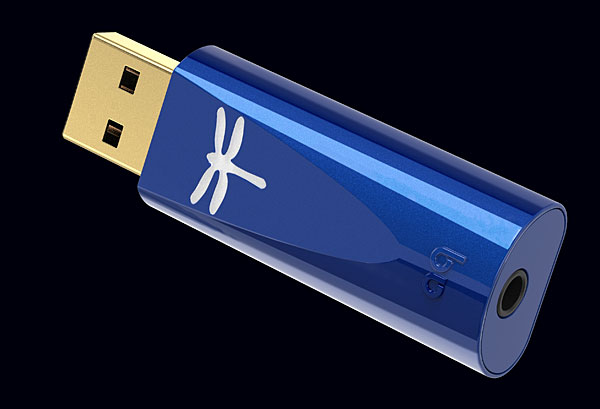 How is this possible? Like the critically acclaimed DragonFly Red, Cobalt has the robust 2.1-volt output to drive almost any headphone, uses a bit-perfect digital volume control for outstanding signal-to-noise ratio, enables seamless compatibility with Apple and Android devices, and is an exceptionally competent and affordable MQA renderer.
Cobalt's precedent-setting performance is made possible by multiple significant upgrades:
New, more advanced ESS ES9038Q2M DAC chip with a minimum-phase slow roll-off filter for more natural sound.
Microchip's superb PIC32MX274 microprocessor draws less current and increases processing speed by 33%.
Improved power-supply filtering that specifically increases immunity to WiFi, Bluetooth, and cellular noise.
Includes AudioQuest's new DragonTail USB-A (female) to USB-C (male) adaptor to easily accommodate the increasing number of electronic devices that feature USB-C ports.
Contoured enclosure measures just 2.26" x 0.73" x 0.47" (57.5mm x 18.6mm x 11.9mm), making the latest DragonFly 10% smaller than its predecessors.
Like previous models, Cobalt uses Gordon Rankin's precedent-setting StreamLength® asynchronous-transfer USB code. Further, in Gordon's monoClock® technology, a single ultra-low-jitter clock generated from the ESS ES9038Q2M DAC chip runs the ESS chip functions as well as all microcontroller functions. This superior clock enables DragonFly Cobalt to provide greater resolution and clarity than DACs with multiple clocks.
With AudioQuest's DragonFly USB DAC, music appreciation and exploration are limitless: Plug into an Apple or Windows computer or connect to an iOS or Android mobile device. Play YouTube or Vimeo videos. Go hunting on Bandcamp or SoundCloud. Explore playlists on Spotify or Pandora. Stream high-res audio from Tidal or Qobuz. No matter the choice of musical pleasure, DragonFly delivers beautiful sound to earbuds, headphones, desktop speakers, or complete audio systems, unraveling the emotional expression and nuance that makes music and movies so enjoyable. Now, more than ever before, naturally beautiful sound is right at your fingertips—however you want it, whenever you want it.
The first 10,000 units of DragonFly Cobalt will come packaged with vouchers for trial subscriptions to the outstanding Tidal and Qobuz music-streaming services. Cobalt customers can begin their musical journeys with two new AudioQuest playlists—On an AudioQuest and Making Connections—available on Tidal and Qobuz, respectively.
---
To enter the sweepstakes, all you need is an account on this website. If you don't already have one, click on the link labeled "register" at the bottom of this announcement or "LOG IN/JOIN" in the nav bar at the right. Then, enter a username and a valid e-mail address, and click on the "Create new account" button. A message will be automatically sent to the e-mail address you specified, which will include a link to activate the account.
The final step (and only step for those who already have an account) is to log in and leave a comment right here on this announcement—any comment will do, as long as it's not profane or spam. Then, when the sweepstakes closes, a lucky commenter will be chosen at random to receive the prize. So post a comment, and good luck!
For complete sweepstakes rules, click here.
[This Sweepstakes is now closed]