Samsung Expands 8K, MicroLED, Big-Screen TV Options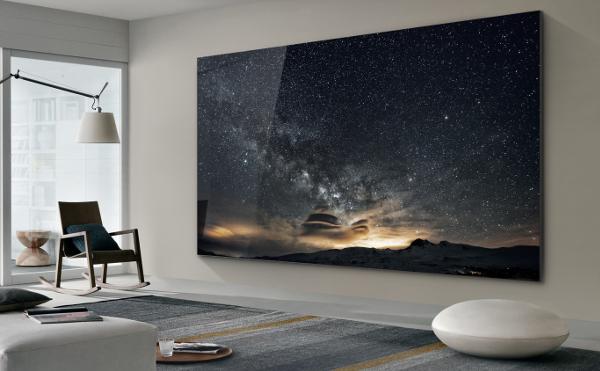 Samsung kicked off CES 2019 with a wider selection of 8K LCD TVs, more LCD TVs with big screens of at least 75 inches, and two new MicroLED 4K TVs, one at 75 inches and one at 219 inches.
The company also came to Vegas to improve TV-audio quality, expand its selection of TVs with contrast-enhancing full array local dimming (FALD) LED backlighting, and expand the number of décor-focused models in its Frame and Serif TV series, which are designed to entice consumers into putting TVs in more rooms.
In a major expansion of its 8K selection, Samsung introduced four new 8K Q900-series LCD TVs, one with a massive 98-inch screen. They join the $15,000 85-inch 8K Q900 TV available since late 2018. The three other new 8K models have 65-, 75-, and 82- inch screens. All models feature AI-based 8K upscaling and 4,000-nit peak brightness, or twice that of some of the company's 4K TVs.
Within the 8K lineup, the 98-inch Q900 features 100% color volume, direct full-array backlit local dimming, and audio room-error correction to tailor sound to a specific room's acoustic characteristics and TV location. An upgraded outboard HDMI switching box will be available at an unannounced date to add 8K-capable HDMI 2.1 inputs to Q900 models. Prices were unavailable.
With the additional pixels, the 8K sets will deliver "extreme detail," revealing details within details, images with defined edges, texture that makes concrete look like concrete, and background-object details that stay in focus to increase depth, a Samsung spokesman told Sound & Vision. The enhancements will be visible to viewers at a distance up to 12 feet on larger screens. In U.S. living rooms, the average TV-viewing distance is 8 to 12 feet, with six to eight feet quite common, the spokesman said.
On bigger screens, 4K resolution requires bigger pixels that in turn soften the picture, the company added.
New MicroLED TVs
In expanding its selection of modular 4K microLED TVs, Samsung unveiled The Window (pictured here), a 75-inch version of the 146-inch The Wall, which has been available for commercial and custom residential installs. A 219-inch version (see opening photo) of The Wall was also announced.
The microLED TVs use emissive red, green and blue LEDs to generate light and color, delivering high contrast and what Samsung said is "near-perfect color." Individual tiles can be connected to create any size screen, resolution or aspect ratio, but to deliver 4K resolution in a 16:9 shape, The Window's screen must grow to 75 inches diagonally, and the latest Wall must be configured at 219 inches diagonally.
In The Window, Samsung narrowed the gap between inorganic LED chips to deliver 4K resolution in a smaller size. The Window also adds a mosaic mode multi-screen function to display different content in each window and an ambient mode that mimics the look of the wall behind the TV to blend in.
Among other CES announcements, Samsung said it will make its Bixby personal voice assistant in TVs "more conversational" and will, for the first time, enable its TVs to be controlled from Alexa- and Google Assistant-equipped smart speakers. (Bixby is accessed through a microphone-equipped remote.)
Samsung also announced the addition of AI (artificial intelligence) sound to TVs, enabling them to optimize sound settings on a scene-by-scene basis. For example, audio can be optimized for scenes with only dialog and for scenes with music and special effects. Using sound emitted by the TV and picked up by a microphone-equipped remote, the TV will also calibrate sound automatically to compensate for the liveness (echoes and reverb) of a room and the distance of the TV from the viewing position.