BDI Cavo 8168 Home Theater Cabinet Sweepstakes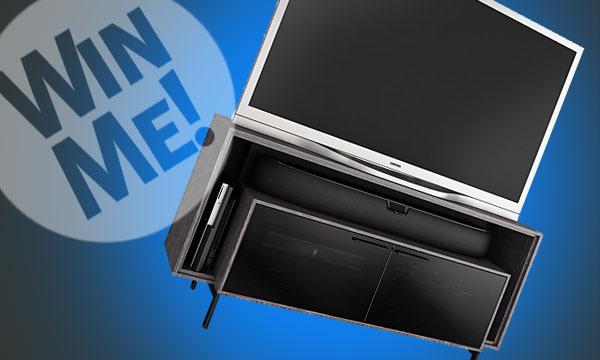 Register to win a BDI Cavo 8168 Home Theater Cabinet we are giving away.
According to the company:
With the advent of flat panel TVs, soundbars have become staples in home theater design. But finding a way to integrate that soundbar seamlessly into your overall system display has proven tricky. The CAVO flat panel TV console directly addresses this need and is the latest home theater innovation from BDI.

Designed by Matthew Weatherly, the clever frame-within-a-frame design provides a wide, open top platform that is the perfect home for a soundbar. Not only does it provide adequate space for these long, narrow speakers, the open platform evenly and completely disperses sound, providing the best audio experience available with a soundbar system.

The inner frame of CAVO houses electronic components on adjustable shelves, neatly concealed behind IR-friendly tempered-glass doors with soft-close hinges. Open side compartments provide additional space for easy access to a game console and/or media. Integrated wire management channels keep cables organized, and removable panels in the back allow for easy access to wires and connections, making setup and maintenance of your system a breeze. Flow-through ventilation slots in the base, shelves and back keep air moving and promote component life.

BDI is pleased to give one lucky reader the CAVO 8168 in the finish of his or her choice—natural walnut, graphite and espresso stained oak. This model is 27″ high and 58″ wide and safely accommodates up to a 60″ flat panel TV. The 8168's slim design (only 16″ deep) makes it perfect for medium-sized home theater systems or anyplace space is limited.

CAVO, like all BDI products, is as hardworking as it is attractive, with adjustability and accessibility playing a key role in the design. All BDI products are unique, functional and beautiful pieces that enrich the home environment, seamlessly integrating technology into the living space with thoughtful, purposeful design. Visit bdiusa.com to learn more about CAVO and all of BDI's home theater, office and other premium furniture products.
To enter the sweepstakes, all you need is an account on this website. If you don't already have one, click on the link labeled "register" at the bottom of this announcement or "Login/Join" in the nav bar then click on the "Create new account" link. Enter an username and valid email address and a message will be automatically sent to the e-mail address you specified, which will include a link to activate the account.
The final step (and only step for those who already have an account) is to log in and leave a comment right here on this announcement—any comment will do, as long as it's not profane or spam. Then, when the sweepstakes closes, a lucky commenter will be chosen at random to receive the prize. So post a comment, and good luck!
For complete sweepstakes rules, click here.
[This Sweepstakes is now closed]