Oppo BDP-93 Disc Player Sweepstakes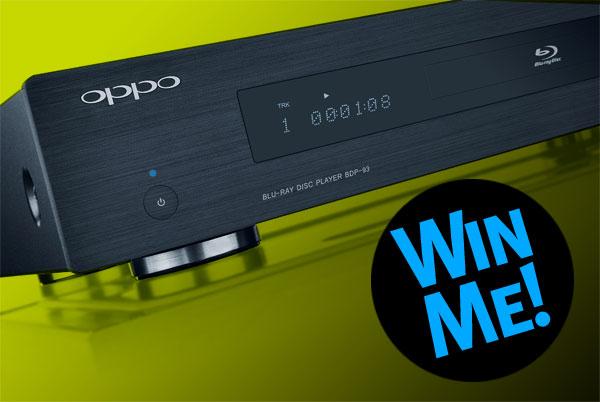 If you've been drooling over Oppo's new universal disc players—and let's face it, who among our readers hasn't?—here's your chance to snag one for free in our latest sweepstakes! We're giving away a BDP-93, valued at $499, which is widely considered to be among the finest disc players available today at any price.
The BDP-93 is a bona fide overachiever, providing everything that Blu-ray currently has to offer, including 3D with two HDMI 1.4a outputs (in case your AVR or pre/pro can't pass 3D signals to your display), 24fps output, BD-Live with 1GB of internal memory and wireless-n capability, BonusView, DTS-HD Master Audio and Dolby TrueHD bitstreaming and decoding, and 7.1-channel analog outputs. As a true universal disc player, it not only plays Blu-rays, DVDs, and CDs, but also SACD and DVD-Audio discs for all you audiophiles out there. And if that isn't enough to get excited about, the BDP-93 also provides access to a wide variety of online streaming content from the likes of Netflix, Vudu, and Blockbuster On Demand, as well as your own digital media files on networked devices, USB storage devices, and even eSATA hard drives connected directly to the player. The latest Marvell Qdeo video processor assures superior video performance from any source.
To enter the sweepstakes, all you need is an account on HomeTheater.com. If you don't already have one, click on the link labeled "register" at the bottom of this announcement or "Create new account" in the right column. Then, enter a username and a valid e-mail address, and click on the "Create new account" button. A message will be automatically sent to the e-mail address you specified, which will include a link to activate the account.
The final step (and only step for those who already have an account) is to log in and leave a comment right here on this announcement—any comment will do, as long as it's not profane or spam. Then, after the one-month entry period, one lucky commenter will be chosen at random to receive the prize. So what are you waiting for? Post a comment, and good luck!
For complete sweepstakes rules, click here.
[This sweepstakes is now closed.]