Blue Note
Making your computer feel Blu(-ray).
The big news in 2006 has been the emergence of two new high-def DVD formats—Blu-ray and HD DVD. With greater storage capacity than a traditional DVD, we can now get higher-quality audio and video on the small screen. Depending on the compression used, each release can contain a whole slew of extras—or you can fit entire seasons of television shows, in SD, on one disc. Now, with the introduction of some internal drives for the home computer, you can back up vast amounts of information with a single disc. My personal iTunes music library, which contains the majority of my CDs, encoded as AAC files at 192 kilobits per second (stereo), could almost all fit on one Blu-ray disc. That's three-and-a-half months of continuous music. Add the ability to play Blu-ray titles, and it's the perfect time to move that home computer into the home theater for some high-def goodness. Before you get too excited and run out to buy a new drive, there are a few things that you need to consider first.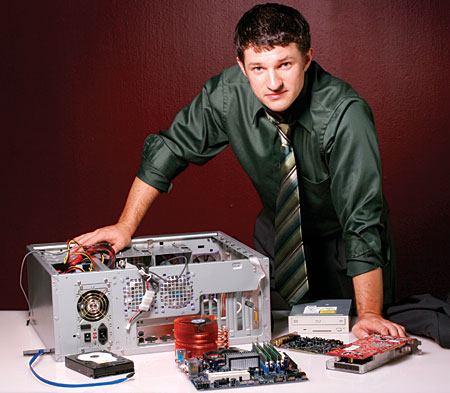 When you're building a PC, there are some important rules to keep in mind. Always work in an area that's as free of static as possible. A static charge to the wrong equipment can end your building adventure quickly. Antistatic wrist straps are available at your local computer-parts store. Also, while you're building, make sure you get everything seated properly on the motherboard. One memory stick slightly out of place can cause hours of frustration and head scratching. Lastly, do your research. There's nothing better than having too much knowledge about the task. Building a computer, especially for the first time, can be a nerve-racking experience. Having an idea of what goes into a build—or a smart, computer-savvy friend—can make the experience much less stressful and more rewarding.
The Bits and Pieces
There are many different parts to a computer, each one with its own purpose. Both the hardware and the software will determine how well—or how poorly—the system will handle Blu-ray, HD DVD, or whatever else you might throw at it. Here are some brief explanations of the different computer parts and what we used to make our first Blu-ray HTPC.
Processor
In the world of computers, the faster the processor, the better—and Blu-ray and HD DVD drives are no exception. Currently, the Blu-ray and HD DVD people use one of three types of compression when they put a movie on a high-def disc: MPEG-2 (the same that's used with regular DVDs and broadcast signals), VC-1, and H.264. Both VC-1 and H.264 have higher compression than MPEG-2, which allows for more content to be squeezed onto a disc, but it also takes more processing power to decompress these formats and play them back smoothly. To accommodate all of the codecs, a beefy processor is not only recommended, it's a necessity. Both major chip manufacturers, Intel and AMD, make dual-core processors. These are essentially two processors in one package that share the load. This past summer, Intel released their newest processor, the Core 2. It has lower power consumption than previous chips, which allows it to run cooler. To help keep your processors running cool, you could use an aftermarket processor fan and thermal grease, such as Arctic Silver 5. Zalman's CNPS9500 is a great cooling solution, and it brought our PC down 15 degrees Celsius, from 70 to 55 degrees. Plus, it's much quieter than the stock one.
• HT PC: Intel Pentium D Processor 930 (3 gigahertz), $168
• Other Option: Intel Core 2 Duo E6700 Processor, $589
Motherboard
The motherboard is what connects everything in a computer. All of the hardware links in some way to the motherboard, either directly or by a cable. There are a myriad of different factors that will help you determine which motherboard is right for you. The most important of these is the type of socket the motherboard supports. The socket is the place where the processor sits on the motherboard. There are many different types of sockets (LGA 775, 939, and AM2, for example), and they differ depending on the chip manufacturer (Intel or AMD), so make sure your processor and motherboard match up.
A second factor to consider is your motherboard's size. The two most common types are ATX and microATX, the latter being smaller. With a smaller board, the case can be smaller, but fewer connections will be available. It's a size-versus-expandability balancing act that depends on the user's preferences. The connections to look for are PCI (Peripheral Component Interconnect) Express x16 for the video card, regular PCI for other cards (sound card, wireless Ethernet), RAM slots, and SATA connections. Even if the motherboard has just enough PCI slots for your cards, everything still might not fit. (A video-card fan might block a slot.) Try to see the motherboard before you buy, or check the store or Website's return policy. Certain motherboards also support Intel's Viiv technology. Viiv helps in building a digital network around your PC to enjoy entertainment throughout the home.
• HT PC: Intel D945GPM microATX Motherboard, $113
• Other Option: ASUS P5NSLI ATX Motherboard, $173
System Memory
The system memory, or RAM (random-access memory), is where a computer temporarily stores information while this information is in use. The "random" part indicates that the computer can easily access the information stored there in any order as opposed to sequentially. Your computer generally erases the information stored in RAM when you shut the computer down. The more RAM a system has, the more space there is to store information that the computer uses in its computations. The two main types in use now are DDR SDRAM (a 184-pin stick of memory) and DDR2 SDRAM (a 240-pin stick).
• HT PC: Kingston Technology 2 Gigabytes (2 by 1 GB) DDR2 667 Memory, $177
• Other Option: Two Packs, for a Total of 4 GB of System Memory
Audio/Video Cards
Motherboards can include onboard audio and video that is serviceable for most tasks. It's a better idea to get a card dedicated to these tasks, especially if you're building a computer for audio- or video-intensive applications, such as playing Blu-ray or HD DVD discs. Sound card prices range from $20 to $500 each, depending on features (external control box, number of channels). Video cards can get expensive, reaching over $1,000 each, but the high-end cards are meant mainly for professional video rendering or extreme gaming. There are much better options that won't put a huge strain on your bank account.
Video cards come in two varieties: the new PCI Express x16 and the older AGP (advanced graphics port). PCI Express x16 is slowly supplanting AGP as the preferred graphics port. The majority of both NVIDIA and ATI's cards are PCI Express x16. The newer connection allows you to link two identical cards in a system for increased video performance. NVIDIA calls their version SLI (scalable link interface), and ATI named their version CrossFire. In order to take advantage of either configuration, the motherboard must support it, and you must have two PCI Express slots.
Some NVIDIA cards now include a technology called PureVideo HD. This processing takes the brunt of the complex video tasks away from the CPU, allowing for higher-quality playback up to 1,920 by 1,080. PureVideo HD cards also have an HDCP chip that meets the security specifications for both Blu-ray and HD DVD. If you plan to use your display's DVI or HDMI input, be sure it is HDCP compliant. For component connections or a DVI-to-VGA dongle, there won't be any copy-protection issues unless companies choose down the road to enable the ICT (Image Constraint Token). A PureVideo HD card, or a PureVideo HD-capable card with NVIDIA's ForceWare drivers, is a necessity for proper playback of the HD formats. The drivers are closely integrated with available Blu-ray software.
• HT PC: MSI NX7600GT Video Card, $175
• Creative Sound Blaster X-Fi Platinum Video Card, $200
Blu-ray Drive
HD DVD might have had the first standalone player, but Blu-ray beat them to the punch with the first internal drive. Pioneer was first out of the gate with the BDR-101A. The drive reads BD at 2x speed and burns both BD-R and BD-RE at 2x, as well (single layer). The BDR-101A reads and writes DVDs at 8x, except for DVD-RW/+RW, which it rewrites at 4x. Absent from the list are CDs. Since Pioneer is marketing the drive toward industry professionals and not consumers, they chose not to include CD functionality. Most computer owners already have an internal CD drive, so this is not much of an issue. The BDR-101A fits into a standard 5.25-inch expansion bay and connects to the motherboard with an IDE (integrated drive electronics) cable.
• HT PC: Pioneer BDR-101A Internal Blu-ray Drive, $999
Software
Installing a Blu-ray drive in your system is very exciting, but it's nothing more than decoration without the software to utilize it. InterVideo's WinDVD BD is one of the playback solutions for watching Blu-ray discs. The software works easily enough: Either open the program with a Blu-ray disc in the drive or insert a disc with the program running, and the movie will start up. The process takes between 30 seconds and 1 minute. You can control playback via the mouse or keyboard quick keys. WinDVD BD is currently only available OEM, but there are plans for a retail version in the future.
For burning BD media, Roxio's DigitalMedia V7 is ideal for backing up information. All you do is drag a file from your hard drive to the program's interface screen and hit the burn button. Although, with 25 GB of storage, you might want to drag more than one file.
• HT PC: InterVideo WinDVD BD Software, OEM
• Roxio DigitalMedia V7 Software, price TBA
Hard Drive
In order to store the programs you'll need for playing Blu-ray content—not to mention starting up the computer—you must have a hard drive connected to the system.With an HTPC, there's an extremely good chance you'll want to store all types of media—a CD library, over-the-air high-definition television, home movies. Hard-drive manufacturers, such as Western Digital (WD), make drives up to 500 GB. (Seagate has two drives that are a massive 750 GB.) You can connect the drives either by IDE, as with most CD/DVD/BD drives, or SATA—which allows for faster transfer rates. They also come in two different access speeds—7,200 rpm and 10,000 rpm.
• HT PC: WD Caviar SE16 500-GB Hard Drive, $240
Building your own HTPC isn't easy, but it can be fun, and the end result will be worth it.
Other Blu-ray Disc (BD) Drives
• Sony BWU-100A, $750 Writes both 25-GB and 50-GB BD. Reads BD, DVD, and CD. Attractive front panel.
• Panasonic SW-5582, $850 Recognizes BD, DVD, and CD. Can write to 25-GB and 50-GB BD.
• Plextor PX-B900A, $1,000 As with the Sony and the Panasonic, this one supports BD, DVD, and CD. Includes a 25-GB BD-RE disc, Ulead's VideoStudio 10, and InterVideo's WinDVD BD.
• LiteOn LH-2B1S, price TBA Also supports the three formats—BD, DVD, CD—and both sizes of BD media. What's interesting is that it utilizes the SATA interface instead of the traditional IDE.
LATEST VIDEO