Vandersteen Audio 1C Speaker System
American beauties.
Flat-screen-friendly speakers, iPod-inspired microspeakers, and adorable HTIBs are selling like crazy, but Vandersteen Audio is immune to such flights of fancy. Their speakers are all plus-size beauties—the company's new VCC-5 Reference center channel measures a healthy 24 inches wide, 9.75 high, and 18 deep. So, sure, it would be a hell of a lot easier to sell a slimmer design, but the company's head honcho, Richard Vandersteen, doesn't play that game. He designs speakers for buyers who care more about sound than fashion. His stuck-in-the-1980s styling isn't a calculated stab at retro—the handsome 1C tower speaker was originally introduced in 1981 as the Model 1, and the "C" iteration debuted in 1996. You see, change for the sake of change isn't an option at Vandersteen Audio, and that extends to bucking the industry stampede to move production offshore. They still build every speaker in Hanford, California, and they test and measure every speaker in their own anechoic chamber. That's commitment.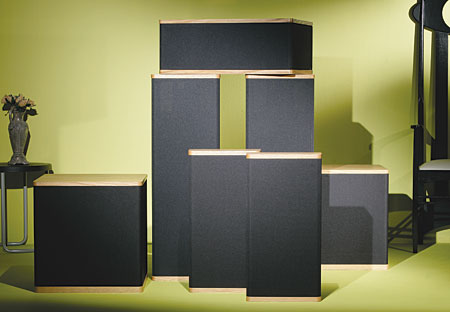 Breaking All of the Rules
The very first thing you'll notice about the Vandersteens' sound is that it's remarkably open, and, dare I say, it approaches the purity of some high-end electrostatic speakers. The Vandersteens' soundstage depth is positively addictive; the spacious image isn't just wide and deep, it's also taller than average, which adds to the sound's believability. Vandersteen claims that all of their speakers are "time- and phase-accurate." The goal is to more accurately maintain the signals' amplitude and timing relationships than is possible with conventionally designed speakers. Translation: They sound great!
The 1C is, at least by Vandersteen standards, a straightforward effort. When I peered through the non-removable wraparound cloth grille with a flashlight, I spotted a 1-inch alloy dome tweeter sitting in its own mini baffle just above the 8-inch woofer. Spring for the adjustable 1C floor stand, and you'll be able to precisely tilt the speaker back to ensure that the sound from the tweeter and woofer reaches your ears at exactly the same time. If that sounds audiophilically overzealous, you've probably never heard a speaker as phase-coherent as a Vandersteen. Please note that the 1C isn't magnetically shielded, so position it at least 10 inches away from a direct-view TV.
Vandersteen developed the VCC-5 Reference center-channel speaker for use with their top-tier speakers like the 5A and the new Quatro, but it sounded fabulous with the 1C. The VCC-5 is a three-way, point-source design—the idea was to eliminate the lobing effect that horizontally arrayed woofer-tweeter-woofer center speakers can produce. The result: The VCC-5 produces a remarkably consistent sound for on- and off-axis listeners. So, whether you're sitting in the sweet spot or way over on the end of the couch, you hear similar sound from the VCC-5. The speaker's back panel is fitted with a proximity-compensation switch to tame the midbass bloat you'd get if you placed the speaker within a cabinet or on a wall. Each VCC-5 is hand-tweaked to match Vandersteen's original prototype.
The VSM-1 wall-mountable surround speaker stands 23.5 inches tall, making it the biggest surround I've ever seen. Its coaxial driver features a metal-alloy dome tweeter mounted on the acoustic center of a 6.5-inch polycone woofer. Vandersteen claims that the VSM-1 delivers bass down to 60 hertz; that's a lot deeper than a typical shoebox-sized surround speaker. Richard Vandersteen tells me that some folks use VSM-1s up front, as the main left and right speakers, mated with the VCC-1 center speaker.
Vandersteen also sent along two visually identical—but functionally very different—subwoofers: the V2W and 2Wq. That was OK with me because I'm a big fan of using multiple subwoofers. That approach always sounds better—better as in the bass is flatter and smoother. If you have to stick with just one sub, though, I'd opt for the V2W, mostly because its standard LFE input makes it easier to integrate into a home theater system. (The 2Wq uses an outboard passive crossover network that you hook up between your surround processor and power amp.) Both models feature power amps rated at 300 watts and three custom-built, 8-inch long-fiber drivers. Each driver boasts special 1.5-inch, four-layer voice coils engineered to withstand the high temperatures that occur when the sub reproduces room-shaking bass. (The V2W's 8-inch drivers are augmented with a 12-inch passive radiator.) The three 8-inch woofers have the surface area of a single 14-inch woofer. The W2q's most interesting feature is adjustable "Q." You can tune the sub anywhere between flat, highly damped bass and big, bombastic bass, so it will accommodate a wall, corner, or free-space placement. It's a remarkably flexible design.
Getting in Tune
I had to work a bit harder than usual to get the best out of the Vandersteen system, but I didn't mind. The more I tweaked the subs' controls and the speakers' positions in my room, the better the sound. I ran the 1C towers as large speakers in conjunction with the 2Wq sub (as a quasi-three-way system) and the VCC-5 and VSM-1s as small speakers, with my Sunfire Theater Grand III surround processor's bass management set to a 60-Hz crossover point. Buy your Vandersteens from a good dealer, and they can tell you how to get the best from the speakers in your room.
On their own, the 1Cs can supply gobs of holographic detail. The VCC-5 center solidified the front soundstage's focus in ways that most small centers don't, and its sound really added to the cohesion of the front three channels. Jousts with the Kill Bill Volume 1 DVD demonstrated the system's home theater chops in a hurry. The Vandersteen subs are quite capable of making you feel the onscreen body blows.
A Film About Jimi Hendrix, a remarkable documentary originally released in 1973, has just made it to DVD, and—man, oh man—it's a trip. Interview snippets with Hendrix, assorted luminaries, and hangers-on are slotted in between sweat-soaked concert performances. I could feel the heat. Considering the age of the film's sound recordings, the quality was far beyond what I expected. "Johnny B. Goode" is a definite standout, and a rare, solo acoustic performance of "Hear My Train a Comin'" gave me chills.
Chesky Records' you-are-there surround SACDs were even better. Baba Olatunji's Circle of Drums SACD filled my home theater with African drums. The 360-degree soundfield was palpably real—I swear I could see the drummers' hands pounding the skins. The SACD's deep bass throbs with an organic pulse, but the Vandersteen subs never crossed the line over to boom or bloat. I felt the beats through my toes.
The Vandersteen system as reviewed here goes for $6,319, but you can put together a killer 5.1 system with a pair of 1Cs, a VCC-1 center, VSM-1 surrounds, and a V2W sub for $3,578. That's an astonishing value for an American-built, no-holds-barred music/
home theater system. For that kind of money, you'd be hard-pressed to find a set of musical, dynamically alive, spatially coherent speakers or a sub with the V2W's feel-it-in-your-gut bass slam. The contrast between Vandersteen's sound and everybody else's is very real. So, if I've piqued your interest, search out a dealer, bring along some of your favorite CDs and DVDs, and hear the speakers for yourself. You'll be in for a treat!
Highlights
• The Vandersteens roll out a vast soundstage
• Made in sunny California
• Extraordinary deep bass
LATEST VIDEO