Zv100 PC-to-TV system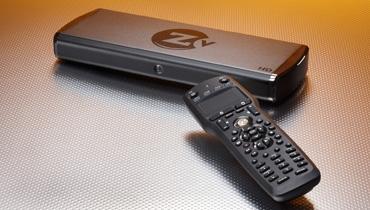 The Short Form
$499 / ZEEVEE.COM / 877-493-3833
Snapshot
The ZvBox (Zv100 PC-to-TV system) enables one to view video and photos via a PC or the Internet on a TV.
Plus
• Makes use of the tuner input that often goes unused on most HDTVs • Conveniently works over standard wiring used for your home's current cable TV installation • Allows several different TVs to simultaneously access same PC content
Minus
• Complicated set up • Only Supports up to 720p-format HDTV • Clumsy maneuvering pointer on remote's touchpad
Key Features
• RF remote with keypad and touchpad • 11 3/8 x 4 x 1 3/8 in
Most viewers have their TVs hooked up to a cable box or satellite receiver, so static greets them if they ever accidentally switch to their set's internal tuner. But lately, a picture greets me when I set my TV to Channel 125 - a new channel dedicated to showing whatever's playing on my computer. Considering all the entertainment available for streaming from the Internet, along with the video I've downloaded and stored on my computer's hard drive, there's no lack of programming on Channel 125. And for this, I can thank ZeeVee's Zv Box.
SETUP
The most difficult part of installing a Zv100 kit is figuring out how to connect everything. Supplied parts include the ZvBox itself; four 6-foot lengths of black coaxial cable; a pair of two-way splitters; and a channel filter that creates a gap for an empty channel. There's also a pivoting antenna with wired USB cable and a 54-button RF remote with 2-inch touch screen. And there's a separate USB cable and a VGA cable. A setup guide illustrates various cable TV and computer configurations.
In my case, I placed the filter on Time Warner's cable before the splitter that divided the signal going to my cable modem and DVR. Using one of the coaxial cables, I attached the ZvBox to one of my TV's two RF- inputs, making sure to use the one marked cable TV, not the one meant for an over-the-air antenna. I used the USB cable to attach the ZvBox to my home theater's Windows Media Center computer. I also moved the computer's VGA cable from my plasma TV to the ZvBox and used the supplied VGA cable to pass through the video signal to the TV.
(In a more typical set up, your computer would be in a different room with a dedicated monitor.)
I experienced serious problems getting the system to work, but eventually they were resolved thanks to a lot of phone support.
The next step was adjusting the geometry of the picture put out by the ZvBox to fit my display. To prevent the TV from overscanning the edges of the computer image, I used controls on the remote to move a rectangular outline up and down and tug the boundaries to fit the screen. This resulted in a ZvBox picture resolution of 1,200 x 675 - somewhat less than the 1,366 x 768 capability of my TV, but at least the image fit. Even if you expect to watch the ZV Channel on more than one TV, you can only adjust the output for one TV. A ZeeVee spokesman said you should determine which of your TVs has the highest overscan percentage and set the geometry for that one. There is no 1080p support yet, but it's expected before the end of 2008.
LATEST VIDEO