Yamaha MusicCAST Wi-Fi Multiroom Audio System Page 2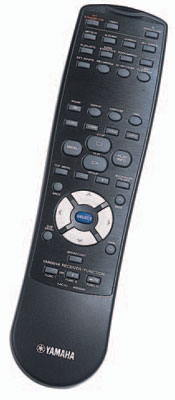 In addition, the server lets you edit or delete the text linked to any title, move albums from one genre to another, bookmark songs, and perform a host of similar functions. It even has a timer to start and stop playback and recording. The client's timer function controls playback only, but it also has a sleep timer. Yamaha provides a remote handset for full control of the server (left) and a smaller remote for each client (below, right). The server's remote is large and suitably impressive, with clean layout and legible lettering. The client remote is svelte, white and not much bigger than a stack of credit cards.
The Gracenote database makes it a snap to find songs. Using the onscreen display, you can select a genre (such as pop or rock) and scroll down a list of albums to find the one you're looking for. Or you can search for music by artist, album name, song name, or playlists you've created. You can check how many times you've played a song or call up a list of recently played or recorded songs. The server can both control what music is playing on the terminals and check what's been selected remotely. The client also has a video output for onscreen display, but its menus aren't as comprehensive as the server's.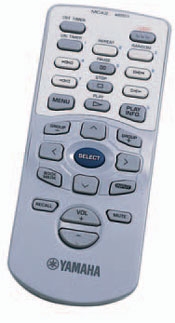 You can also just play CDs (including those loaded with MP3 files), and you can burn compilation CDs or duplicate entire discs at speeds up to 8x, depending on the blank. To make a disc copy from a disc in the tray, the server creates a PCM copy on the hard drive, whether of selected tracks or the whole disc. When you replace the original disc with a blank, the server copies the file it made to the blank disc and erases the interim copy from the hard drive. Naturally, MusicCAST observes the Serial Copy Management System, so further digital copies cannot be made from such clones.
Of course, the "cool factor" is the MusicCAST client's wireless access to music on the server's hard drive. To pull off this trick, the server is equipped with a Wi-Fi (IEEE 802.11b) LAN card in a PC Card slot in its rear panel. The end of the card hanging out of the slot is the antenna, which the MCX-1000 conceals with a plastic cover. Music is broadcast as Wi-Fi data at 2.4 GHz and can be received by any MCX-A10 client in range. (The clients are also equipped with Wi-Fi LAN cards.)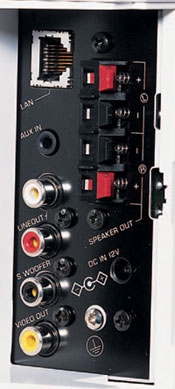 The advantage of wireless is that you can listen to music wherever you have a MusicCAST client in your home. Better yet, you can simultaneously stream as many as five different songs in MP3 format to wireless clients (only one at a time can be broadcast in PCM format) or up to seven songs in MP3 format at a time to wired clients. I told you this system was futuristic.
As with the server, you can pick albums and songs on the client by genre, artist, album, and playlist using a few front-panel buttons or the small remote. Although the client has no CD player, it does have an auxiliary input where you could connect one. Both the client and the optional MCX-SP10 speakers can be wall-mounted.
Setting up the MusicCAST system was pretty straightforward. I've installed a lot of gear in my listening room, but none out by the pool. (Hey, what good is wireless gear if you can't use it poolside?) I found a home for the server in my listening room along with my other A/V gear and put the client on a table on the back patio, about 30 feet away. The rooms are separated by several walls as well as glass patio doors.
Yamaha advises that MusicCAST client terminals can be as far as 60 meters (about 197 feet) from the server, but that distance is decreased if there are walls or other barriers between them. It recommends that there be no more than two walls between the server and a client, and with that separation, the range decreases to about 100 feet. If your house is palatial, you can interconnect the server and clients via a wired LAN. In fact, the system will work with a combination of wireless and wired clients. You can even connect the server to the Internet and a PC via a wired network and to the clients via Wi-Fi - or transmit directly to nearby clients with the server's Wi-Fi antenna and run a LAN cable to a remote Wi-Fi transmitter to access other, far-flung clients.
LATEST VIDEO