Play Me a Tune: Meet Yamaha's Amazing Disklavier Enspire Wholehouse Piano
I've been fascinated with player pianos ever since I visited the Alamo Saloon in Old Abilene Town years ago as a kid. The reenactment of Wild Bill Hickok's famous gunfight was a hoot, but watching those cancan girls dance to an upright piano that was playing itself was downright mesmerizing. I recently visited the Yamaha Artist Services facility in New York to experience a modern, super-charged version of that old player piano—the Disklavier Enspire.
And inspire it did—but I'm getting ahead of myself. Allow me to explain why you're reading about a piano in Sound & Vision.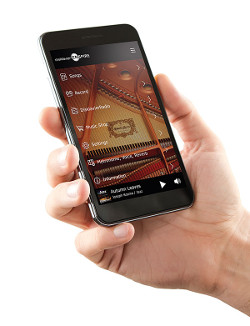 Enspire is the most accurate and advanced "reproducing piano" Yamaha has ever built—and it's been making players since 1987. Like its predecessors, the piano is equipped to record and play back—a great way to learn the ropes—but the seventh-generation model catapults the technology to exciting new levels, replacing a clunky control box with an app that provides access to 500 built-in songs, more than 6,000 downloadable performances, and live or on-demand video concerts.
What makes these performances unique is the note-for-note acoustic-piano accompaniment the Enspire plays right in your living room. Watching Elton John perform "Your Song" on the big screen while the Enspire's keys move in perfect unison with his fingers is miraculous, if not a tad eerie. Using the app, you can even adjust the level of the "live" piano relative to the rest of the music. If only you could tweak the entire mix…maybe Gen 8?
As awesome and advanced as those capabilities are, the Disklavier Enspire has another trick up its sleeve—one born out of a collaboration with the folks in Yamaha's A/V division. The piano can wirelessly connect with any of Yamaha's more than two-dozen MusicCast-enabled products, which includes speakers, soundbars, and a dozen A/V receivers. The upshot: Enspire owners can enjoy whatever the piano is serving up wherever there's a MusicCast system and control everything via the MusicCast app. Want to serenade the whole house? No problem. The app lets you stream to 10 devices simultaneously.
Prices start at $23,799 for a 5-foot baby grand in polished ebony and scale up to $121,999 for a 7-foot grand finished in walnut, mahogany, or white. I'd love to see those cancan girls dance to the Disklavier.
Yamaha • (714) 522-9000 • yamaha.com