Wrap Up: Blu-Con 2010 Page 3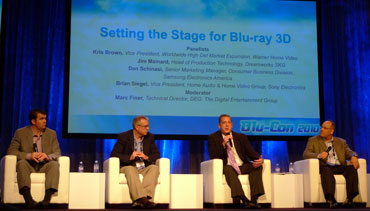 Networked Blu-ray
The Platform as Portal panel (awesome alliteration as always) consisted of: Jeff Cove, Vice President, Technology and Alliances, Panasonic Corporation of N.A.; Jeff Cowan, Vice President of Training Development, D&M Holdings N.A.; Tracey Garvin, Senior Vice President, Worldwide Marketing, Sony Pictures Home Entertainment; and Robert Read, Senior Vice President, Worldwide High Definition Marketing, Universal Studios Home Entertainment.

This panel covered how a Blu-ray player, and the experience, changes when connected to the Internet. Robert Read discussed how Universal is able to load current trailers into a player via BD-Live. Neither he nor Garvin would disclose how many people used BD-Live features, they did say that people were and that there was much interest.

Cove and Cowan were asked why all their players didn't have Wi-Fi, given how much easier it is to connect to the Internet when you don't have to run an Ethernet cable. Cove said that Wi-Fi adds cost for a feature that not everyone needs or will use. Cowan said his company (Denon and Marantz) doesn't want to risk the problems possible when updating the firmware over Wi-Fi.

Disc compatibility was the next topic, and all lamented that not every disc could always play on every player. On the software side, Garvin said that discs go through significant testing. On the hardware side, Cowan said that customers are likely used to having to update their digital products, citing the iPod as an example of a product that is updated often. Cove said that as long as the process was easy, it wasn't a huge deal.

On the streaming front, Cove and Cowan had interesting takes on content from the Internet. Cove felt that anything that was "in the cloud" might be of value in a stream, as long as it's content worth putting on a big screen. Cowan and D&M are of the opinion that in a Blu-ray player, video streaming like Netflix is fine, but audio streaming like Pandora or Slacker is not. These streams should be in the receiver instead. Of all the networked receivers his company sells, 2/3rds are hooked up to the Internet.

Digital Copy for Android devices? Sony and Universal are "looking into it."

Blu-ray and Music
The last panel of the day was about music on Blu-ray. The panelists were: Jim Belcher, Vice President Advanced Technology, Universal Music Group; Adam Sosinsky, Vice President, New Technology, Sony Music Entertainment; and Mark Waldrep, Founder & President, AIX Records.

All agreed that concert Blu-rays were hard to market, given that most marketing budgets will have been spent on the album and the tour, and little will be left over 6-8 months later when the concert disc is released. Despite this, all the panelists felt that viewing a concert on Blu-ray is better than being there. This is because the view is better (best seat in the house) and that unless you're using your TV's speakers, the audio will be much better as well.

Some artists love Blu-ray, others are indifferent. Some love that the audio gets you as close to the master recording as possible. Others don't really care, preferring to stick with audio only media.

There is interest out there for music and video, according to Sosinsky. He reaches this conclusion with the fact that the top videos on YouTube are music videos.

Will there be 3D concert videos? Probably, according to Belcher.

Blu-ray, Disc of Choice
To a person, all the panelists throughout the day were excited about the future of Blu-ray. Even though streaming-via Netflix and the like-is becoming more and more popular, apparently it isn't cutting into the sales of discs as much as one would expect. In fact, according to some, the only business Netflix is taking a chunk out of is the rental business. All you have to do is see the recent demise of Blockbuster to believe that.

For better or worse, 3D is here. Blu-ray is a huge part of that. Will it last? Who knows. With more and more titles available by year's end, we're clearly at the beginning.

To hear James Cameron tell it, Blu-ray and 3D are the future, so it's time to get on board.
LATEST VIDEO