Wild Target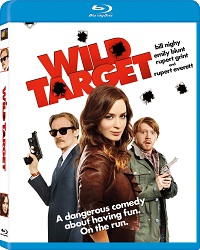 Rose (Emily Blunt) is a free-spirited kleptomaniac looking to pull off the ultimate scam with some forged artwork. When things go haywire, she finds herself the target of a world-class assassin (Bill Nighy) who becomes enamored with the young woman and can't fulfill his contract. This sets off a bizarre series of events that will change their lives forever.
It's rare to find an intelligent comedy since Judge Apatow transformed the genre with The 40 Year Old Virgin and its sophomoric humor. While there are definitely sexual undertones in this story, they are subtle and aren't the central focus. On the other hand, Blunt is one of the most beautiful women in film, and seeing her in 1080p is reason enough to check out this spectacular encode.
Out to lunch

Chapter 3, 00:06:47
Color saturation, detail, imaging
When Rose first appears in the movie, she's riding her bike down a crowded London street. Check out her vivid red coat, the detail in the statue, and the sounds of crashing cars as they slam on their brakes to avoid the pretty lady.
One hot-looking lady

Chapter 9, 00:32:16
Detail
Blunt shows off her tremendous personal assets in this scene as her frilly dress highlights her drop-dead gorgeous figure. Notice the detail in the fabric as she struts her stuff.
The country home

Chapter 15, 00:51:17
Detail, color saturation
When the Mini Cooper pulls up to the estate, check out the detail in the building and the varying shades of ivy growing on the exterior.
Release Date: February 8, 2011
Studio: Fox
Movie: 8/10
Picture: 9/10
Sound: 9/10
LATEST VIDEO