Gladiator (Blu-ray)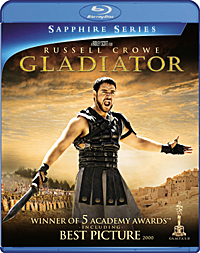 Last October, I was disappointed with one of the debut titles of Paramount's new Sapphire Series Blu-rays,
Gladiator
. While the audio track was outstanding, the video encode left a lot to be desired due to some excessive digital manipulation and rampant edge enhancement. At the time, I asked Paramount to recall the disc and offer a replacement program as Sony did with the original release of
The Fifth Element
.
Ask and ye shall receive! The studio has implemented a limited exchange program with a new video encode that drastically improves the disc. If you own the original release, call Paramount at (888) 889-9456 to exchange it. For consumers wishing to buy the new version, it will be available in stores with a yellow barcode versus white on the original release.
The new video encode doesn't quite reach the level of what I consider Ultimate Demo material, but a comparison to the first release is warranted. You'll quickly notice that the image looks much more natural and less processed with improved color saturation.
In comparing the two versions of the movie, I used two Blu-ray players (Oppo BDP-83 and Toshiba BDX2700) connected via HDMI to an Onkyo Pro PR-SC885 pre/pro feeding a JVC DLA-RS1 projector. The closest I could come to an "on the fly" comparison was a delay of five seconds when switching HDMI inputs (due to the HDMI handshake), but I staggered the playback of the discs by six seconds in order to view scenes back to back. After watching scenes in full motion, I paused at specific points and switched back and forth between the two still images to concentrate on specific areas of the picture.
Hell unleashed

Chapter 2, 0:07:33
No more edge enhancement
The severe edge enhancement around the catapult, soldiers helmets, and spears is now gone. The picture is slightly softer compared with the digitally manipulated original release, but it now looks more natural and less processed.
Improved color

Chapter 15, 1:30:44
Color saturation
Although I didn't highlight this particular scene in the previous Ultimate Demo, it really shows the improved color saturation in the revamped disc. Check out the purple drape hanging over the rail and the gold tassels running along the top of the picture. In the original release, these items are drab and dull, but in this new encode, they jump off the screen.
Less edge enhancement

Chapter 15, 1:37:34
Improved detail
Here's another great scene to demonstrate how edge enhancement reduces detail in the picture. Notice how the halos are gone from around the men in the arena and how much clearer the picture is.
When Paramount introduced its Sapphire Series on Blu-ray, it promised to deliver the pinnacle in both picture and sound, and the studio achieved both with this re-release. Gladiator has never looked better, and the DTS-HD Master Audio 5.1 soundtrack is outstanding.
Release Date: July 20, 2009
Studio: Paramount
Movie: 9/10
Picture: 8/10
Sound: 9/10