Alice in Wonderland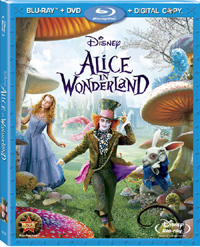 Alice (Mia Wasikowska), now 19 years old, returns to the mysterious world she first entered as a child and embarks on a journey to discover her true destiny. Along the way, she meets the Mad Hatter (Johnny Depp), the evil Red Queen (Helena Bonham Carter), the White Queen (Anne Hathaway), and many others who help her complete her quest.
I'm a huge fan of director Tim Burton and was eager to see his take on the classic tale. The theatrical reviews were mixed, but the box-office take ($332 million) makes it Disney's fourth-highest-grossing film of all time. Despite the bizarre second act, it's very entertaining, and the amazing sets and costumes certainly helped draw me in. While not perfect, the 1080p encode boasts some amazingly detailed scenes, and the DTS-HD MA 5.1 soundtrack is just as impressive with a plethora of discrete effects.
What a Wonderland

Chapter 4, 00:18:24
Detail, color, depth, discrete effects
As Alice enters the strange world, relish the fine detail of the twisted tree, the striped pattern of her dress, and the vivid purple hues of the flowers.
Danny Elfman's score fills the room, but listen as the dragonfly and the horsefly race about, moving from speaker to speaker. Does anyone have a fly swatter?
Tweedledee and Tweedledum

Chapter 5, 00:25:04
Frequency response, surround envelopment
The twins' indecision about which way to run allows the Red Queen's giant dodo bird to swoop in and snatch the feeble-minded pair. As the bird circles its prey, listen to its shriek as it echoes through the room and feel power of its massive wings. Once it captures the pair, prepare for an aural assault as it flees the scene.
Frabjous Day

Chapter 13, 1:30:28
Detail
As the jabberwocky prepares its final attack on Alice, check out the amazing detail in its computer-generated body with beams of sunlight peeking their way through the cloudy sky.
Release Date: June 1, 2010
Studio: Disney
Movie: 8/10
Picture: 9/10
Sound: 9/10