Which of My Devices Should I Use for Streaming?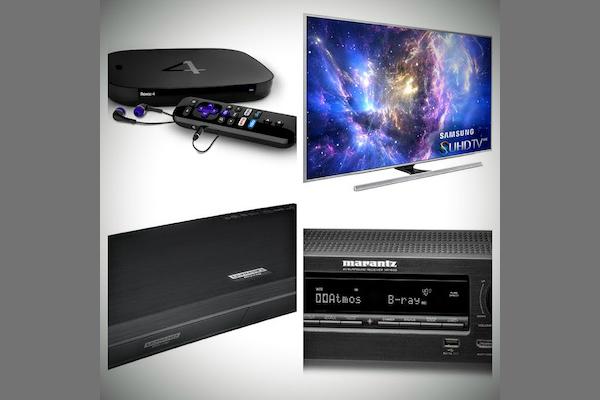 Got a tech question for Sound & Vision? Email us at AskSandV@gmail.com
Q I own a Marantz NR1606 Dolby Atmos/DTS:X-enabled AV receiver, a Roku 4 streamer, a Samsung Ultra HD Blu-ray player, and a Samsung JS8500 Ultra HDTV. Which of these devices will deliver the best audio and video performance for streaming? —Richard Wahlstrom
A Good question. With so many AV components out there providing redundant streaming capabilities, the decision about which one to use as your go-to streaming source does require consideration. For most systems, you'll get best overall AV performance when using a high-end external streamer such as your Roku 4.
Here's why. Many new 4K TVs stream Ultra HD video directly from Netflix, Amazon Video, Vudu, and other services. The output capabilities of certain sets can limit performance, however. Some models — LG's 2016 TVs, for example — support only regular Dolby Digital 5.1 and not Dolby Digital Plus/Dolby Atmos soundtracks when using an HDMI/ARC connection to route audio back to the receiver. The situation becomes even more hit-or-miss when a set's optical digital audio jack is used: In our testing, Sound & Vision has come across a number of TVs that downconvert multichannel soundtracks to stereo over an optical digital connection.
Disc players such as your Samsung UBD-K8500 may also place limitations on streaming. Here's one example: While the UBD-K8500 lets you stream Ultra HD programs from Netflix and Amazon Video, resolution with Vudu tops out at that service's 1080p "HDX" format.
Your Roku 4 streamer, in contrast, supports Ultra HD from a range of apps, Vudu included, and will deliver the highest quality sound option available from streaming services. Also, the company's recently announced new player lineup includes two models that support high dynamic range video. Which brings up yet another benefit to external streamers: they are inexpensive and easy to replace when a new, improved version arrives.