Where to Stream Super Bowl LVII, Puppy Bowl XIX or the Great American Rescue Bowl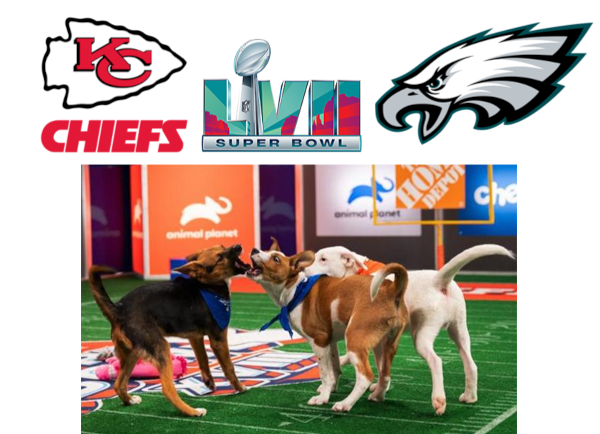 As we increasingly ditch our traditional ways of watching broadcast TV, we're no longer switching on the TV and watching the game. It's just as likely that you'll stream Super Bowl LVII, and here's where to find it. If the big game isn't your thing, perhaps you'd prefer to stream one of the furry games like Puppy Bowl XIX or the Great American Rescue Bowl.
Super Bowl LVII
The Kansas City Chiefs are facing the Philadelphia Eagles at Super Bowl LVII in Glendale, Arizona. Kickoff is at 6:30 p.m. ET/3:30 p.m. PT on Fox network.
You can probably tune into the game with an over-the-air antenna if you have a local Fox affiliate station nearby. Look for an amplified antenna, and c*onsider using a Tablo DVR or other over-the-air recording device. Fox will broadcast the game in 4K HDR.
YouTube TV and fuboTV will live stream the game in 4K HDR. Otherwise, any streaming live TV service that has Fox will simultaneously show the game live, including Hulu +Live TV, DirecTV Stream, and Sling TV. Note that Philo TV and frndly TV don't carry Fox.
The NFL app will stream the game for NFL+ subscribers, and it's only $5 per month for the basic subscription. Plus, if you sign up before February 17th, you'll get three months of Apple Music free. Surprisingly, Apple Music (and not Pepsi as it's been in the past) is sponsoring this year's half-time show featuring Rihanna.
If you have cable or satellite, Hulu + Live TV, fubo TV, or Sling TV, you can log in to the Fox Sports app using the credentials you use for your provider. Or sign into the Fox Now streaming service on one of these platforms: Samsung smart TV, Roku, Apple TV, Vizio smart TV, Amazon Fire TV, Google Chromecast, Android TV, or Xbox.
Roku users can stream the game by clicking on the Super Bowl LVII icon in the new Sports experience sub-menu and choosing from the list of available channels.
Puppy Bowl XIX
Looking for warm and fuzzy sports entertainment? This is the 19th year of the Puppy Bowl. It will be streamed live on Animal Planet, Discovery+, TBS, Discovery Plus, HBO Max Sling TV, and YouTube TV on Super Bowl Sunday, February 12th, at 2 p.m. ET/11 a.m. PT, with a pregame show starting at 1 p.m. ET/10 a.m. PT.
Not only fun to watch for its cuteness quotient, but viewers can also adopt one of 122 adoptable puppies from 67 animal shelters and rescues country-wide.
Puppies are either on Team Ruff or Team Fluff. Each team earns points when a "player" drags a chew toy into any end zone. The game runs for three hours.
The Great American Rescue Bowl
When Hallmark canceled the Kitten Bowl, the Great American Rescue Bowl took its place. The show premieres on Sunday, February 12th at 10:30 a.m. ET/ 9:30 a.m. CT (encore airing at 4:00 p.m. ET) on Great American Family Channel. The channel is available on cable, satellite, and most live TV streaming services.
Along with puppies and kittens, the Rescue Bowl will include several "players" orphaned after Hurricane Ian and now in shelters in Antigua, West Virginia, and South Carolina. Check out Animalleague.org for adoption details.