What's on HDTV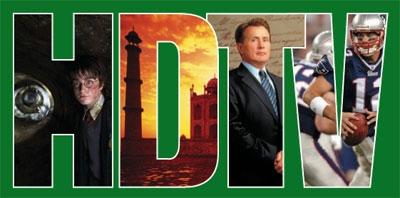 The transition to high-definition television really picked up steam this fall as ABC, CBS, NBC, and the WB filled their 2003-04 prime-time schedules with more hours of HDTV programming than ever before. During an entire week, these networks are offering some 70 hours of HDTV. And more local TV stations have begun broadcasting a digital signal and passing along high-definition network shows.
When you consider, though, that nearly three out of four households get TV signals through cable, the more significant trend has been the rapid rise in the number of neighborhood cable systems adding HDTV channels - six new channels per system on average. The high-def selections include network affiliates, movies from premium services like HBO and Showtime, and channels like Discovery HD Theater, HDNet, and HDNet Movies. And the DirecTV satellite service, which already provides premium movie channels in high-definition, has added a tier of four HDTV channels that includes ESPN HD.
The explosion in high-def programming is great news for home theater enthusiasts. Not only can you now watch lots of movies, which look even better on HDTV than on DVD, but you can also tune in plenty of detective shows, musical performances, nature tours, and sporting events on a regular basis. The days of owning a widescreen HDTV but having little or nothing to watch on it are gone.
And the picture isn't the only wow factor - there's also the sound. A number of network shows and most of the movies carried by the premium channels come with Dolby Digital 5.1 audio, providing movie-theaterlike surround sound to match the filmlike quality of the picture. All told, it's shaping up to be a banner year for HDTV entertainment, so here's a handy guide to help you find it. PDF: What's on Network TV PDF: What's on Cable & Satellite PDF: Where to Get Local Broadcasts PDF: Where to Get HDTV on Cable Digital TV Basics HDTV on Your Cable Bill