Vudu BX100 Online Receiver
Online video delivery is supposed to be the Next Big Thing, leaving physical media in the dust. Among the early content providers in this brave new world is Vudu, which offers one of the best options for renting movies on-demand that I have experienced. The Vudu BX100 plays Internet-delivered movies and TV shows at resolutions up to 1080p. Most similar to Apple TV with respect to features and price, the Vudu has some clear advantages.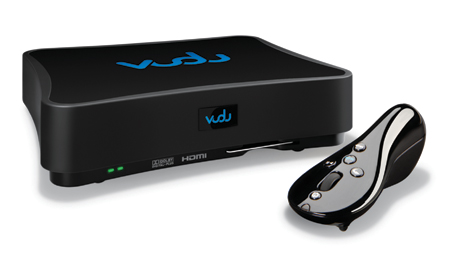 At this point, you might be thinking, why do I need yet another black box? Well, you don't—unless you like getting in the car, driving to the local video store, and browsing the aisles for a movie to rent, only to decide later that you're not in the mood for a suspense thriller and wish you'd gotten a comedy. There is something to be said for convenience and immediacy, and that is what the Vudu offers in abundance.
Features
The Vudu BX100 is encased in a glossy black chassis that is small enough to find a home in just about any rack or cabinet. Other than the front LED that indicates whether the unit is powered, the box is devoid of any controls or readouts. The rear panel offers several outputs, including HDMI, component video, and digital audio, in addition to an Ethernet port for connecting to your home network. It comes with a uniquely designed remote control that intuitively navigates Vudu's simple and elegant onscreen menu.
Since you can purchase content as well as renting it, the Vudu includes a 250GB hard drive. This can store about 50 standard-definition (SD) films and far fewer in HD. However, most current content for sale is SD. Vudu has announced that it will be selling HD content from studio such as Magnolia, Kino, and FirstLook and the company plans to introduce storage options for these movies.
Despite the generous storage capacity of the Vudu box, you'll probably be renting most of the time, and Vudu offers an impressive array of content, from new releases to classic films. They even have adult content, which is unique to Vudu as far as I know. All movies and TV shows are available in SD, and most new and popular films and shows are also available in high def. In addition, a new feature called Vudu Labs provides access to Internet content from such sites as YouTube, Flickr, and Picasa as well as RSS video feeds from 120 different sources, such as various news outlets and The Rachel Maddow Show.
Depending on the speed of your Internet access, movies can be viewed instantly in either SD or HD. The company recommends you have at least 2Mbps for instant SD viewing and 4Mbps for instant HD viewing.
A few months ago, Vudu introduced HDX, a new video format that offers movies in 1080p at 24 frames per second (fps). While the HD streams are also 1080p/24, the increased average bit rate of HDX provides greater image detail, fewer artifacts, and higher-quality sound. HDX is based on the H.264 (MPEG-4) video standard. Vudu also incorporates patent-pending TruFilm technology, which optimizes the encoding, transmission, and display of video to enhance the viewing experience on 1080p displays, especially LCD and plasma TVs that are 42 inches and larger. TruFilm technology uses a variety of processes to enhance detail in dark areas of the picture in addition to preserving the fine optical texture of the original film. It also allocates increased bandwidth to certain segments of the film with greater detail and motion.
Vudu is still in the process of encoding films in HDX. Most new films are available in HDX and HD, whereas older films will slowly get updated. The 1080p HD and HDX streams are the highest quality formats currently available from any source, including digital broadcasts, satellite, cable, and other online players such as Apple TV and Xbox 360.
HD and HDX both provide Dolby Digital 5.1 surround sound, but the bit rate is higher in the HDX version, delivering a more robust soundtrack.
A USB port on the back panel currently has no use. Vudu says it was included to let users add third-party hard drives for increased storage, and the company expects to introduce this functionality in the second quarter of 2009. The BX100 was primarily designed for basic home-entertainment systems. For more sophisticated custom installations, there are two higher-end models—the XL ($499) and the rack-mountable XL2 ($799). The big difference is the amount of available storage. Both units have an on-board 1TB hard drive and are designed to integrate with touchpanel controllers from such companies as Crestron, Control 4, and Netstream.