Vroom Vroom Porsche Soundbar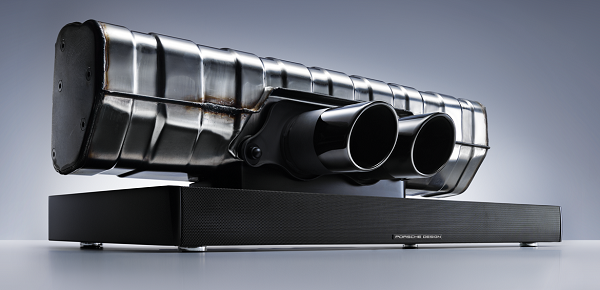 You've done the factory tour at Zuffenhausen. Eight times. You once got in a fight and lost a canine, defending the IMS bearing in your M96 engine You patiently explain to newbies why the ignition switch is on the left side. Of course, you have "911" tattooed on your bicep. And, you just bought a Porsche Design soundbar.
Porsche makes cars. It also licenses its famous name to non-car items and markets them as Porsche Design products. Thus you see things like Porsche Design clothing, watches, and even entire buildings like this one in Miami. But the new Porsche Soundbar has more street cred than even the coolest Porsche fountain pen. The soundbar is made from the original exhaust of a 911 GT3. The GT3, as you might know, is not just another 911; it is the most race-car ready of the series. Every time I hear the sound of a GT3's exhaust, I see God.
Thus its silencer makes an ideal cabinet and its dual exhaust pipes make ideal ports. Okay, maybe a car muffler isn't the ideal loudspeaker cabinet. Clearly, my enthusiasm for all things Porsche is clouding my judgment here. But just look at this thing. The soundbar is totally industrial looking complete with grind marks and welding burns. Whoa.
And, in case you're interested, the soundbar provides 2.1 channels plus virtual surround. It offers the traditional soundbar fare: DTS TruSurround, Bluetooth 3.0, AptX, Dolby Digital decoder, LipSync for video synchronization, LED display, and remote. Power is rated at 200 watts. It measures approximately 29 x 11 x 12.5 inches and weighs about 42 pounds.
Taking another look at the photo, the soundbar sure does look nice. But does it look too nice? If you placed it under your flat-screen, would its shiny-chrome goodness be too distracting? Maybe. Sure is macho, that's for sure.
The soundbar, available in March, retails for about $3,130. Not inexpensive. But in the rarefied air of Porscheland, where the leather option for your air vents costs $1,720, that's not a bad price. Hell, the cost of a Porsche silencer is probably more than $3,150. Cheaper to buy the soundbar and use that as a replacement when the silencer on your GT3 starts to rust.
Gentlemen, start your soundbars.