V-Moda M-80 Headphones Sweepstakes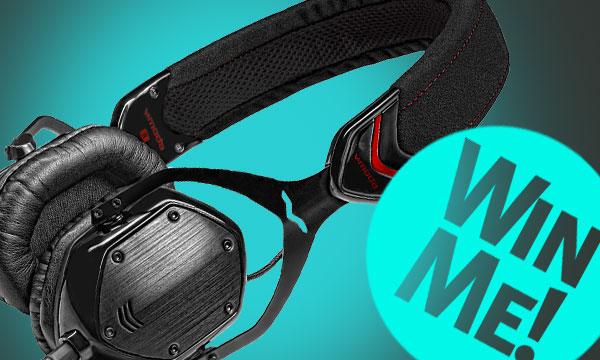 Register to win a set of V-Moda M-80 Headphones (MSRP $230) we are giving away.
According to the company:
Masterfully tuned by a legion of legendary musicians, producers and DJs, M-80 packs unique materials, professional acoustics, natural noise isolation, ultimate ergonomics and military-level ruggedness into a design 53% smaller than its now legendary, over-ear sibling, Crossfade LP. M-80's first-class materials are virtually indestructible including a steel frame, STEELFLEX headband, interchangeable brushed metal shields, durable microfiber suede and replaceable memory foam cushions. The M-80 also comes fully loaded with two Kevlar-reinforced microphone cables for universal smartphone compatibility and an exoskeleton carrying case for added road warrior armor.

The nucleus of M-80 is its patent-pending and biggest-in-class 40mm Dual-Diaphragm Drivers that deliver multi-driver sound with the energy efficiency and consistent quality of a single driver. To recreate a pure balanced sound analogous to Vinyl, M-80 uses no batteries or artificial sound processing and instead relies on immortal acoustic techniques. The masterfully crafted V-PORT V3 provides natural noise isolation, life-like staging, vibrant bass, vivid mids and vivacious highs.

By utilizing a 31-band EQ with select master musicians and producers, every step of the frequency response curve was finely sculpted. The headphone also offers long-play comfort through a tailored, fashionable fit without unsightly gaps and minimal pressure on the head and ears, the result of years of ergonomic research. Since the fit is the sound, M-80 utilizes replaceable supple memory foam cushions, a bespoke STEELFLEX headband and tactile arm extensions.
To enter the sweepstakes, all you need is an account on this website. If you don't already have one, click on the link labeled "register" at the bottom of this announcement or "Create new account" in the right column (under the ads). Then, enter a username and a valid e-mail address, and click on the "Create new account" button. A message will be automatically sent to the e-mail address you specified, which will include a link to activate the account.
The final step (and only step for those who already have an account) is to log in and leave a comment right here on this announcement—any comment will do, as long as it's not profane or spam. Then, when the sweepstakes closes, a lucky commenter will be chosen at random to receive the prize. So post a comment, and good luck!
For complete sweepstakes rules, click here.
[This Sweepstakes is now closed.]