'U2 3D' HD: Behind the Lens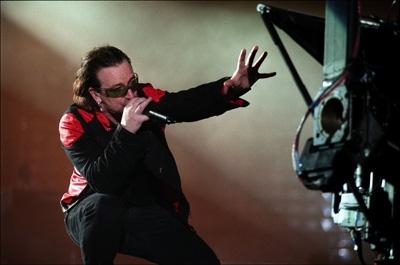 Unless you're the Dalai Lama or head of an African nation, your chances of being in the same room with U2 anytime soon are pretty slim. Consider U2 3D the next best thing. The concert movie has the distinction of being the first ever live-action 3-D digital film (as in, high-def!), and its aim is simple: to give audiences an experience that's as close as possible to being at an actual U2 concert.
More than 100 hours of footage was shot during the band's South America swing on the recent "Vertigo" tour, using the largest collection of 3-D camera technology ever assembled for a single project. That raw footage was eventually culled to just 13 songs, including "One," "The Fly," and a goose bump-inducing version of "Where the Streets Have No Name."
The film's co-director (along with Mark Pellington) is Catherine Owens, an Irish artist who has for some 15 years worked with the band to create the visual aspects of their stage show. She explained what's so great about 3-D and how she expects you'll soon be able to see the movie in all its dimensions on your HDTV.
3-D movies have come along every few years with limited success. Why will now be different? The reason we've jumped on this is because of the technology. [James Cameron's] underwater film [Ghosts of the Abyss] shot with the same digital technology. Before, you'd have to have a camera that was rather large and didn't move, and you'd have to change your film reel every three minutes. You were shooting with actual film. It made it inflexible and costly, and few people could work like that.
This technology is the digital format, so you can shoot as long as you want. And the cameras have been reduced to handheld size. You can do a lot now that you couldn't before. It makes it more accessible.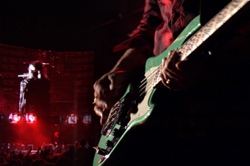 ©2007, 3ality Digital
How prevalent do you think 3-D movies will be in the future? I think obviously James Cameron is at the forefront of pushing everyone in this direction. And films like Beowulf help. Disney is part of that push: They have the largest 3-D footprint in terms of experience. But I think it's going to be driven by the avant-garde companies and filmmakers who want to make 3-D. And I think it will be driven by how good the experiences are. As long as the experience is good, I think it has a secure future. One of the problems could be that a lot of money gets thrown at it because it is 3-D, and not enough thought put in about, well, is the project right for 3-D?
One of the advances on this film is the use of layers - multiple shots superimposed on top of one another with a real feeling of depth. Why did you decide to use that effect? The band had reservations about doing this film in the beginning. They had developed a certain kind of style about how their videos and DVDs were edited. They have a certain type of groovy, rock 'n roll style, and they didn't want to lose that style to this 3-D pacing. 3-D has to have a slower pacing to keep your mind and eye comfortable. The solution there was to come up with a new way to edit U2 that still kept the momentum of the performance.
My thought was to substitute the fast edits for layers of dissolves, which keep the performance intact, but loses the need to do those hard cuts. We edited the film in 2-D, the way we wanted it to look. Then we worked with the 3-D postproduction team to build those effects in the 3-D space. The technology didn't exist at the time we first started editing to layer one 3-D image on top of another 3-D image. So a company developed software for us.
Was the band skeptical about making the movie for other reasons? They weren't particularly fond of Rattle and Hum. I heard more than once, "We don't want to make another Rattle and Hum." Sometimes what happens with people is, if they don't have a great experience with something, the taste that's left in their mouths is sometimes worse than the product that came out. Rattle and Hum might be a case in point.
I actually think it's a good piece of work. [Here], we decided to play to their strength and make the movie performance-only. No interviews and no backstage. We were never going to be in a Rattle and Hum situation.