TV Trends of CES 2022 Page 2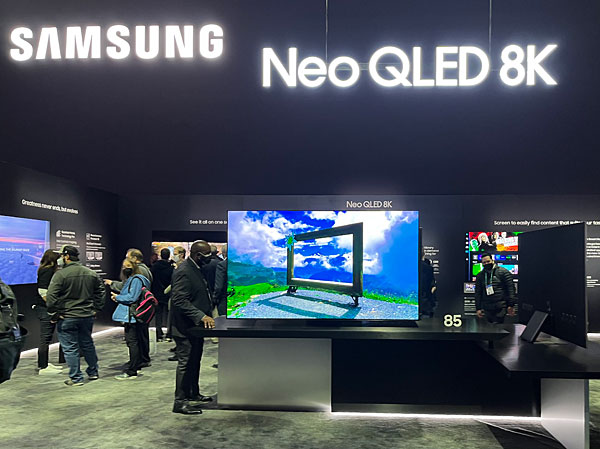 Mini-LED Multiplies
Samsung Neo QLED TVs for 2022 represent the second generation of the company's sets to use Mini-LED backlighting tech. According to the company, these will benefit from a new Shape Adaptive Light Control feature that increases shadow detail and dynamic range by shaping light output of individual LEDs in the display using artificial intelligence. The luminance range of the backlight has also been increased from 12-bit to 14-bits, which is said to improve local dimming accuracy and HDR detail resolution.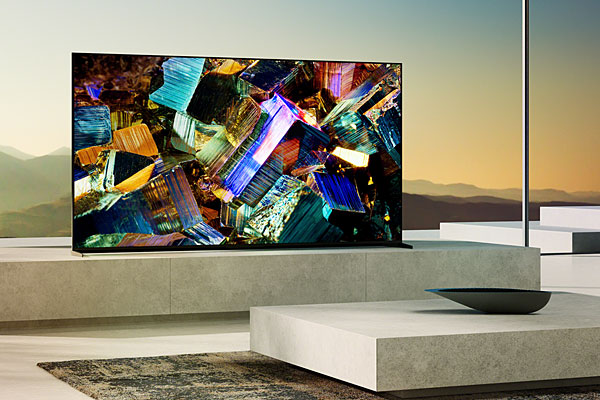 Sony makes its Mini-LED debut this year with two lines: the Master Series Z9K 8K models, which will be available in 85- and 75-inch screen sizes, and the X95K 4K lineup, which will be sold with 85-, 75-, and 65-inch screen size options. These new top-of-the-line 8K and 4K sets are powered by Sony's XR Backlight Master Drive, a feature that allows for high-precision local dimming via dynamic backlight control and an intelligent anti-blooming function. The result is "incredible brightness" with "unprecedented dynamic range," according to the company.
TCL is already on its third generation of Mini-LED tech, which was represented at CES in the company's just-launched 85-inch X925pro 8K TV. The X925pro is one of the company's "ODZero" models, with a backlight that's been sufficiently flattened to allow for an ultra-thin profile of just under 10 millimeters. TCL was also showing the latest and largest addition to its XL Collection, a 98-inch 4K-resolution Mini-LED-backlit QLED model that can be purchased now for under $8,000.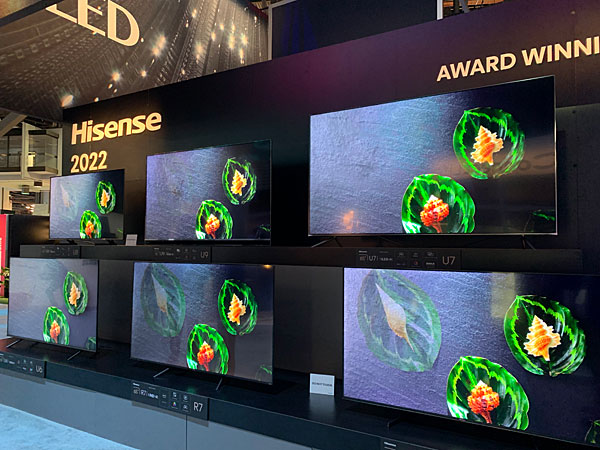 Hisense had its full 2022 TV offerings on display at CES. The new line is headed up by the flagship U9H Series model, a Mini-LED-backlit model that will only be sold in a 75-inch screen size. According to the company, this set is capable of 2,000 nits peak brightness, and it provides more than 1,280 full-array local dimming zones. Features include Dolby Vision and Dolby Vision IQ HDR plus a Nextgen TV tuner. On the gaming front, the U9H offers Auto Low Latency Mode, Game Mode Pro, Variable Refresh Rate, and FreeSync via its HDMI 2.1 ports. The 75-inch U9H model will be available late summer for $3,199.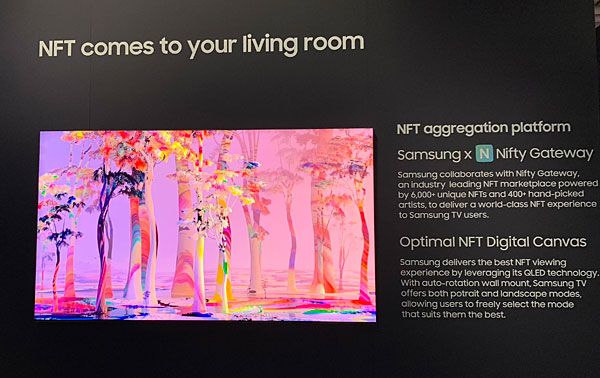 Non-Fungible TVs
Samsung's lifestyle-oriented, design-savvy The Frame QLED TVs will see improvements in 2022. Specifically, they will be getting a matte anti-reflective filter that uses embossing to reduce onscreen glare during daylight viewing. Along with allowing for better appreciation of artwork displayed in Ambient mode, the enhanced screen contributes to a more lifelike rendering of paper and canvas textures.
Along with artwork-enhancing screen improvements, Samsung's new The Frame sets will gain an NFT Aggregation Platform. What's that, you ask? It's an online marketplace platform that lets you preview unique digital artworks for the set to display in Ambient mode before buying, as well as learn about their digital provenance.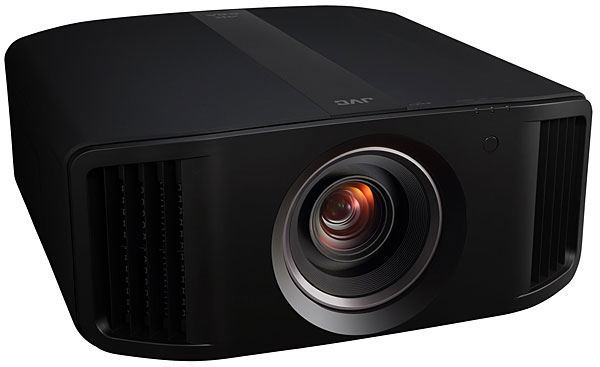 Projectors at CES 2022
JVC was at CES showing off its $25,000 DLA-NZ9, a 2021 S&V Top Pick of the Year winner in the projector category, paired with a 124-inch Stewart StudioTek 130 G4 screen and driven by a 7th Sense video server for 8K content, and a Kaleidescape server for 4K movies. While the 8K images displayed by JVC's beamer were a beautiful thing to experience, the big JVC news at the show was the announcement of its $7,000 Procision Series DLA-NP5 (aka Reference Series DLA-RS1100), a 4K/120Hz-capable model. Along with handling HDR10+, which uses dynamic metadata, and HLG (Hybrid Log Gamma) HDR, the DLA-NP5 follows its DLA-NZ9 big brother in providing JVC's Frame Adapt HDR processing for static HDR10 content, which analyzes the video and performs dynamic tone mapping on either a frame by frame or scene by scene basis.
A highlight of the Hisense CES booth was its L9G TriChroma Laser TV line, which first arrived in late 2021. These models are available with bundled 120-inch ($5,500) and 100-inch ($6,000) screens and are spec'd to deliver up to 3,000 lumens peak brightness, with the three-color (red, green, blue) laser light engine allowing for up to 100 percent BT.2020 color space coverage, according to the company. Hisense hinted that a 90-inch version would be available later in 2022, and it was also showing 80 and 75-inch versions scheduled to ship in 2023.
Samsung's new Freestyle video projector ($900) was one of the more attention-grabbing items in the company's CES display. A portable LED-driven DLP projector, the Freestyle can be set up and rotated 180 degrees to project video onto a wall, ceiling, floor, table, or whatever surface you want to cover with video images. Auto keystone correction and auto leveling ensure that the picture always looks geometrically correct, and Samsung's smart TV interface is baked-in for easy wireless streaming from video apps. The Freestyle can be powered using a USB or traditional power cable, a standard E26 light socket using the included socket adapter, or via an external battery pack (not included). A translucent lens cap lets the Freestyle provide mood lighting, along with visual effects synced to music when using its built-in audio capability.
BenQ's new product introductions for CES included a pair of projectors aimed at the gaming community, an important growth segment for the company. The X3000i (shown) is a 4K DLP model with an LED light source that's spec'd for 3,000 lumens light output and 100 percent coverage of the DCI-P3 color space. BenQ's TK700 is a lamp-driven 4K DLP model spec'd for 3,200 lumens and 96 percent coverage of the Rec.709 color space. Both accept a 4K/120Hz input signal from the latest PS5 and Xbox Series X game consoles. The X3000i will be available by the end of March for $1,999, and the TK700 is available now for $1,499.
Xgimi was showing its new Aura 4K ultra short throw projector at CES, a DLP model spec'd for 2,400 lumens light output that's compatible with screens up to 150 inches diagonal. With built-in Android TV and a Harman Kardon sound system, the Aura is an all-in-one solution. Xgimi's latest projector is available now for $2,600.
Related:
Samsung Enhances Neo QLED TVs, Adds New MicroLED
Sony Introduces 2022 Bravia XR TV Lineup
LG Showcases Advanced OLED TVs at CES 2022
TCL Showcases 98-inch Mini-LED TV, 8K "OD Zero" Model, and More
Hisense Unveils New Mini-LED TVs, 8K DLP Projector
JVC's 8K Video Demo Impresses at CES 2022