The Truth About 6K Page 3
Sign Up For Our Free Weekly E-Newsletter!
Get a good taste of the best of what the world of home entertainment has to offer every 7 days. Get plugged into the latest product tests, Web-exclusive features, news, reviews, interviews, entertainment, hot forum topics, home theater tips, and more. Plus, you'll get newsletter-exclusive home theater pointers (as in, not available in the magazine or on the Web site. Here's an example of our newsletter Tip of the Week: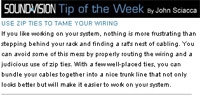 To get yours, go to soundandvisionmag.com/newsletter now!
WHERE TECHNOLOGY BECOMES ENTERTAINMENT