True Blood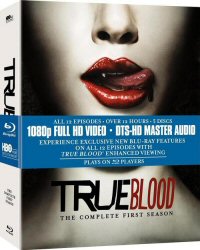 I didn't connect with this HBO original series based on the books by Charlaine Harris, but the DTS-HD Master Audio 5.1 soundtrack is to die for. The score features a full-bodied sound, the dynamic range is impressive, and the creative sound design utilizes every speaker in the room. Quiet passages reveal crickets chirping, and dialog is never strained. The video is solid, but I'm focusing on the audio for this Ultimate Demo.
The opening scene of the pilot episode is accompanied by the theme song, which exemplifies the impressive full-bodied soundtrack.

Disc 1, Episode 1, Chapter 1, 00:00:04
Audio dynamics
Listen for the strum of the guitar, the hard-hitting beat track, and the rich vocals. When the scene cuts to a couple riding in a truck, notice how the music shifts to sounding like it's coming from the truck's crappy radio while the dialog is crystal clear.
As telepathic Sookie (Anna Paquin) walks through a restaurant, the bombardment of thoughts hitting her brain permeates the room.

Disc 1, Episode 1, Chapter 2, 00:05:47
Surround imaging
Listen for how the discrete imaging creates the feeling of being inside Sookie's head.
The second episode begins with a couple of hicks beating up a seemingly helpless female. A mysterious hero comes to her aid.

Disc 1, Episode 2, Chapter 1, 00:01:00
Frequency range, surround imaging
Listen to the imaging as the hero runs to the rescue and the screams of the hicks when they meet justice.
LATEST VIDEO