Totally Tubular: Samsung's 2012 Premium Audio Line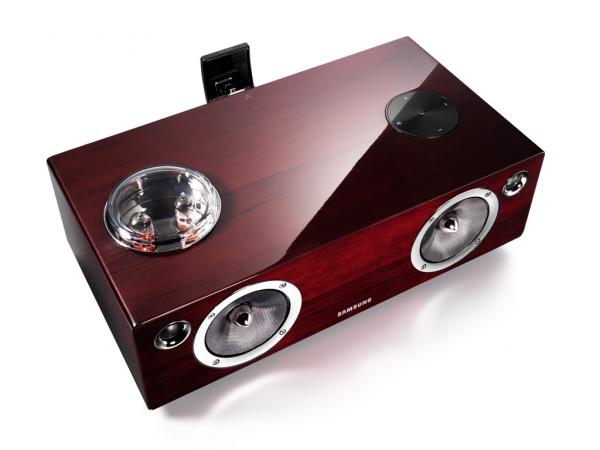 Last night we got a chance to check out Samsung's new audio product line - a full refresh of the company's approach to docks and HTiBs, with a whole bunch of interesting twists. Samsung's talking a lot about the tube preamp they're using in the top-of-the-line DA-E750 dock ($799.99) and the HT-E6730W HTiB ($999.99), and certainly the presence of those little bottles is a welcome sign of a commitment to these boxes as audio products first and foremost. What we saw last night confirmed our first impression of these devices at CES back in January - trom our perspective, those little glowing bottles are merely icing on the cake, given how many other boxes the company has managed to check off in these products.
Basically, what Samsung has managed to do with the DA-E750, (as well as its piano-black sibling, the DA-E751, and its tubless cousin the E670) is create a truly platform-agnostic dock that'll serve pretty much anybody. With both a physical iOS dock and a USB (charge-only) "dock" for Android devices, plus wireless connectivity via Bluetooth (using the high-quality apt-X codec), AirPlay, and Samsung's DNLA variant AllShare, there are very few devices out there that you'll have trouble connecting with the Samsung. And if that's not enough, it'll even play media from USB sticks. And you can use it as a wireless speaker for your Smart TV (via a single-button setup routine Samsung calls)
It's an impressive lineup of features, and the unit looks great as well, with a real wooden case and piano finish. And those glowing tubes lend, at the very least, a nice visual touch to the presentation. The only real downside is the price point, which is high for a dock even when compared to high-end offerings from NAD, Bowers & Wilkins, and Arcam – but then again, there's no other dock on the market that we know of that offers as wide a range of connectivity.
The other new docks Samsung showed last night (the E550, 570, and 651) don't offer quite as much connectivity (the tube-shaped 651 drops AirPlay and DNLA, and the 550/570 series dispenses with USB playback as well), but with iOS docking and high-quality Bluetooth should still be good options for an individual (or family) with both Apple and Android devices looking for an affordable docking unit.
On the home theater front, the HT-E6730w (which becomes Samsung's 7.1 HTiB flagship), adds the full panoply of the company's Smart TV features to the mix, along with the tubes. That means the Smart Hub selection of apps, AllShare wireless streaming, and (of course) built-in Wi-Fi so you can make use of such things out of the box, without adapters. There's a Blu-ray player on board, of course, but via Smart Hub you also get access to Samsung's UltraViolet-based Disc-to-Digital service if you feel like accessing your media remotely.
Both the DA-E750 and the HT-E6730W make use of Samsung's new drivers, which employ glass-fiber cones and a "phase plug" that (the company claims) combats frequency cancellation issues. The E750 puts out 100 watts (60W into a subwoofer, and 20W/side to the stereo mains); the E6730 delivers 1,330 watts total into its 7 channels-plus-sub.
The other interesting unit on display last night was the HW-E550 AirTrack, a slim soundbar which can be split into two stereo units and either stand- or wall-mounted. Samsung's including all necessary hardware to configure the unit however the consumer desires in the retail box - like the rest of the line, offering maximum flexibility with minimal fuss.
All told, it's nice to see a major CE firm going all-out on connectivity and design, and with a clear emphasis on communicating an interest in audio performance. We liked what we heard from the E750 during our brief audition, and look forward to spending some more time with these devices down the line.