The Top Ten DVD 'Easter Eggs'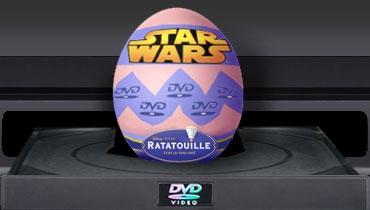 No matter how much time you spend watching TV and DVDs, it's always comforting to know there are still people out there who spend more hours in front of the panel than you. Many, many, more hours.
Take the fans - whoever they may be - who have the time and ingenuity to stumble upon Easter eggs, those extra features hidden on a DVD and only available after a certain series of actions have been taken with the remote. Those people are like modern-day Sherlock Holmes's (mixed with a bit of those fanboys William Shatner mocked in that classic Saturday Night Live skit.)
Since 2006, Jim O'Connor has been running Hidden DVD Easter Eggs, a fairly extensive database of special features. Not only does the discovery of Easter Eggs make you feel like you're in a special club, O'Connor says Easter eggs are appealing from a value standpoint. "You pay sometimes as much as $25 for a DVD and you want to get as much out of it as you can," he says.
We asked O'Connor to pick his top 10 DVD Easter eggs, and he obliged. In some cases, a single title yielded multiple picks, proving that some studios and directors take the hidden features more seriously than others.
10. Bedazzled
Plot: Brendan Fraser is granted wishes by the devil (Elizabeth Hurley). Instructions: When you go to any of the bonus materials menus, just point the cursor to the right instead of up or down. A devilish Elizabeth Hurley appears. Select her. Egg: "There's a deleted scene for one of the wishes, in which Fraser wishes to be a rock star," says O'Connor. "So it's not just a scene, but a whole segment that was cut from the film. And it's only available on the DVD as an Easter egg."
9. Pirates of the Caribbean: The Curse of the Black Pearl Two-Disc Collector's Edition
Plot: Johnny Depp does pirate stuff Instructions: On the Moonlight Serenade Scene Progression menu, navigate down to "Main Menu" then hit down to highlight the molar tooth on the impaled skeleton. Click on it. Egg: "All the Pirates two-disc editions have tons of Easter eggs all over the place. This one is an interview with Keith Richards talking about how Johnny Depp based the character of Jack Sparrow on him."
8. Ratatouille
Plot: Pixar animated flick in which a Parisian rat dreams of being a gourmet chef. Instructions: While on the Main Menu, there are two pots in the background. When a rat pops out of the one on the left, click on it. Egg: "There's a little gag in the movie about rat poison, and so Pixar went and created a fake TV commercial for the rat poison. The commercial has a late 1950s style to it I like because they actually went back and did new CG just for the DVD."
7. Star Wars: Episodes I, II and III
Plot: The prequels chronicle Anakin Skywalkers journey to becoming Darth Vader. Instructions: From the main menu, type in 1138. Egg: "On Episodes I and II, you'll get the outtakes reel, the gag reel. So on the second film, for example, you'll see Jango Fett doing a tap dance in the rain in front of his ship. On the third film, Revenge of the Sith, instead of the outtakes, you get a hip-hop Yoda. It's a CG Yoda doing a rap and hip-hop dance moves with two clone soldiers behind him snapping his fingers."
6. Star Wars: Episode II - Attack of the Clones
Plot: The Republic builds a clone army to quell separatists. Instructions: On disc 2, press enter on Dex's Restaurant. Go to the main menu, then go to the left and highlight the poster behind Dex. Egg: "You'll get access to the guerrilla marketing Lucasfilm did for Episode I. They posted a bunch of flyers around colleges with web addresses and those tear-off tabs at the bottom."