Top 10 Tower Speakers: $3,000 or Less Page 3
Monitor Audio Silver 10: $2,500/pr

(reviewed as part of a multichannel home-theater setup, SoundandVision.com, July 2014)
British speaker-maker Monitor Audio hangs its hat on delivering speakers with a take-notice soundstage: the company's trademark ribbon tweeters, found in their Platinum and Gold series speakers, deliver sweet highs and image like nobody's business. The Silver 10s, from one of the company's more affordable product lines, use a 1-inch dome instead, made with the company's C-CAM diaphram material that combines aluminum and magnesium with a ceramic layer. The overall character is a crisp high-end that should delight detail freaks; a smooth, uncolored midrange; and a robust low-end that measured usable output in the mid-30 Hz range. Real wood veneers join the classic gloss black or white finish options.
Definitive Technology Mythos STS SuperTower: $2,998/pr
(reviewed as part of a multichannel home-theater setup, March 2009)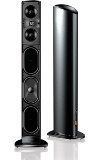 The Mythos STS, reviewed in 2009, is aging now, and you'll need to turn to the company's relatively new Mythos ST-L flagship (at $5,000 for the pair) to benefit from all the latest thinking and technology in the Definitive Technology arsenal. But if you're on a tighter budget than that, the STS remains an excellent choice for capturing that highly neutral, dynamic Def Tech sound in a slightly smaller powered tower. We measured usable bass down to about 30 Hz in our lab (–3dB at 38 Hz), and reviewer Mark Fleischmann found the STS to be a truthful, revealing speaker that lays bare the quality of the content you send to it.
MartinLogan ElectroMotion ESL: $2,998/pr
(reviewed as part of a multichannel home-theater setup, December 2011)

The ESL is MartinLogan's least expensive electrostatic speaker; $3,000/pr in the gloss black we tested and an even cheaper $2,500/pr in satin black finish. They come with the usual caveats endemic to the electrostatic breed. You've got to plug them into a power outlet, and they deliver little bass from the electrostatic panel—thus requiring a (usually slower and less dynamic) cone driver in the base of the speaker for low-end reinforcement. And, as dipole radiators with sound coming from front and back, they are highly sensitive to placement and work best pulled out from the back wall. But there's a reason many audiophiles swear by electrostatics: the large radiating panel delivers music with a huge image and the kind of transparency and detail that lets you hear into each note, and when properly positioned, you can walk right into the uber-deep soundstage and never come out. Sure, they can be a pain in the ass to integrate in your environment, but even with this "budget" model, you gotta hear 'em to believe it.